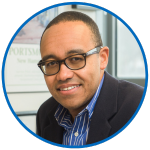 Political Science Professor Jonathan Wharton, renowned for his expertise in Connecticut politics, joins Connecticut Public's "The Wheelhouse" to analyze this year's election and its potential implications for the state as a whole.
From Bridgeport to Hartford, some of the state's big, and small, municipalities elected their next mayor.
Wharton's research centers on state and local government, public policy, economic development as well as identity and coalition-building politics.
To listen to the discussion, click here.