With a semester-long internship under their belts, public health majors have a greater chance to secure a full-time job right after graduation, thanks in part to a new partnership between Yale and Southern.
Fifteen students from Southern Connecticut State University's Public Health Department are participating in a new coalition led by the CT Department of Public Health and administered by the Yale School of Public Health.
The new Public Health Fellowship Program (PHFP) aims to build interest in public health careers by supporting students in high-quality public health fellowship placements in Connecticut and providing students with $3,500 stipends.
Each semester, Southern students are placed in front-facing, public health-oriented centers both on and off campus, including Planned Parenthood, Southern's Wellness Center, and the Tobacco Valley Chamber Alliance. Other opportunities also include placements with restaurants and nail salons where public health sanitarians and community health workers conduct routine inspections.
Students must complete 270 hours for internship credit awarded through the program.
Dr. Aukje Lamonica, associate professor of public health, helps to coordinate students with the Yale School of Public Health. Her hopes are that students' placements in public health facilities across Connecticut will cultivate meaningful work experience.
"The overarching goal is to begin developing the public health workforce while students are still in school," said Lamonica. "If we provide them with meaningful internships in our state, they are sometimes hired right away before they even leave that internship."
Shane Lister, '23, MPH '25, a recent graduate, has just wrapped up his fieldwork experience. Transitioning from a nursing career to one centered on public health, Lister's motivation lies in proactive care.
Spotting the fellowship program in his inbox, Lister eagerly seized the chance to address challenges and champion equity in diverse communities.
"I was grateful to have the opportunity to join the Yale Fellowship program," said Lister. "All in all, most of the cards kind of lined up for me."
This experience has ignited a series of questions for Lister regarding his role in the realm of public health and the surging demand for professionals in Connecticut.
"How could we care about communities and neighborhoods as a whole and prevent them from even going to see a nurse or a doctor?" pondered Lister. "To me, that was really intriguing." Over the summer, Lister fulfilled 270 internship hours at Planned Parenthood, an organization primarily led by women.
"I was the only male in the clinic, one of the very few males in the entirety of Planned Parenthoods surrounding Connecticut," said Lister. "I wanted to be that male voice and that male representation for women's reproductive rights, because that's not very prominent today."
The demand for public health professionals in Connecticut has never been higher, with the state grappling with a mounting shortage of nursing and healthcare workers. With over 50 percent of the healthcare workforce in Connecticut aged over 50, there's an urgent need for a fresh wave of enthusiastic healthcare practitioners.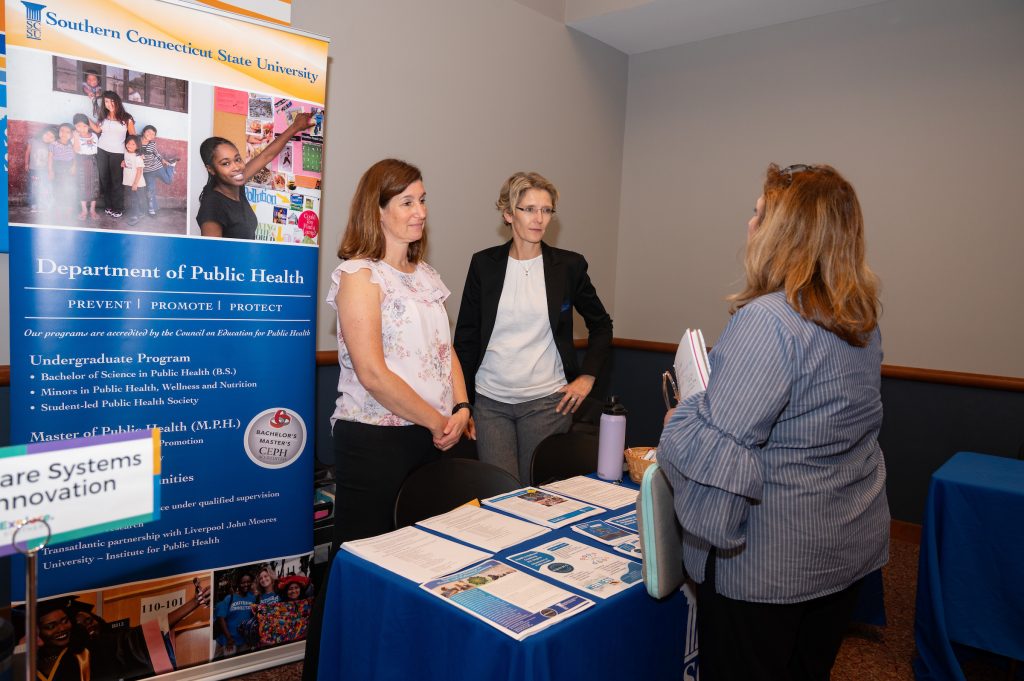 Post-graduation, Lister envisions himself immersed in the realm of opioid awareness and misuse prevention.
"Whether that's prevention, whether that's working directly in the field with those that are struggling with addiction and misuse, that's something that's been prevalent in my family," Lister said. "I just want to break that curse and be as informed as I can about opioids."
The College of Health and Human Services proudly upholds its collaborative commitment with Yale, guaranteeing the maintenance of Connecticut's dedicated public health workforce.
"Southern Connecticut State University and the Yale School of Public Health have a strong history of partnership in service to our community," said Sandy Bulmer, dean of the College of Health and Human Services. "This initiative addresses critical workforce shortages in the local public health workforce for the state of Connecticut by supporting our students with their transition into these careers."
"I can't see myself sitting behind a desk 24/7, so I want to be active in the community, interviewing people, getting that qualitative, quantitative data and just seeing where I could impact communities the best," said Lister.