Growing up in Ukraine in the military town of Chuhuiv, Nick Gusyev never wanted to enter military service, despite his air force pilot father's entreaties. However, like many young men, the younger Gusyev idolized police officers: their status and badges that represented sacrifice, bravery, and heroism.
Nineteen years prior to the current war in Ukraine, when Nick Gusyev immigrated to the United States to attend college, he began to realize the promise of serving, both on the national and local levels. He says of his introduction to the U.S., "I liked the diverse culture and I saw a lot of opportunities for myself. I am appreciative of the opportunity to live in this country."
To show his appreciation for all the opportunities and the ability to become a part of "one of the greatest countries in the world," he says, he decided to give back by joining the United States Army Reserve and, later, becoming a police officer.
After joining the Army Reserve, Gusyev says, "I wanted to contribute because I'm grateful to be in this country…I started connecting, 'Well, I'm serving in the Reserve serving country; I want to serve my community, too.'"
To satisfy this desire, Gusyev became a police officer. After working with the Hartford Police Department for 2 ½ years, he relocated to the Southern Connecticut State University Police Department, where he is able to help protect a close community of students and staff.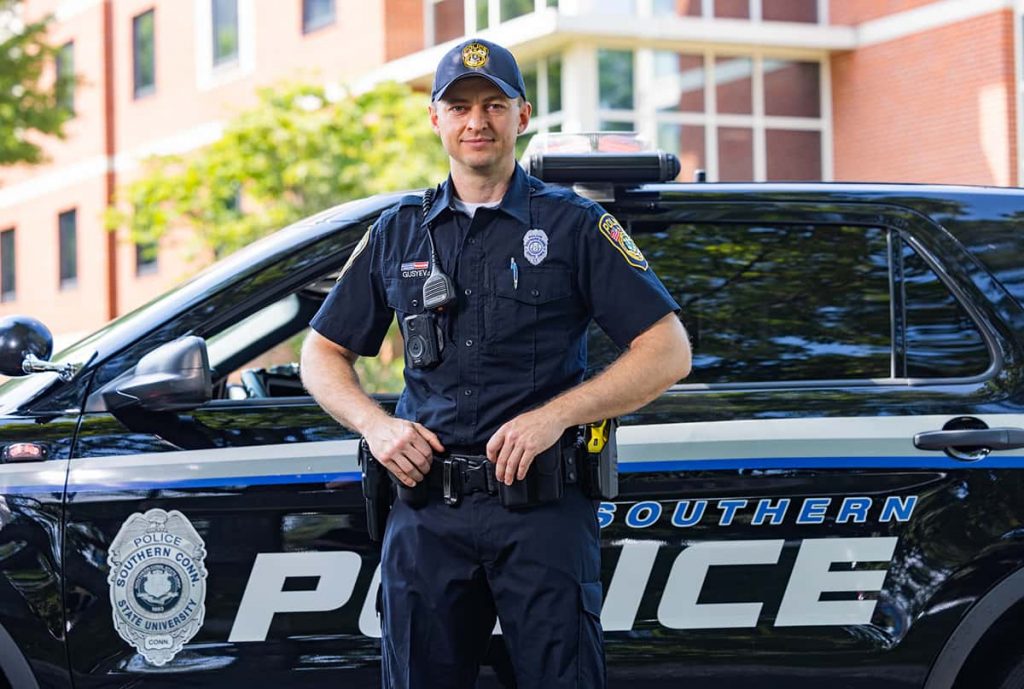 What was not in his job description, though, is what occurred on Feb. 24, 2022 – the day Russia invaded Ukraine. Gusyev recalls the night of the invasion: "I call my family every night or every morning – that night nobody called me. So when I called them, my mom answered through FaceTime. They were running around, missiles flying, everybody is crying – it was shock, definitely shock."
A shaken Gusyev felt stuck in America, defenseless against forces that threatened his parents and grandparents and his sister's family. He says, "Ukraine was a peaceful country – you never even thought that anything can happen like that in Ukraine, especially when your family is in the middle of it." He adds, "You can lose your whole family in just minutes. It's scary."
Gusyev was already supporting his family financially, but to him, this assistance was not enough. "When it became more stable for them, then I started thinking, 'What can I do for others?' That's why I became a police officer because I want to help save lives," he says.
His first initiative came at Christmastime, through a toy drive at his reserve unit. After Gusyev asked for toys for his nephew in Ukraine, the staff filled his car with five 60-pound packages with gifts for children in Ukraine. He says, "I sent it to my family, they took small bags, and they went to the streets and they gave it to those poor kids who don't have anything."
Such community support continued when SCSU Police Chief Kenneth Rahn offered to donate old bulletproof vests to protect Ukrainian civilians. Gusyev says,"I washed everything, cleaned everything, prepped everything, and that was the second thing we donated to Ukraine, those ballistic vests – just to save lives."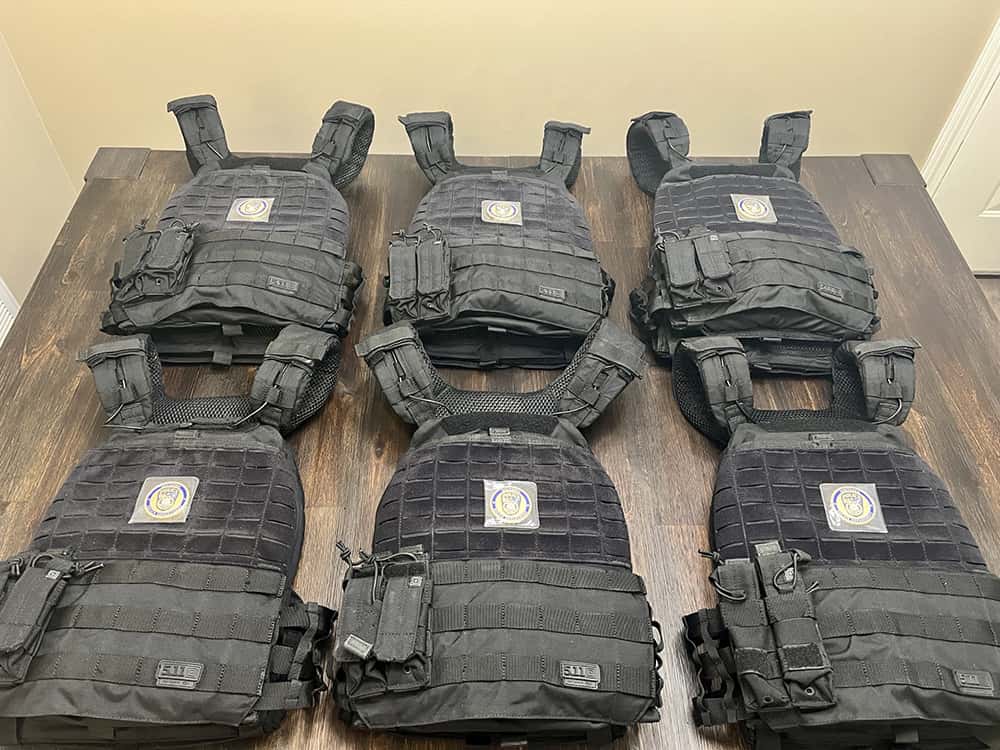 His donations did not stop there; after contacting United Help Ukraine, a nonprofit organization from Washington, D.C., Gusyev was able to get a 40-foot shipping container delivered to campus in June 2023. Southern donated old unused hospital beds that had been in storage, along with basic medical equipment, to send to Ukraine to help care for ailing Ukrainians. Members of the Facilities staff assisted in the loading process. Along with the container, United Help Ukraine provided transportation of all the equipment.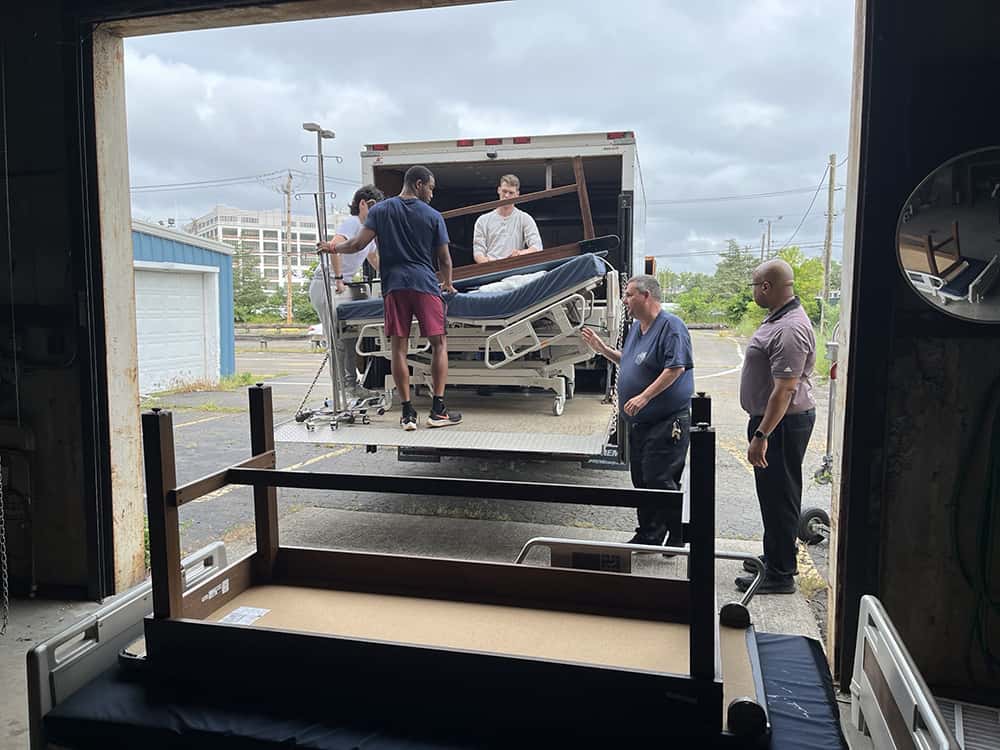 To Chief Rahn and the SCSU facilities staff, Gusyev expresses his gratitude. "I'm really grateful for him [Chief Rahn] because he approached me…It was amazing. That's why I'm really grateful…nobody said no," he says.
He is also humble and continues to thank the volunteers who donated and helped to load the equipment: "I did the least of this because it's all on donors who donate things. For me, it just was organizing and that's it, you know, but at least I contributed."
While the volunteers assist Gusyev in executing his passion for helping, his family is what drives that passion. This intimate connection to Ukraine motivates him to continue giving. He says, "I don't want anybody to go through what my family goes through because it's difficult…my soul, my mind is always with my family."
Fortunately, Officer Gusyev's family is safe, but ever-vigilant. He explains, "My family learns how to survive. They've been through a lot of stress, a lot of depressing things, but they learn how to survive."
Gusyev's empathy is a trait he wishes others could maintain as this war persists. However, he feels that without a personal connection to Ukraine, people seem less energized to help. He says, "They [most Americans] don't have anything to relate to. They live a really good life here, nothing really going on, and they don't have those stress levels that jump everyday."
A year and a half after the invasion, he hopes that Americans will continue to see the truth about his home country. "It's motivation and also pride," he says. "They're strong people, really strong people, and the whole entire world found out that Ukrainians are really strong…we work through problems and fight through."