SOMETIMES A PAYCHECK JUST ISN'T ENOUGH. A whopping nine out of 10 professionals in the U.S. say they'd trade a percentage of their earnings for work that was more meaningful.* Research shows they're onto something: in fact, college graduates who report a high level of purpose at their jobs are ten times more likely to describe their overall state of well-being as "thriving."**
So, how does one go about meshing work with a sense of purpose? Southern Alumni Magazine recently talked to members of the university community who have found meaning in their careers — or are in the process of charting that course. (Shout out to Frank Tavarez-Mora, '16, a medical student planning to address healthcare inequity.)
Their stories are highly unique. Some were drawn to a specific occupation since early childhood, an almost innate knowledge. For others, among them, Thierry Thesatus, the road to career fulfillment came with twists and turns.
"It's been a very different career path than what I once expected," says Thesatus, who joined Southern in August 2022 as associate dean for career and student success. It's an ideal fit, he says, acknowledging it took soul-searching years ago to shift from an early goal of teaching history. He gladly shares his happy-ending story with students.
From day one, his teams provide a wealth of guidance to students. That's everything from finding the right course of study (at Southern, those who have not declared a major are known as "exploratory students" and there's a special program just for them) to the search for internships and post-graduate jobs.
The Gallup research suggests this assistance is critical. Consider the two undergraduate experiences found to align most with students ultimately finding purposeful work: 1) having an applied job or internship and 2) finding someone who encourages their goals and dreams.
Skyler Puckett, '21, M.A.T. '22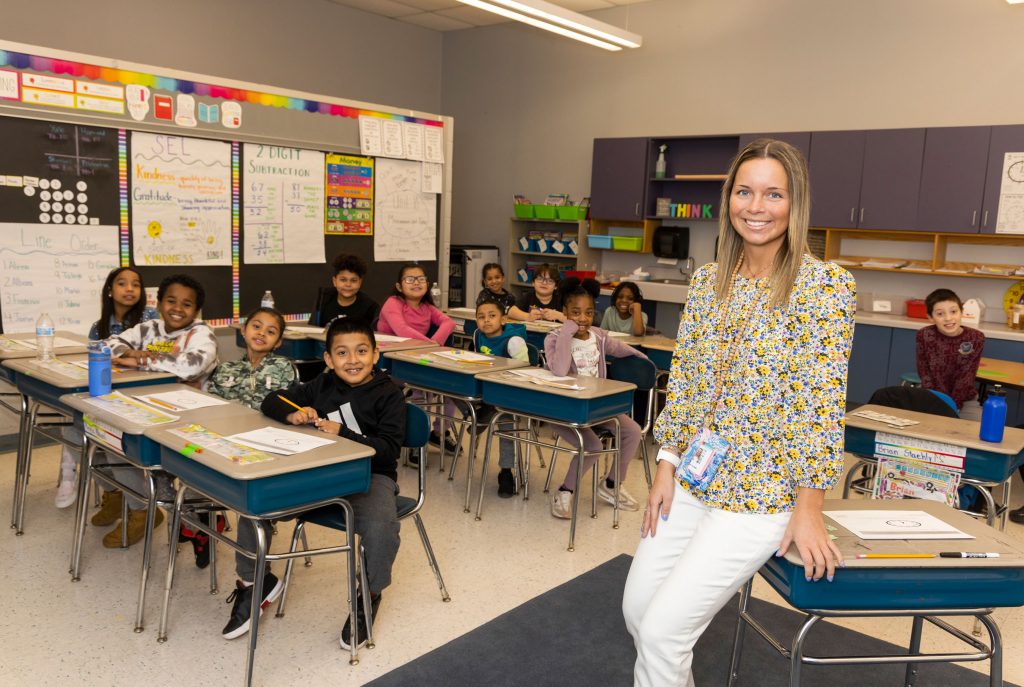 SOME CHILDREN ARE OBSESSED WITH HORSES OR TRAINS. For Skyler Puckett, the schoolroom held the magic. "My third-grade teacher was such a role model. I even tried to dress like her," says Puckett, recalling a favorite pair of pink shoes that echoed her mentor's.
Puckett's parents created a fantasy classroom in their basement with furnishings provided by her grandfather; a school custodian, he rescued old desks and white boards slated for the trash. As a fifth-grader, Puckett "taught" American Girl dolls and neighborhood friends — even driving them home on her bike/school bus at the end of the pretend school day.
Years of play foretold a real-world passion for education. But it took time to come to fruition. Puckett, a first-generation college student, transferred to Southern as a sophomore. She initially majored in nursing, then switched to psychology with a concentration in mental health. "I knew I wanted a helping profession," she says.
A further epiphany came senior year during an internship. Puckett was assigned to a school classroom in East Haven, Conn., during the COVID-19 pandemic. "I saw the teachers doing so much for their students," she says. "I thought, wait a minute, this is what I've always loved."
Puckett graduated magna cum laude with a bachelor's degree in psychology on May 16, 2021. That fall, she started Southern's Master of Arts in Teaching program. "At first, I was a bit mad at myself," she says of the shift in career aspirations. "But looking at the big picture, nothing went to waste. Those psychology courses help so much in the classroom."
Puckett completed her graduate degree with a perfect 4.0 grade point average on Dec. 18, 2022. The next day she was leading her class of 16 second graders at John Barry Elementary School in Meriden. She was offered the newly created position while student-teaching at another school in the city. "I am so grateful," she says, of all she learned from supervising teacher Jennifer Deangelo.
Thanks goes to her parents as well. "They helped me set up my classroom, this time in a real school," she says, smiling at the full-circle moment. "They are so happy for me. I am a teacher, and it's even better than I'd hoped."
Frank Tavarez-Mora, '16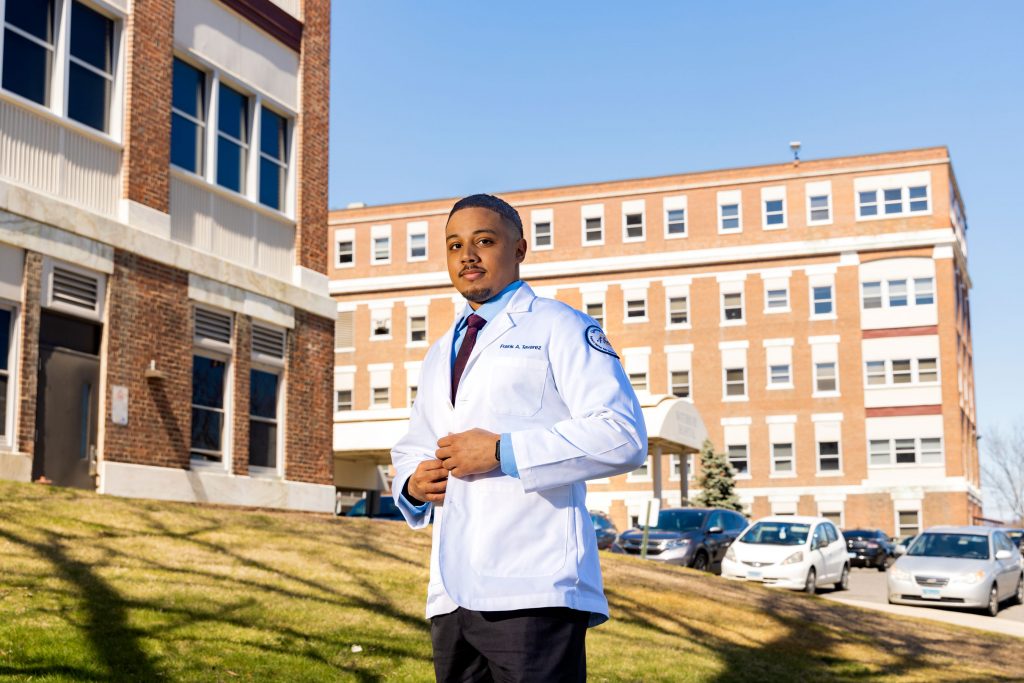 FRANK TAVAREZ-MORA KNOWS A HERO WHEN HE SEES ONE: "There are people who grow up wanting to be firefighters, pilots, and astronauts. I've wanted to be a doctor for as long as I can remember."
A medical student at Quinnipiac University, Tavarez-Mora was born with sickle cell disease (SCD) — an inherited red blood cell disorder characterized by episodes of pain, lower resistance to infections, organ damage, anemia, joint degeneration, and other health problems. The exact number of people living with SCD in the United States is unknown, but the Centers for Disease Control and Prevention estimates there are 100,000 — most of whom are Black. One out of every 365 Black babies are born with SCD in the U.S., having inherited two sickle cell genes, one from each parent. Additionally, about 1 in 13 Black babies are born with the sickle cell trait, which occurs when only one gene is inherited.
Tavarez-Mora has never known life without SCD. As an undergraduate, he focused on following a healthy lifestyle to help control symptoms. "A lot of it was learning my body and my triggers," he says.
As a first-generation college student, Tavarez-Mora faced additional challenges, including navigating the road to medical school. A biology major at Southern, he worked in the cancer research laboratory run by Sarah Crawford, professor of biology. He also was drawn to psychology and philosophy courses. He notes that one of his recommendation letters for medical school was written by Chelsea Harry, assistant chair of the Department of Philosophy. She's a life-time mentor, he says.
Tavarez-Mora also found support at Michelle's House, the Connecticut chapter of the Sickle Cell Disease Association of America, located in New Haven. He's a longtime volunteer — now serving on the board of directors — and was the organization's 2020 scholarship recipient. "Their faith in me helped me believe in myself," he says.
His medical training has moved to clinical settings, and he's exploring different specializations. He says one thing is certain: "I definitely want to work in an urban setting where I am able to serve a minority population."
He remains committed to educating others about SCD. "It is highly underserved and stigmatized. The disease itself was discovered more than 100 years ago [in the West.] But, before 2017, there was only one FDA-approved medication to treat it," Tavarez-Mora says.
He believes the cause of the stigma is twofold: SCD primarily affects Black and brown people, and it requires strong pain medications to treat complications. The latter can be misunderstood by the public, in the midst of the opioid epidemic. "So much of it is educating ourselves, and listening to people and their stories," he says. "I think that is a big part of being a successful physician."
Britt Conroy, '16, M.P.H. '20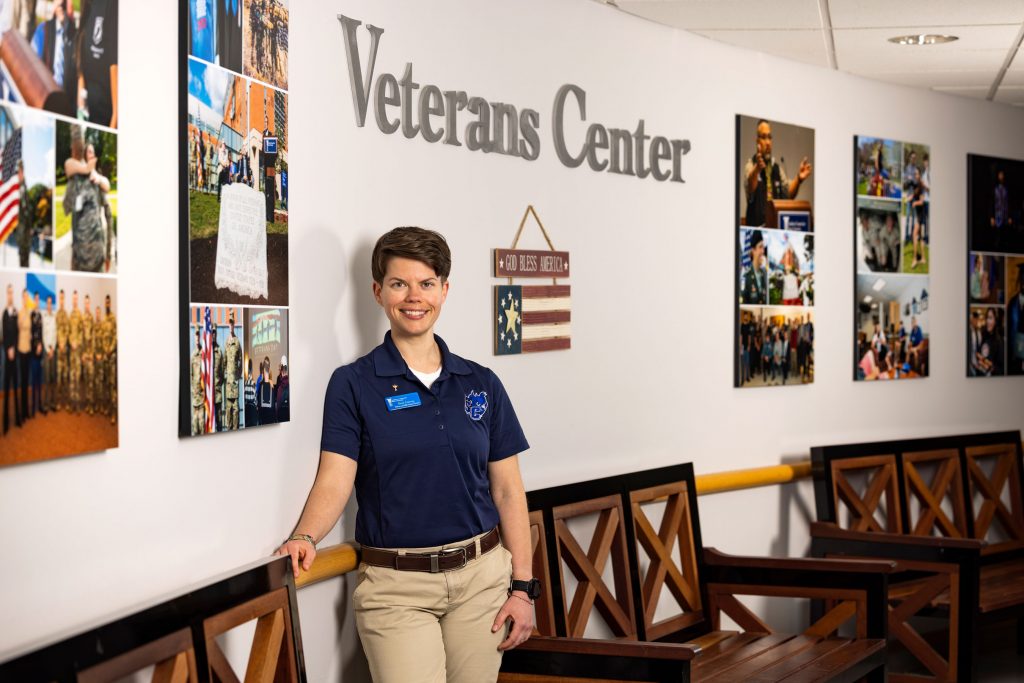 FOR BRITT CONROY, THE COMPLETION OF MILITARY SERVICE WASN'T MARKED BY A HARD LINE. After serving in the United States Air Force for more than six years, she continues her work on behalf of the military community at Southern, where she was named coordinator of veteran, military, and adult learner support services in July 2022. Her appointment follows the retirement of Jack Mordente, M.S. '77, 6th Yr. '79, who established the university's program for veterans more than 47 years ago.
The program remains a beacon. Like many, Conroy applied to Southern after learning about its Veterans Center. "It was such a relief. There are so many things to be aware of when using education benefits," she says.
Now, Conroy is smoothing the transition for others. It's a big job: 261 students at Southern were classified as veterans, military, or military dependents, as of fall 2022. Conroy and her staff help with everything from applying for higher education benefits to determining what courses are covered by the military. The Veterans Center, located on the lower level of Engleman Hall, also fosters a sense of community. It's a large, comfortable space furnished with couches, desks, computers, and a television.
Conroy's support extends to adult learners in the redesigned position — including those without a military connection. "Several students have come in and asked, 'What do you offer for adult learners?' My response: 'What do you need?'" she says. "I started at Southern when I was 29. I understand."
Growing up, Conroy envisioned a military career. But after the 9/11 attacks, her parents begged her to try college. So, she spent a semester at Gateway Community College, then proceeded with her long-held plan to enlist. She was 19.
"I had a great experience," says Conroy, who served mainly at Andrews Air Force Base in Maryland. Trained as a diagnostic imaging technologist, she became an instructor and earned the non-commissioned officer rank of staff sergeant.
After leaving active service, Conroy continued working as an imaging technologist. Then, following several cross-country moves, she returned to her home state of Connecticut with plans to put her higher education benefits to use.
Self-described as a poor high school student, she says she fell in love with learning at Southern, earning two degrees — a bachelor's in psychology and a master's in public health. She also worked in the Veterans Center as a student and was an active member of the Veterans Club, as well as a graduate assistant in the First-Year Experience Program and an academic adviser.
She draws on all in her new position. "Students are here to get their degrees. They shouldn't have to struggle with what happens in the background," says Conroy. "That's my goal: to be that go-between and answer their questions."
Thierry Thesatus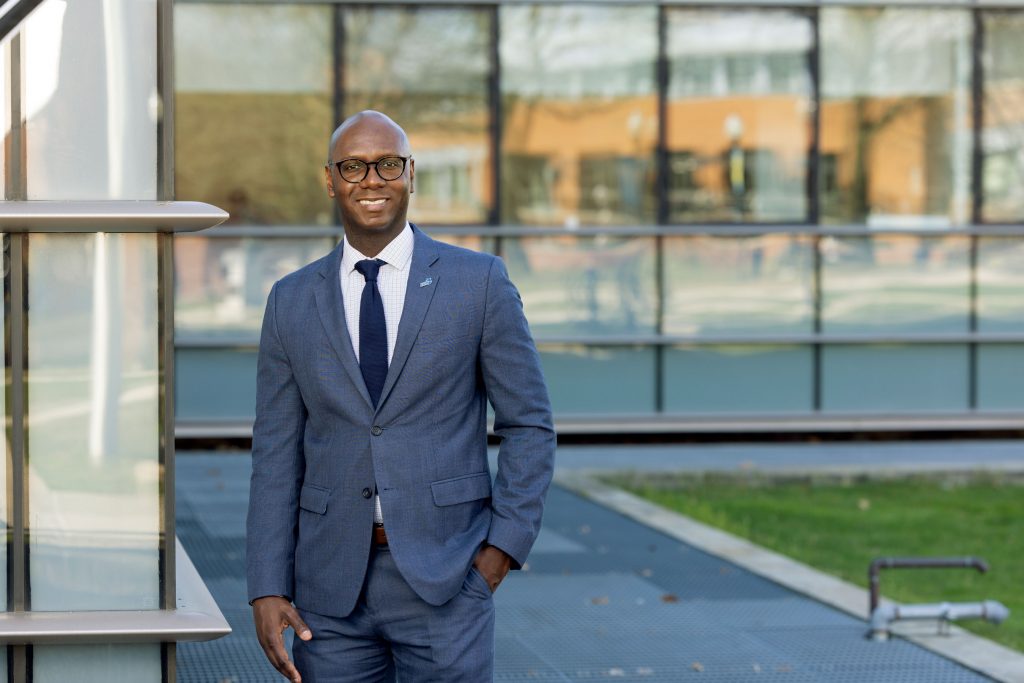 THIERRY THESATUS' CAREER TRAJECTORY PERFECTLY ILLUSTRATES THE POWER OF HARD WORK, NETWORKING, AND PERSEVERANCE — not to mention the willingness to chart a new course. "It's been a very different career path than what I once expected," says Thesatus, who, as an undergraduate, envisioned a career teaching history.
Several degrees later, he's the associate dean for career and student success at Southern. Since August 2022, he's led the Office of Career and Professional Development and supervised Academic Advising, as well as the Center for Academic Success and Accessibility Services (CASAS).
A first-generation college student, Thesatus majored in history and planned to teach grades 7-12. His commitment was strong, but the economy wasn't, and there were few jobs for teachers. He was substitute teaching when a fraternity brother — "a great friend and mentor" — recommended him for a position with Good Shepard Services (GSS), a nonprofit serving youth and families in struggling neighborhoods throughout New York City. GSS operates more than 90 programs, with services ranging from domestic-violence prevention to housing.
Thesatus joined GSS in 2012 as an advocate counselor with its alternative, evening education program for students 17½ to 21 who needed credits to graduate from high school. In addition to teaching history classes, he provided counseling and case management.
He excelled in the position and 1½ years later was asked to transition to working on the internship component of the program. He thought long and hard about the shift he was being asked to make. Once again, mentors offered the best advice: "They told me, 'Say yes, and trust in your ability to learn,'" says Thesatus.
In the next 12 years, he gained a wealth of experience in the career readiness and employment field. He also moved into the higher education arena. He worked at Long Island University Brooklyn and the Borough of Manhattan Community College, where most recently, he was associate director of career services and employer relations. (He also earned advanced degrees, including a Doctor of Education from St. John's University in 2021.)
The decision to come to Southern came naturally. Thesatus was drawn to the scope of the position, which in addition to career services includes academic advising, academic support, and access services. "It is the perfect position in terms of supporting student success," he says. "We help students from day one." He also appreciates the diversity of Southern's student body, which includes many first-generation students like himself.
There is a family link as well. Thesatus' wife and sister-in-law are Southern graduates, who majored respectively in psychology and nursing. "They speak so highly of their experiences and the connections they made at Southern," he says.
With connecting in mind, Thesatus encourages every Southern student to make the most of university resources. For example, JOBSs, an online career board for students and alumni, shares employment and internship opportunities — and is the registration site for ongoing professional workshops and programs. In March, Career Services launched the Industry Fair Series with four separate events focusing on healthcare and public health; social work and counseling; communications, media, and marketing; and business and STEM. Also introduced in spring 2023: a pilot program that provides comprehensive, online professional development to students working at CASAS. Looking forward, the plan is to expand it to all student workers.
Thesatus' message to alumni: resources, such as career fairs, are open to them. "We plan to connect with them for mentorship of students as well," says Thesatus. "They are going to be a vital part of us helping students to develop professionally."
* Harvard Business Review **Gallup, Inc.
Read more in the Spring '23 edition of Southern Alumni Magazine