Southern Connecticut State University Athletics and Recreation will commence a complete renovation of Jess Dow Field on Monday, May 15, 2023. Renovations of the home of Owls football, field hockey, soccer and lacrosse, as well as club sports and intramurals, will feature new FieldTurf and a new track surface, with the goal of completing the project by the start of the fall 2023 seasons.
"This is a very exciting project that has been in the works for over a year," Director of Athletics and Recreation Chris Barker said. "We are committed to providing a positive experience for our student-athletes and this is the next step in doing so. A project of this magnitude and significance is possible with support from the University, and I want to thank President Joe Bertolino, Vice President of Student Affairs Dr. Tracy Tyree, Mark Rozewski, and Eric Lessne for their continued support of Southern's student-athletes."
Barker and Associate Director of Athletics for Facilities Joe Hines have worked in conjunction with Associate Vice President for Capital Budgeting and Facilities Operations Eric Lessne in partnering with Benesch of Glastonbury, Conn., to design the upgrade to the facility. The new complex will feature a new FieldTurf surface and resurfacing of the track, as well as the javelin, pole vault, and long jump runways.
"I'm proud to be able to say this is the third time I've worked on the replacement of Southern's multiple-sports field," Lessne said. "This renovation, in my opinion, is by far the best one yet. Not only are we replacing the turf with state-of-the-art materials, but we are also resurfacing the track, 'D' areas, javelin, pole vault, and long jump runways. It's been a pleasure working with Chris Barker and his staff and I hope these upgrades will help Southern bring home many NE10 Championships in the future. Go Owls!"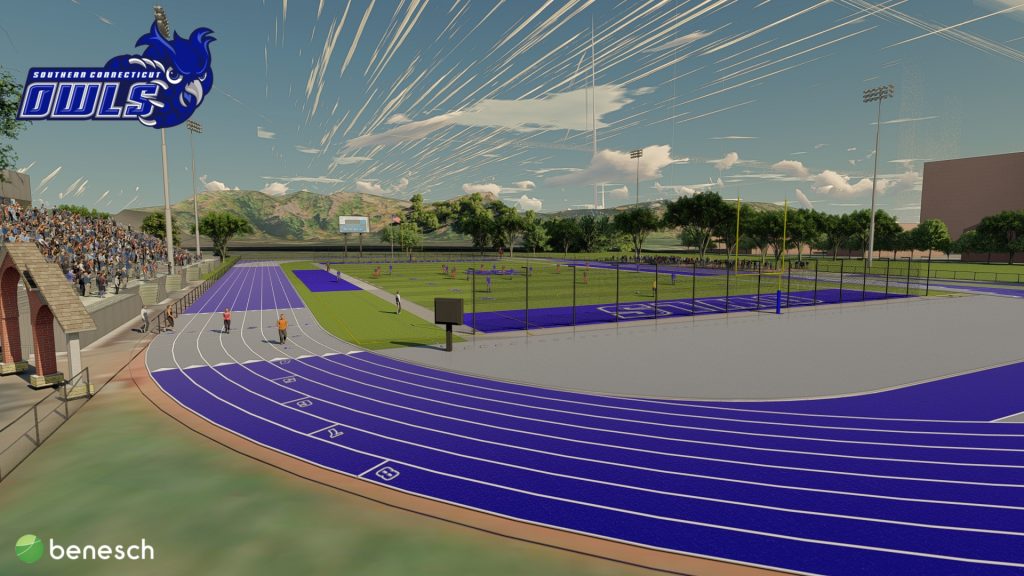 The Owls' new playing surface will be the FieldTurf Prestige Vertex with a pile height of 2.25". FieldTurf Prestige Vertex is comprised of specially designed slit-film fibers and high-performance ridged monofilament fibers. The fibrillation process of the slit-film component allows for proper infill encapsulation while the monofilament fibers facilitate grass-like ball roll. Both fibers are tufted together in the same stitch for a superior aesthetic appearance.
The new track will be made of Benyon Sports' BSS 300 material, which is a paved-in place surface. BSS 300 is a dual durometer system that features a polyurethane-bound black rubber base mat, topped with a two-component seal coat. It's finished with a flow-applied layer of polyurethane and embedded EPDM granules. The durable, resilient all-weather surface meets all IAAF performance standards for athletic tracks.
"Benesch has an impeccable reputation for field design and project management and they have done an amazing job in designing a state-of-the-art facility," Barker said, "I am excited to see the impact this will have on our student-athletes and our athletic and club sports programs."
ABOUT SCSU ATHLETICS AND RECREATION
Southern Connecticut State University Athletics and Recreation ranks among the top 10 NCAA Division II athletic programs nationally, with 81 individual titles as well as 10 NCAA Division II National Championships. SCSU Athletics and Recreation is home to 19 varsity teams and over 500 student-athletes from 21 states, Puerto Rico, and 12 different countries, as well as over 300 undergraduate students competing in club sports, every year. SCSU had NCAA championships representation in seven sports in 2021-22 and ranked among the top half of all Division II programs in the Learfield Sports Cup for the 17th straight year. Academically, SCSU celebrates the accomplishments of its student-athletes in the classroom in recognizing a department-wide GPA of 3.17 for the 2022-23 year. SCSU Athletics and Recreation is also dedicated to supporting social involvement by its student-athletes in the SCSU and local communities, while also providing multiple events every year centered on diversity, equity, inclusion, social injustice, and mental health awareness.
ABOUT BENESCH
Our company was founded as a structural and civil engineering firm in 1946 by Mr. Alfred Benesch. Early on, Mr. Benesch understood the importance of increasing the company's knowledge and skill by bringing together a conglomeration of experts with different perspectives. As our expertise expanded, so did our service capabilities. For more than 70 years, the firm has grown and prospered. Today, Engineering News Record places Benesch among the Top 500 Design Firms in the country.