During his student days at Southern, Christopher Borajkiewicz, '98, an Honors College double majoring in history and political science, held several leadership positions. His three-and-a-half years serving as president of the Student Government Association (SGA) remain the longest of any student in the university's history. As an alumnus realizing how those roles influenced his development, he wanted to ensure today's students could benefit as he did, so he made a ten-year commitment to fund the Borajkiewicz Family Endowment for Student Leadership, which will expand leadership opportunities for students.
"Southern gave me the opportunity to build the skill set I needed to be successful and to develop as a person," Borajkiewicz says. "I was a hell of a lot shyer before that. Ask people today, and they say that's not possible. But it's true."
Borajkiewicz arrived at Southern in the fall of '93 as a first-generation college student. His parents had emigrated from Poland. His father, trained as a tailor in the old country, worked as a machine operator until his untimely death when Borajkiewicz was 9 years old. His mother was a seamstress for a shirt maker and later took a job as a machine operator assembling sutures for U.S. Surgical. Money was tight.
As a senior at Notre Dame High School in West Haven, Conn., Borajkiewicz applied to several colleges. He picked Southern because it was closest to his New Haven home, and the university also had awarded him a four-year scholarship through the Honors College. Borajkiewicz worked weekends and summers at a landscaping job to pay for his fifth year.
During those five years, he honed not only his critical thinking but also his interpersonal skills. His various leadership roles — in student government and as a student representative on what is now the Connecticut State Colleges and Universities Board of Regents — also taught him about networking.
He had planned to become a teacher but after student teaching, he realized it wasn't his passion. Looking for options, Borajkiewicz attended a career fair, where Giacomo "Jack" Mordente Jr., a New Haven dentist and fellow Notre Dame High alumnus, introduced him to Rick Koumo, who was representing American Express (now Ameriprise). "If you're going to hire one person, hire this kid," said Mordente. Koumo did. (Mordente Jr.'s son, Giacomo "Jack" Mordente III, continued the family's legacy of support, retiring in 2022 as Southern's coordinator emeritus of veteran and military services, after establishing the veterans program at the university 47 years ago.)
Borajkiewicz worked hard and eventually built up his own practice, Root, Borajkiewicz, Lucarelli Wealth Advisors, an Ameriprise franchise. "They say life is 95 percent hard work and 5 percent luck. If you do that 95 percent hard work, amazing things will happen," says Borajkiewicz, who has been repeatedly named a "Forbes Best-in-State Wealth Advisor," most recently receiving the honor for 2023.
He has remained involved with his alma mater, serving on the SCSU Alumni Association Board of Directors in various roles, including treasurer and president. More recently, he was named to the SCSU Foundation Board of Directors and will begin his term as chairman in July. "I feel a lot of loyalty to Southern, and if I can give back in any way, that's what I try to do," Borajkiewicz says.
His wife Jennifer is also a Southern graduate, having earned a master's degree in special education in 1999. They met through mutual friends after graduating, married, and have three sons. Their oldest, Andrew, a high school senior, plans to attend Southern this fall, which won't be far from their home in Prospect.
During his tenure as SGA president, Borajkiewicz was instrumental in establishing the Anthony V. Pinciaro Scholarship, in memory of the former vice president for academic affairs. As an alumnus, he funded the Christopher Borajkiewicz Endowed Scholarship to support students in the School of Business. But he wanted to do more. So, after about a year of conversations with Southern administration about how to best make an impactful gift, they created the Borajkiewicz Family Endowment for Student Leadership.
The endowment will develop programs and experiences to support current student leaders and provide opportunities to create new leaders — potentially funding everything from speakers to student awards to mini-grants for students. "We are really excited about this gift designing experiences for students to build career competencies and leadership strengths to complement what they're doing in the classroom," says Tracy Tyree, vice president for student affairs.
In recognition of the gift, Southern named a wing in the Michael J. Adanti Student Center's Student Life area, the base of operations for all student leadership, the Borajkiewicz Family Student Leadership Wing.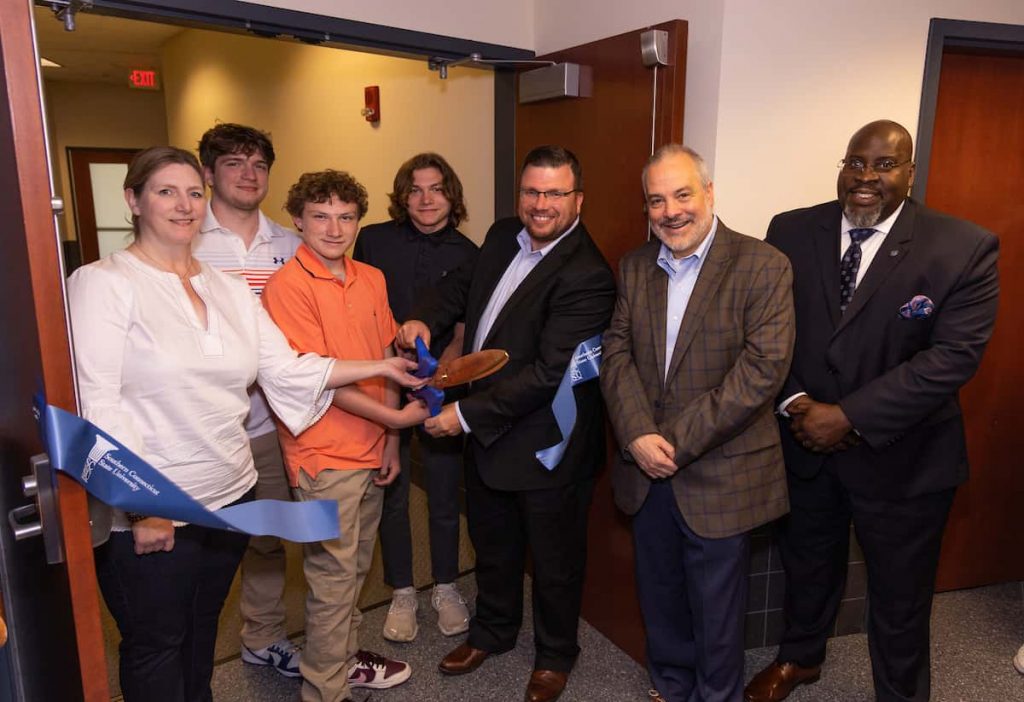 Borajkiewicz's support extends beyond his leadership-level contribution. Building on a history of mentorship, he will be directly involved with students, speaking to them in classrooms and on panels to pass along his knowledge. "He's giving his time and his talent as well as his resources to benefit students," Tyree says.
Borajkiewicz wants not only to help students but to influence other alumni to share their time, talent, and resources as well. "It doesn't take a lot, but it does take action to help," he says.
Borajkiewicz sees the impact of the endowment spreading beyond Southern's campus. "Close to 90 percent of those who graduate from Southern stay in Connecticut," he says. "We are training our own work force and leaders right here."
Leaders Wanted
Leadership development is a growing component of the college experience — with good reason. Only about one in 10 people possess the high level of talent needed to be a great manager, according to research conducted by Gallup, a consultancy based in Washington, D.C. The impact on employees and the workplace can be monumental. The same study reported that one in two employees have left a job to get away from their manager.*
At Southern, a wide variety of programs and initiatives are designed to foster leadership development — and many will be enhanced by funds from the Borajkiewicz Family Endowment for Student Leadership. The gift also will help more Southern students participate. Here's a look at a few of many leadership programs at the university.
The Freshman Leadership Experience (FLEX) Program takes place before participants start college. Over three days, students benefit from meaningful leadership experiences while networking with current student leaders, faculty, and staff.
Continuing on, students are invited to participate in Southern's Leadership Certificate Program, earning Bronze, Silver, and Gold certification as they enhance their leadership experience and skills.
Launched in 2017, Southern's chapter of Omicron Delta Kappa, the National Leadership Honor Society, recognizes and encourages superior leadership.
More at: inside.SouthernCT.edu/student-involvement/leadership.
* State of the American Manager, Analytics and Advice for Leaders by Gallup