For Thomas Newman, MS '22, the thought of walking at graduation in May of 2022 was the stuff of dreams. Especially considering it was only a few months prior that Newman was struggling with basic functions, 40 staples holding his skull together with titanium plates.
His four-year journey to earn his master's in sport management was anything but typical. At a time when many students were enduring the challenging times of the Covid-19 pandemic, Newman had another tough hurdle to clear: an emergency craniotomy for an undiagnosed brain tumor.
"It wasn't a straight path," said Newman, now tumor-free and working as chief innovation officer for Hawkin Dynamics. "I took the scenic route."
Newman had been a CEO of a tech startup and done small business fundraising. He was also the director of the Yale Sports Performance Program. He wanted a master's degree.
The Boston, Mass., native credits Southern's master's in sport management program – and its director, Dr. Kevin McGinniss – with giving him the confidence to tackle his challenges.
"I was 100 percent ready to pack it in when the tumor came. I didn't know what to expect. Dr. McGinniss said, 'That's not an option,'" Newman said.
The rapport between student and mentor might be considered one of the unseen benefits of the groundbreaking sport management master's program at Southern. When Newman was on the fence about handling the rigors of a graduate program while managing a demanding career, McGinniss delivered assurance.
"He came to campus, sat down with me and we really hit it off. He was skeptical at first," McGinniss recalled.
But the gap in his credentials weighed on Newman.
"I was 30 when I started working at Yale," he said. "I had 10 years' experience, but I didn't have the master's. Finally, I said, 'I'm going to do it.'"
Newman's appetite to learn was tenacious. Outside the classroom, he was a persistent learner.
"He got a lot of intangibles out of the program, maybe because of the way he spread it out," McGinniss said. "He would always call me, want to come in and talk about things and build upon what he was learning inside and outside the classroom."
Newman's tenacity may have been his greatest asset. Juggling a full plate, Newman was also the strength and conditioning coach for the Yale men's lacrosse team as it prepared for the NCAA tournament in the spring of 2018.
Newman was logging an 80-hour work week as the team waged its national championship battle. His diagnosis meant surgery to remove the tumor, and recovery not only from the physical effects but the emotional ones, too. While the lacrosse team went on to win its NCAA title, Newman was managing overwhelming stress. He was ready to quit his master's program.
Newman told McGinnis he was unsure about continuing his degree. McGinniss responded with understanding, friendship, and life coaching.
"He was shocked to have something like this happen to him," McGinniss said. "I encouraged him to step away from the program, it wasn't that important at that point. I said I would always be there for him. He was under no pressure to continue."
Newman kept going. Despite the 10-inch scar and 40 staples in his skull, he took McGinniss's support and walked with it – in commencement exercises in May 2022, where he collected his degree and a priceless photograph alongside McGinniss.
"I didn't know if I'd be able to walk, let alone get my diploma. At times I didn't think I could do it, but he was like, 'Nope, you're fine.' It's been a wild ride," Newman said.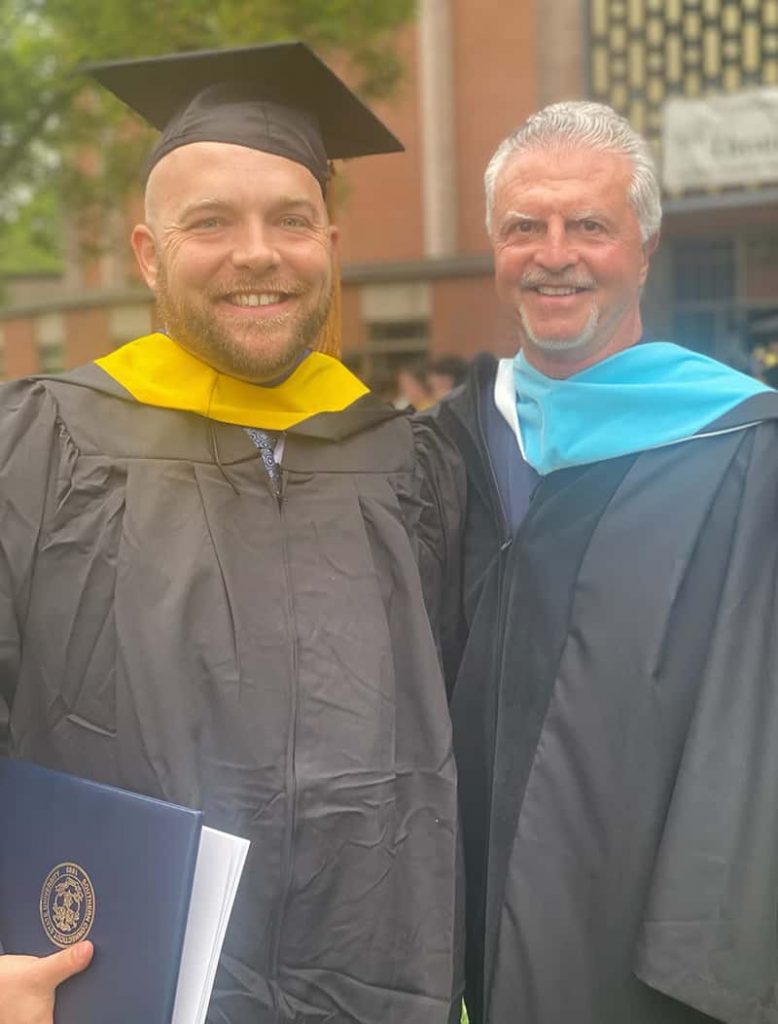 Developing a strong relationship with his professors created an opportunity for Newman to expand his knowledge and rekindle his career. It also expanded his professional network. That was a benefit that students should consider when they're choosing a graduate program, Newman said.
"I've had the ability to recommend people to colleges," he said. "The reason I'm sending people through Southern's program is because it makes you better as a person. The sport management program is a hidden gem of Connecticut."
It's no surprise that the program is world-class. Its architect was renowned sports management expert Dr. Donna Lopiano, '68, an adjunct professor of sport management at Southern. Lopiano also is a former CEO of the Women's Sports Foundation and Director of Women's Athletics at the University of Texas at Austin.
Newman said Lopiano is more evidence of the appeal of Southern's master's program in sport management. "She is a living legend," he said, "one of the top five famous women in sport."
Lopiano, in turn, said Newman exemplifies the ideal student. "The sign of a good learner is somebody who always asks questions. Tom always had questions, he's a knowledge sharer. He is the definition of curiosity and passion for his subject."
More than that, Lopiano said Newman's distinguishing quality was his ability to maintain his connection with Southern and the program that he worked so hard to complete.
"People give too much weight to workload," Lopiano said. "People who are inquisitive, who want to get stuff done, accomplish huge things because they take on huge things. There was nothing he wouldn't take on."
Newman said Lopiano and McGinniss are among the high-caliber connections he formed in his professional network, all due to the access made possible through his graduate program.
"When people are looking at an education or a program, you've got to consider not only the degree but who you're getting the degree with. This was a really first-class educational opportunity," he said.
For Newman, the opportunities continue to grow. He is co-authoring a textbook with strength and conditioning expert Dr. William J. Kraemer, one of the world's preeminent scholars in the physiology and endocrinology of resistance training. Newman is also considering pursuing a doctorate degree.
Recently, Newman accepted a new job as lead performance specialist at Mass General Brigham's Center for Sports Performance and Research. The non-medical facility offers a science-based approach to sports performance training, including innovative performance research. Newman is leading the staff in the high-end training being done at the center.
"We do a ton of research in sports; it's the 'tip of the spear,'" Newman said. The opportunity at Mass General, located a couple hundred yards away from Gillette Stadium where Newman once felt the thrill of collegiate sports achievement, brings his career trajectory to yet another new peak. This time, he said, it comes with additional personal meaning.
"We're dealing with healthy people, not a rehab center. If you're a 35-year-old with a brain tumor and you still want to be an athlete, where do you go? I can look at someone differently through the lens I have – I've been there," he said.
For anyone wondering if they have what it takes to get through the sport management program, Newman has empathetic but candid advice.
"For me, a lot of thought went in to starting the program," he said. "You're tired. Nobody cares. It's not going to last forever. You've got to grind it out."
Ready to explore Southern's master in sports management program? Contact Dr. Kevin McGinniss at mcginnissk1@southernct.edu.