Game on.
Flat-screen 4K TVs with blue LEDs, lounge chairs, and restaurant-style tabletops are some of the amenities found in the new esports lounge in the Michael J. Adanti Student Center.
The lounge, which occupies room 225 on the second floor of the student center, celebrated a soft opening on Monday, Sept. 26, 2022.
The space is open to all students and Esports Club members Monday through Thursday, 4:30 p.m. to 10:30 p.m.
"It's a new space for students to come out and spend free time," said Mirza Javed, a second-year MBA student. "Esports is such an emerging industry within sports management. It's such a big part of the sports industry that people don't really know about yet."
And the industry continues to grow exponentially. In 2022, the global esports market was valued at just over $1.38 billion.
It was in the fall of 2019 when Southern students Miles Bagoly, '22, and Brian Harner, '22, founded the Esports Club, which has since kicked off with more than 40 members participating in club activities, meetings, and gaming sessions.
Since 2021, Southern's Esports Club team competes in the Eastern College Athletic Conference, in which more than 300 teams and 2,000 individuals participate in their yearly college championships.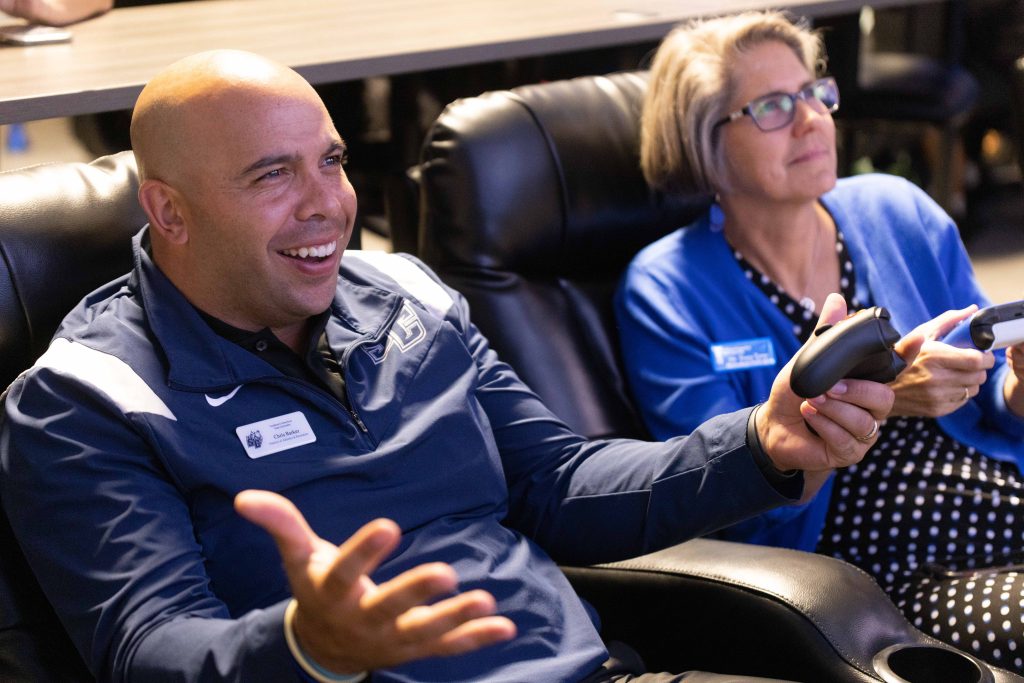 And due to the pandemic, getting together to compete in person was challenging. Bagoly, who is the current president of the Esports Club, said this new space addresses those concerns.
"Just being able to have students come in and hang out with people of similar interests is truly a wonderful addition to our campus," said Bagoly. "Esports can range from watching to playing; we have the resources to now allow for all different types of students to participate in our club."
"This new space gives us unlimited potential for the growth of competitive and recreational gaming at SCSU and we're excited to see where it goes," said Recreation and Fitness Coordinator Andrew Marullo. "Our club team will have a place to train and compete while our recreational gamers will have a space that allows them to have fun and build community with their peers."
The new space houses XBOX, PS5, and PC consoles with games such as Halo, Fortnite and NBA 2K23. At the soft opening, even Athletics Director Chris Barker and Vice President of Student Affairs Tracy Tyree were getting in on the fun – controllers in hand.
"I am excited for the ways the space provides new opportunities for students to connect with each other around something they love," said Tyree. "A huge thanks to RecFit and our students who conceptualized this room and made it a reality."
Southern has been on the move to boost esporting both in the extracurricular sense as well as academically. A newly launched minor in esports management offered by the College of Health and Human Services looks to expand even further and build the program in an interdisciplinary way, potentially as a future major.