The School of Business created its annual Business Leadership Breakfast in 2018 with a single and clear goal: to engage with members of the Greater New Haven business community in greater numbers. This year's event convened on May 4 at District New Haven, a former bus repair depot on James Street turned "comprehensive ecosystem designed to support and inspire people and businesses at every stage," replete with a contemporary, open-design meeting space.
The program featured speaker Raj Sisodia, co-founder and chairman emeritus of Conscious Capitalism Inc., who addressed "The Importance of Stakeholder Integration in Today's Changing World."
School of Business Dean Jennifer Robin co-hosted the event with her Business Advisory Council, which comprises 20 business leaders from a variety of industries.
"Our annual Business Leadership Breakfast provides Greater New Haven leaders the opportunity to all meet, network, and get back to the office in time to implement ideas sparked by a relevant and dynamic speaker," Dean Robin explained. "We were particularly excited about convening this group in person again," she added.
School of Business Executive-in-Residence and Business Advisory Council Chair Tony Rescigno agreed. "While there is value in individual meetings, we also enjoy bringing everyone together in one place at one time," he said. "This way, we created an opportunity for the School and Council to meet with the business community en masse, and we extended that same opportunity to the business community itself."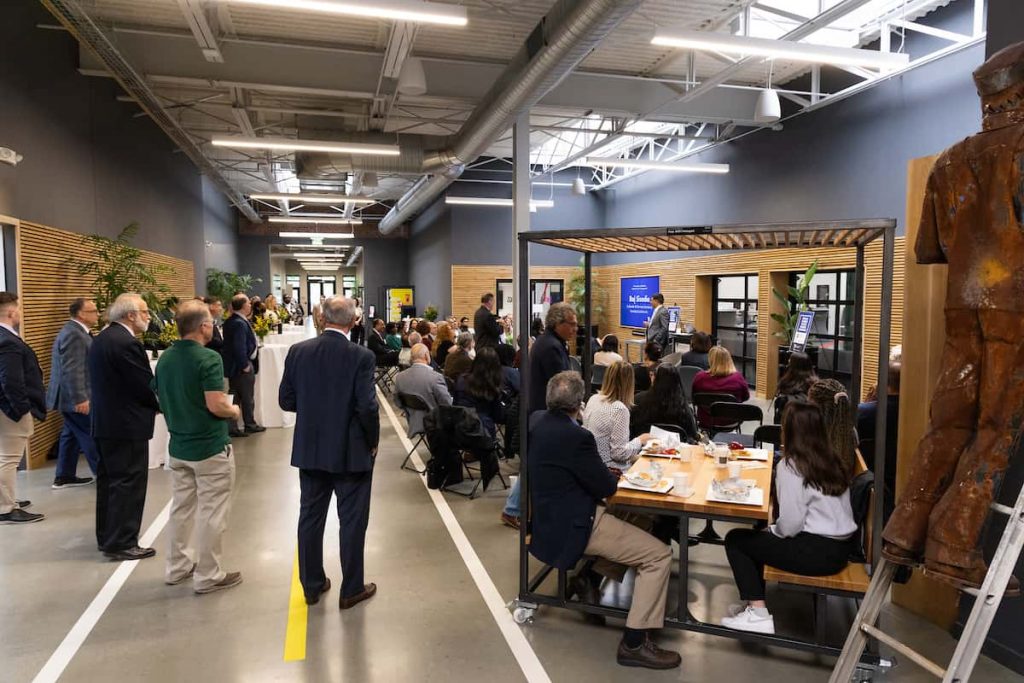 Once again, participants found the Business Leadership Breakfast to their taste, as evidenced by their comments.
Lindy Gold, senior specialist, Connecticut Department of Economic and Community Development, and benefactor of the School of Business:
"As a member of the SCSU Foundation Board as well as the School of Business Advisory Board and a board member of Conscious Capitalism, the breakfast checked all of my boxes both personally and professionally. By providing substantive programming, relevant to the business community and the SCSU community, we had a robust and diverse attendance.
"The importance of the School of Business to the economic well-being of the region cannot be overstated. The future workforce depends on the retention of our students in Connecticut. The articulation of the range of programs that prepare our students to support our business community serves to inform them of the value of SCSU as an integral part of the ecosystem. All of the feedback was extremely positive."
Kelly Campanelli, narrator, Slate School:
"Thank you for organizing such a worthwhile event. It was wonderful to connect with many colleagues and friends and learn more about Southern Connecticut State University's School of Business. I was especially interested IMPACT Greater New Haven, a program that supports nonprofits by providing interns to help with virtual presence. And Raj Sisodia's purpose to "bring heart, healing, courage, and soul to business and leadership so we can all build a better world for all" is an important message for our community, and one that inspires our own mission at our nonprofit Slate School."
Mary Rose, vice president, Challenger, Gray & Christmas:
"First off, the world of work is experiencing great shifts that are forcing organizations to re-think many things on many levels. From my view, conscious capitalism is being brought to the forefront as employee demographics and their changing values are requiring companies to make changes to attract, engage and retain talent. I thought the presentation was well delivered with impactful statistics offered on the results of these companies. Glad I was able to attend!"
Noelle Taddei, CPA, educator/accounting coach/career advocate:
"This was my first Business Leadership Breakfast, and I'm delighted to say it will not be my last! I found the venue [The District] refreshingly different, and the speaker relevant. Best of all was the opportunity to reconnect in person with many associates, and the opportunity to form new relationships as well. I commend the School of Business and the Business Advisory Council for a job well done, and appreciated their invitation."
As New Haven's urban, public school of business, the mission of the SCSU School of Business is to transform the lives of a diverse student population through education and research. The School fulfills its mission through its core values and guiding principles.