Jocelynne Rainey, '89, is passionate about breaking down barriers and advancing racial and social justice. While working as the chief administrative officer at the Brooklyn Navy Yard Development Corp., she helped build job training programs and connected local residents, many of whom were lower-income and people of color, with jobs in the booming industrial park. At her next post, heading up the East Harlem-based nonprofit Getting Out and Staying Out, she worked with young men who were formerly incarcerated, helping them access school, jobs, and emotional support services.
Now, she's bringing that same passion to her new role as president and chief executive officer of the Brooklyn Community Foundation, an organization with more than $120 million in assets and a track record of helping Brooklyn nonprofits tackle racial inequities.
One of her first official duties on the job? Notifying the winners of the organization's annual Spark Prize, which awards $100,000 "no-strings-attached" grants to five Brooklyn nonprofits with an outstanding commitment to racial justice. It was especially satisfying for Rainey, who knows all too well how difficult it is for a small nonprofit to raise money — and how much good can be done with an unexpected windfall. "I had the opportunity to call those nonprofits and feel their joy," she says.
Rainey, who lives in Brooklyn's Bedford-Stuyvesant neighborhood, credits her father James Strachan for sparking her passion for racial justice. At the family dinner table, he'd often talk about his own experiences with racism in the 1960s, as a college-educated, Black man working as a district sales manager for General Motors.
"He would say things like, 'You know, I don't get the same bonus even though I'm doing great,'" Rainey recalls. "He was never angry. It was just, this is what it's like. He shared those things in a way that was teachable."
He also emphasized the importance of serving the community. "We're not doing well unless we're making sure that other people in our community are also doing well," Rainey recalls him saying.
"That resonated and stayed with me. I've been lucky enough to bring it into my work," she says.
Her own life experiences also shape and inspire her work. Rainey's parents divorced when she was young, and she recalls spending summers and school vacations living with her father and stepmother in Hamden, Conn. During the school year, she lived with her mother, who moved frequently between New York City and Richmond, Va.
"I went to a new school every year from elementary school through high school," says Rainey. It affected her deeply, making it difficult to form friendships or focus on her studies.
"It helped me to see how instability in any area of your life brings instability to every area of your life. So, one of the things I'm most passionate about is trying to figure out ways to ensure that young people have stability," she says.
Rainey found that stability at Southern, the only college she applied to, after her father mailed her an application. (She comes from a family of Owls, including her stepmother Lynne Strachan, '76, M.S. '77, 6th year, '81, and sisters Jamison Strachan, '92, and Candace Strachan, '99, who followed Rainey's college path.)
A commuter student who majored in sociology, Rainey immediately fell in love with the campus and all it had to offer. She joined the Alpha Kappa Alpha Sorority, the first intercollegiate Greek letter organization established by Black college women in the U.S., founded in 1908 at Howard University. She also became involved with the Black Student Union. Both organizations provided the underpinnings for her future as an advocate and activist.
"Watching my fellow students and their level of activism really inspired me," says Rainey, who also holds a master's in public administration from Metropolitan College of New York and a doctorate in executive leadership from St. John Fisher College.
After graduation, she moved back to New York, where she began her career in human resources. She initially worked at nonprofits and then for corporate brands like Boar's Head Provisions, where she was committed to increasing the hiring of women and people of color. She joined the Brooklyn Navy Yard Development Corp. in 2011, rising to chief administrative officer and executive vice president. In 2020, Getting Out and Staying Out came calling, and she seized the opportunity to run the nonprofit.
When the Brooklyn Community Foundation job opened, she knew it offered a way to help even more charitable organizations do good work in the borough that she loves. "I knew it was what I had to do," she says.
Her appointment brought accolades from a long list of New York City leaders, including newly elected Mayor Eric Adams, who knew Rainey from his years as borough president. In a statement announcing her appointment, Adams applauded Rainey's "long track record of working towards the betterment of our borough."
"I cannot think of a more appropriate role for her to continue her commitment to empowering all Brooklynites," he added. Rainey, likewise, notes that she's "a big fan" of the new mayor, who she says is vocal about the important role nonprofits play in their communities. "I'm looking forward to seeing the work that he does in the city," she says.
For her part, Rainey's commitment to philanthropy and nonprofit work extends beyond her professional life. Each year, her family awards a scholarship for non-commuting, college-bound Brooklyn high school students. The students receive a $250 monthly stipend to be spent however needed. She was motivated by stories of students who attended college on need-based scholarships but couldn't afford plane tickets home, or whose schoolwork suffered because they needed to spend so much time working to make ends meet.
She also volunteers on the boards of numerous community organizations, including the New York City Workforce Investment Board and the Murray Kopelman School of Business at Brooklyn College. Crain's New York Business named her one of its "Notable Black Leaders and Executives" in 2021. Last July, she was elected to serve on the SCSU Foundation Board of Directors.
"I love Southern, and I care about outcomes for young people, so it was a no-brainer," she says.
Her advice to Southern students and younger alumni? Give back, however you can. "Everyone can be philanthropic in some way. It can be with your time. It can be with your expertise," she says. "You don't have to be wealthy, you just have to find your space."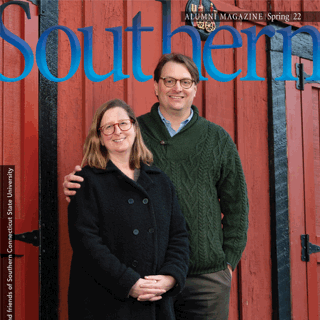 Read more from the spring 2022 issue of Southern Alumni Magazine available online.