Southern student Lisa Marie Tedesco and her film team are heading to the French Riviera to attend the Festival de Cannes this May. Tedesco took to the Lyman stage in March 2021 to produce her short film, Spin, for her independent study in Communication, Media, and Screen Studies. During production of the shoot, she was forced to shut down for several weeks due to a Covid-19 scare with one of the crew members. In a time of uncertainty prior to the vaccination the stakes to produce any film, let alone a contained student short, hung in the balance. Tedesco knew the chances, even with a Covid compliance officer on set, that something could go wrong.
"It was always in the back of my mind," said Tedesco. "I wanted to provide a safe and fun set for all but in the end, I knew I had to shut down in case there was in fact a positive case."
While the situation proved to be a false positive, Tedesco had to scramble to reassemble her team to make her spring semester deadline.
"There was a conflict with the Lyman schedule. It was either do it in two weeks and put the $8k I lost onto a credit card or wait months, get an extension on my independent study, and hope everyone was still available. In the end I just went for it two weeks later."
Tedesco, cast, and crew shot the remainder of Spin the first week of April 2021 with
post-production completed in late June.
With the film festival circuit just beginning, Tedesco had dreamt of returning to Cannes. Her first film, August in the City, screened at Cannes in 2017 and she wanted to make sure Spin had the same fate.
"Cannes is one of the three elite festivals in the world with industry folks coming in from all over to see films and meet the filmmakers," said Tedesco. "I wanted our special project to be included in any way. While we were accepted into the Court Métrage (short film corner), which is a massive catalog and collection of new short films for people to watch at their leisure, I wanted to make sure I gave this experience to my crew and to my actors."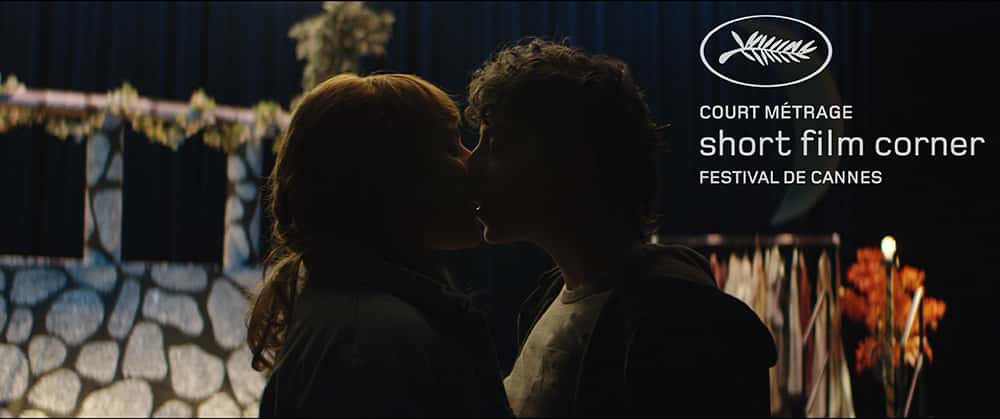 The film stars Courtney St. Gelais as Abigail and Sierra Berkeley Fisher as Sky, two high school seniors taking their final bow in drama club while letting desires run rampant at the cast party. When told they had the chance to attend, the two actors were floored.
"It's a festival I had heard about and discussed all my life before getting deep into my acting career," said Fisher. "It's surreal. I am over the moon."
"Big same," said St. Gelais. "This project is so near and dear to my heart. It's the first 'real' film I've made and the specialness to bring it to Cannes is a dream come true."
Spin revolves around a simple story of two people living in the moment. It's realistic and relatable, not just for young adults, but for anyone.
"This is an important story; a unique one," said Fisher. "They're not together forever. It's a story of two people finding themselves and coming of age."
"It's an exploration of sexuality," said Gelais. "It's a love letter to my younger self. Abigail is everything I wanted to be when I was a young closeted queer kid. It helped me with my own identity."
While Tedesco never wanted to label the film as exclusively LGBTQIA+ she wants to make sure the positive representation is visible and praised.
"Having a film like Spin show at Cannes paves the way for more generations of queer
filmmakers who are dreaming big and want to create stories that represent themselves and the world around them in a fun, unique, and positive way," said Tedesco. "Cannes is only the beginning for us!"
Spin will be playing at the Festival de Cannes throughout the month of May both on site and virtual. Keep an eye out for screenings at local festivals!