For anyone in the film industry – or anyone interested in film, for that matter — the renowned Cannes Film Festival in France is considered one of the most prestigious festivals in the world. Each year in May, producers, directors, screenwriters, actors, and many others involved in the process of filmmaking, from all over the world, flock to Cannes to see others' films, show their own films, and network.
This year, Southern student and screenwriter Lisa Tedesco will be among the crowds at Cannes, but not as one of the paparazzi or a mere film fan. Tedesco will be screening her short film, August in The City, one of about 200 short films chosen from among about 10 thousand submissions for the festival's "Short Film Corner."
Tedesco wrote the screenplay for the film and is executive producer. She teamed up with Los Angeles-based director Christie Conochalla (Once Upon a Zipper, Forever Not Maybe) to produce August in the City. Shot in Brooklyn and Oceanside, N.Y., last November, the production team has now begun its run on the film festival circuit.
August in the City has already screened at the ClexaCon Film Festival in Las Vegas, Nev. Local audiences can see August in the City on Friday, May 5, at 6:15 p.m., when it is shown in the New Haven International Film Festival.
A visionary project in lesbian filmmaking, August in the City deals with the theme of love, loss, and attempting to persevere throughout life without feeling quite whole. August (Daniela Mastropietro) is a woman who has always seen the world through her parents' eye. They had stability and a loving relationship that August grew from and wanted. August's husband Salvatore (John Solo) is an old-school Italian man who loves family values and the simple life. Together they have raised two daughters, Ana and Marie (Stacey Raymond and Amanda Tudor). Upon hearing of Ana's impending return home from college with Nick (Raquel Powell), a new love, August prepares to meet him. When August sees that Nick is a young woman, not the young man she had expected, the film flashes back to 1978, the night when August let her true happiness slip away from her.
Tedesco attributes her vision for the screenplay to a story her mother wrote about her when she was off at film school, about 12 years ago. Her mother, Southern alumna Nancy Guthrie Manzi, '76, had been an English major with a concentration in journalism while at Southern and says she has always loved to write.
"My mom had called me one night and said that she has written a little something about me," said Tedesco. "It was about my very first love that I had in college – her name was Nick – and she was expecting to see a young man when I brought her home." Her mother had been surprised when Nick turned out to be female. Manzi's story sparked Tedesco's imagination, and she began thinking about the perspective of the mother in the story.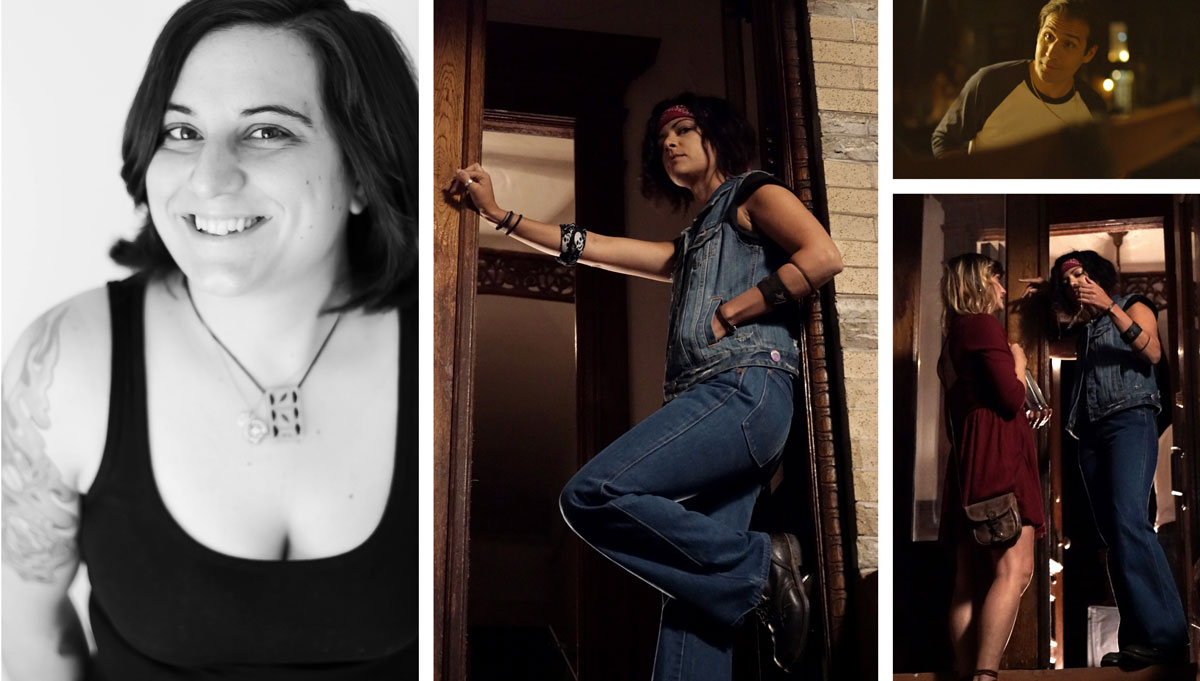 Tedesco asked her mom for permission to use the story. "I wanted to do more with it," she says. She decided to do a "time hop" about the mother's side of the story — which she adds doesn't reflect Manzi's experience — and delve into the fictional mother's past. Tedesco's screenplay for August In the City took that element from her mother's original short story and combined it with her own dramatic touches to make something new.
Tedesco explains that her film is 16 minutes long, and within the short film genre, films can range from one minute to 30 minutes in length. "Starting out, you don't have access to a lot of the resources you'd have with a Hollywood budget," she explains. "Short films are good when you have a low budget. "
At film festivals, short films can help filmmakers network and sell their work. At Cannes, for instance, Tesdesco says, "the hope is that you'll get noticed and get more money to build upon the short" and possibly produce it as a feature film. She explains that distributors from all over the world come to the Cannes Short Film Corner to see the films, and "high production value increases your chance of getting someone's attention."
In addition to attending Southern part time and working on her film career, Tedesco works the second shift at Sikorsky as an electrical aerospace technician. A native of West Haven, Tedesco now lives in New Haven and worked on August in the City mostly within the New York City film community.
A media studies major, Tedesco credits her professors in that department with motivating her to "go for it" and make the movie. She says that Associate Professor Charlene Dellinger-Pate "gave me a sense of stability in knowing I could overcome the stigma of women being underrepresented in the film industry." Associate Professor Rosemarie Conforti, Tedesco says, is supportive and "just wants you to succeed at everything." Chairperson and Professor Wesley O'Brien says he and the entire department are proud of Tedesco, adding that she is "a self-directed young woman who knows what she wants and is wise enough to pursue it."
For more information about August in the City, visit:
Teaser: https://www.youtube.com/watch?v=-2Pb7P_Izj8
http://www.imdb.com/title/tt6388694/?ref_=fn_al_tt_1
https://www.facebook.com/AugustintheCity/
https://twitter.com/AugustCity_Film