CARE outreach team works to promote healthy living and vaccine acceptance.
As outreach workers from the Community Alliance for Research and Engagement (CARE) spread out through the neighborhoods in New Haven, they are weaving a tapestry of trust among residents in hopes of improving overall health and thwarting acute threats like Covid-19 and flu. That interwoven approach mirrors the complex web of challenges that public health experts say cause disparities in health care and in health outcomes in black and brown communities.
CARE is a partnership between SCSU's College of Health and Human Services and Yale's School of Public Health. Under the direction of Southern's Alycia Santilli, MSW, the agency has expanded its focus in recent months to include understanding and countering vaccine reluctance. In fact, Santilli recently co-authored an article for the Journal of the American Medical Association (JAMA) on vaccine acceptance and access among Black and Latinx communities.
"We're working with a number of community partners to understand and address the barriers," Santilli says. It's a natural extension of the work CARE was doing before Covid-19.
"Our mission is to improve health in New Haven," she says. So they look at factors like how neighborhoods are set up. Do they have the infrastructure required for engaging in healthy behavior? Do they have grocery stores with affordable, healthy food choices, safe outdoor play areas, opportunities for active transportation, and access to community-based health care?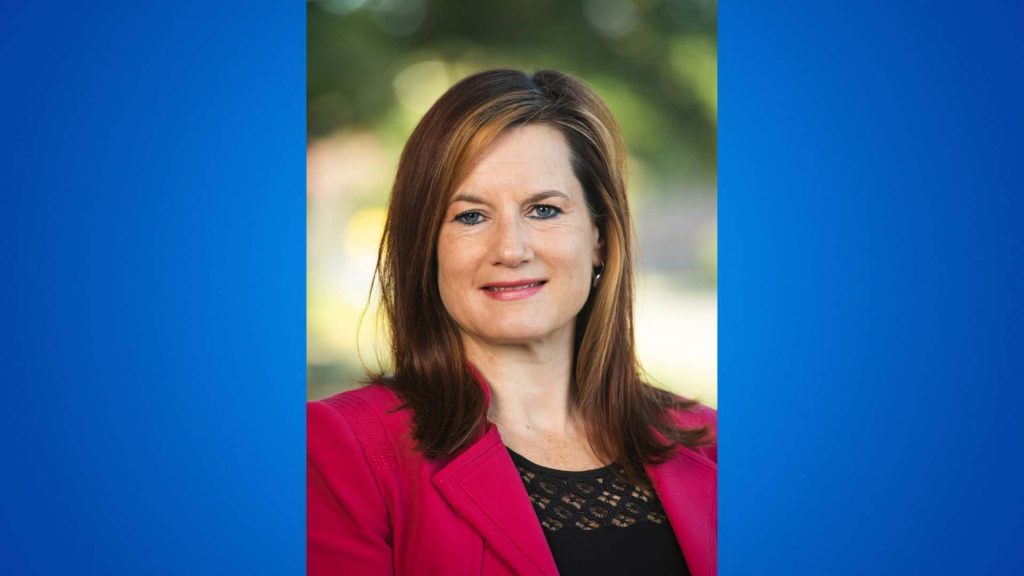 Covid-19 has disproportionately impacted the communities where those things are lacking to begin with. And, Santilli says, "those health disparities are also exactly where we see disparities in covid infection and vaccination rates." She doggedly pursues grant money to address the imbalance and has successfully raised over $6 million in the last five years.
The JAMA study found three themes among the barriers to vaccination: distrust associated with historical and ongoing mistreatment by the medical community; informing trust via trusted messengers using consistent, fact-based messaging; and structural barriers, such as accessing appointments. Partnering with federally qualified health centers like Cornell Scott-Hill Health Center (CS-HHC) to offer services and employing local outreach workers to spread information has helped to increase trust, expand access and improve New Haven's vaccination rates, one resident at a time.
A clear message – that the vaccine is safe and effective – delivered by a diverse group of trusted individuals helps to sway the hesitant. Several agencies in New Haven are working on vaccine acceptance and access issues, and coordinating it all can become an issue. According to CS-HHC Director of Marketing and Community Relations and Southern alumna Carlah Esdaile-Bragg, the partnership with CARE has been invaluable.
"It truly is a great collaboration," she says. "Alycia and Bernard (Macklin) volunteered to create a spreadsheet that gathers all the resources, all the agencies so that we are working in a coordinated way." When a new agency or provider joins the fold, CARE helps them assimilate into the overall effort so everyone is working together.
Bernard Macklin, Vaccination Outreach Coordinator for CARE, is training community health providers, church pastors, neighborhood block watch leaders, etc. to deliver clear, consistent
information. CS-HHC developed an outreach and education campaign around these high-profile community influencers who have been vaccinated. They tell their stories through television, radio, social media, billboards and posters placed strategically in bodegas, salons and barber shops.
Macklin oversees and works with five CARE outreach workers, meeting face to face with residents to encourage them. CARE actually began with flu vaccine outreach in the fall of 2020, before a Covid-19 vaccine was even ready. He has used that experience to help train new outreach workers at CARE, CS-HHC and others agencies, pairing experienced workers with new ones for several weeks of on-the-job training.
Macklin says he starts off easy just asking folks how things are going and lets the conversation flow from there. He approaches it like a traffic signal with a yellow light. Sometimes he meets a little resistance (a red light) and the conversation ends amicably to hopefully resume another time.
"We are often looked upon as the same as the government. We remind them, 'We're not the government. We're not mandating anything. We're just a university in the community and we care about you as a person.'"
If he senses curiosity (a green light), Macklin tells people "I'm a living witness. I'm vaccinated." It leads to questions and he likes to encourage everyone to read for themselves, going back to the decades-long mantra that "reading is fundamental." He points them to the fact-based web pages, and the science. "Know the facts and let your opinion be based on the facts."
In addition to the community outreach and education portion, Macklin also coordinates with the CS-HHC on mobile vaccine clinics around the Elm City, because the structural barriers continue to be an issue in the black and brown communities. Esdaile-Bragg, who, for years, has employed Southern business interns, currently has two undergraduate students working on medical Spanish internships to help the Latinx community understand the vaccine. Time, transportation, access to the internet, insurance, childcare, and even emotional support are among the other factors that the mobile clinics help to address.
With vaccination opening up to children age 5 to 11, Macklin says he is optimistic. He sees the numbers every week and New Haven is doing well in comparison to some comparable cities. And he also meets parents who want to get their children vaccinated and that encourages him.
"We all want to gather again. We all want to have barbecues and gather as families and in community," he says. "We want to send our [school-aged children] into an environment that's vaccinated."