When Associate Professor of English Brandon Hutchinson spoke at an on-campus rally promoting racial justice during the fall of 2020, she told supporters that if they appreciate the work of people of color at Southern, they should look for ways to recognize them.
Leading by example, Hutchinson was recently honored at the Faculty Celebration of Excellence with the 2021 J. Philip Smith Faculty Teaching Award: the first Black woman to receive this recognition. Presented to one full-time and one part-time faculty member, the award is one of the university's highest honors and recognizes exemplary teaching. Adjunct English Instructor Patricia Mottola was also a recipient this year.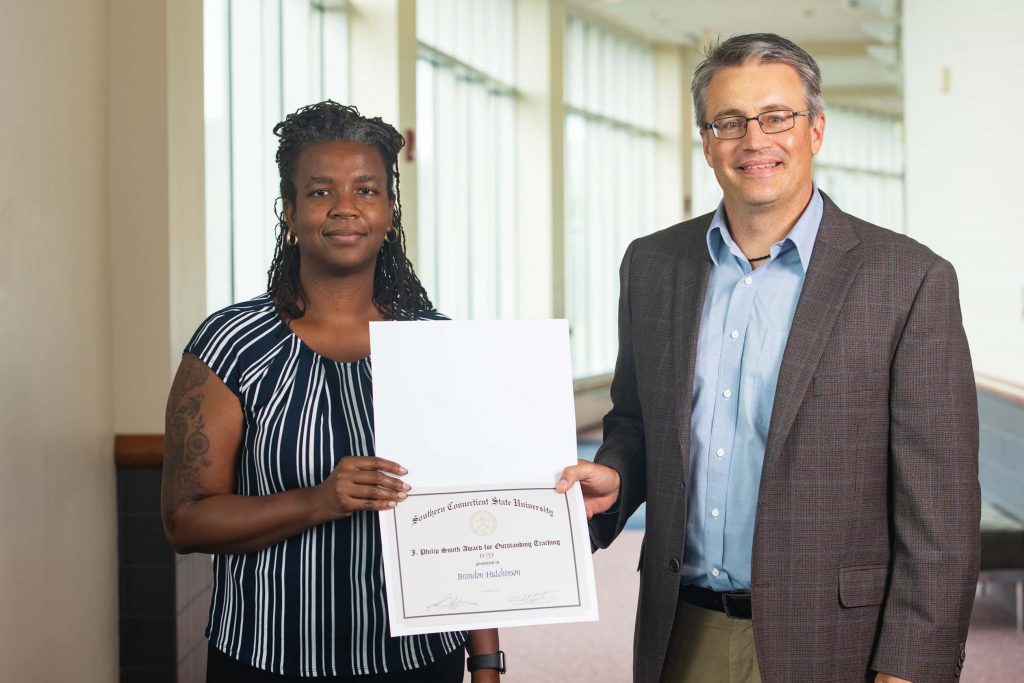 The past 18 months in higher education have been tumultuous due to the COVID-19 pandemic and its repercussions, but Hutchinson says they have left her feeling "more connected to the Southern community and more emboldened than ever before." The current climate of reflection and activism on campus aligns with what she believes is one of her greatest strengths: building community in her classes.
"Teaching excellence, in my opinion, requires an intentional type of 'attunement,'" Hutchinson says. "When I prepare for class, I think a lot about space — who feels empowered enough to take it? And I also think about how, in my role, I can help students to inhabit it in an equitable way." Hutchinson begins with their names — learning everyone's name and how to say it phonetically. She works hard to model appropriate self-disclosure in discussions of racism, colorism, sexism, and other deeply personal topics. "I look for ways to create a conversation in which people feel comfortable and safe sharing their own experiences," she says.
Her students feel that. According to student Stephanie Sirois, "Dr. Hutchinson's dedication to mediating full-class discussions on inconceivably difficult topics impacted me in a way that no instructor ever has. She never shrinks away from difficult-to-discuss issues when the discomfort becomes palpable and fills the whole room, but she expertly handles such topics with a level of emotional intelligence that I had never seen in a teacher."
It may seem difficult to build community among students in a virtual class, which was the predominant method of delivery during the past academic year, but Hutchinson says she enjoyed the experience and it has reinvigorated her teaching. She has learned as much as she can about what works and what doesn't — by asking for feedback from students, borrowing ideas from colleagues, and watching her own children navigate middle school, high school, and college. Consequently, she organizes her classes into whole group and small group sections, sends discussion questions in advance, and initiates one-on-one email conversations with students to get to know them.
"She is continuing to provide innovative, engaging, and meaningful learning experiences for her students as they navigate this online landscape. I have no doubt that her students are feeling just as excited and supported in her class as they did when we were on campus," wrote English Professor Jennifer Schindel in a letter supporting Hutchinson's nomination for the award.
Hutchinson said she grew to realize that even a student present in a classroom isn't always in the classroom, and online teaching sometimes allowed her more touch points with students. And it taught her to meet her students where they are — between shifts, or when the kids have gone to bed, or while juggling responsibilities — rather than forcing students to fit into her office hours.
"I'm always looking for ways to have more conversation," she says, which is why her title as the first Black woman to receive the teaching award is so important to her. "When we are naming the ways in which we leave people out," she says, "it allows for conversation about how we might change."
In addition to first-year writing, Hutchinson teaches advanced classes on Black women writers, the Harlem Renaissance writers, and young adult literature. She serves as co-chair of the Diversity, Equity and Inclusion Advisory Council, and was a co-designer and facilitator of the GROW (Gaining Resilience, Optimism, and Wisdom) Seminar.
As Hutchinson strives to build community and connections among her students, her colleague Patricia Mottola is taking a different approach, trying to connect students to the broader world around them through creative writing. An artist, poet, and adjunct English professor, Mottola received the highest number of nominations for the teaching award ever in a single year.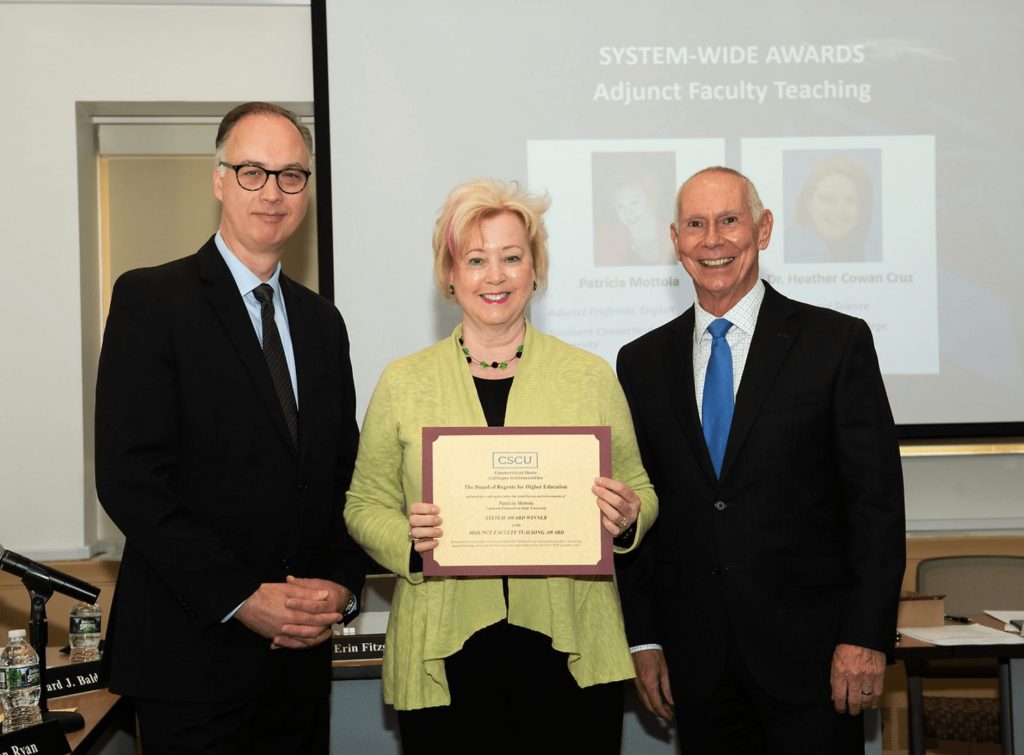 "In my view, the classroom is a microcosm of the world outside it," Mottola says. "Therefore, I continually strive to teach lessons that extend far beyond the subject matter at hand. Throughout my teaching, I actively work to incorporate lessons that will serve my students well, in work and in life."
In addition to her part-time teaching at Southern, she shares her talents in the broader community through her work as co-president of the Connecticut Poetry Society, through workshops for senior citizens in which she encourages a "creative rebirth" as they approach the end of life. She has also mentored online through the Afghan Voices Project, in which she encourages women and girls to feel empowered by writing their own stories.
Student Jillian Wilde has been inspired by Mottola, even through this unusual season of virtual learning. "I genuinely looked forward to joining every class, and I can't say I've felt that way about any other online course that I've taken. Even pre-pandemic classes didn't feel as welcoming and wholesome as Professor Mottola's class," Wilde says.
"We quickly learned that when she said she would be here to assist us through every step of the way, she truly meant it. I personally experienced this assistance each and every time I reached out to her; no matter how insignificant my needs were, Professor Mottola always made sure to give her all into offering an answer or solution."
Mottola was previously the recipient of the Connecticut Board of Regents Outstanding Adjunct Faculty Award for the 2018-2019 year.