Celebration of Excellence: Board of Regents Adjunct Teaching Award
2019 Recipient: Patricia Mottola, Adjunct Faculty, Creative Writing
About the award
The Board of Regents Adjunct Faculty Teaching Awards are given to recognize part-time faculty who have distinguished themselves as outstanding teachers with a track record of increasing student learning and promoting instructional improvements for their programs or departments.
About the recipient
Patricia Mottola was hired to teach Introduction to Creative Writing immediately after receiving her MFA in Creative Writing from Southern because, as one colleague noted, "She was an exceptional student in our department's MFA program," and she has been an extraordinary instructor ever since. Professor Mottola's advisor and now colleague Vivian Shipley awarded Distinction to Professor Mottola's MFA thesis, "If the Shoe Doesn't Fit: Poems About Relationships," something rarely done, and Dr. Shipley remarked that since 1969, she has "never had a better student or known a more dedicated and inspiring teacher."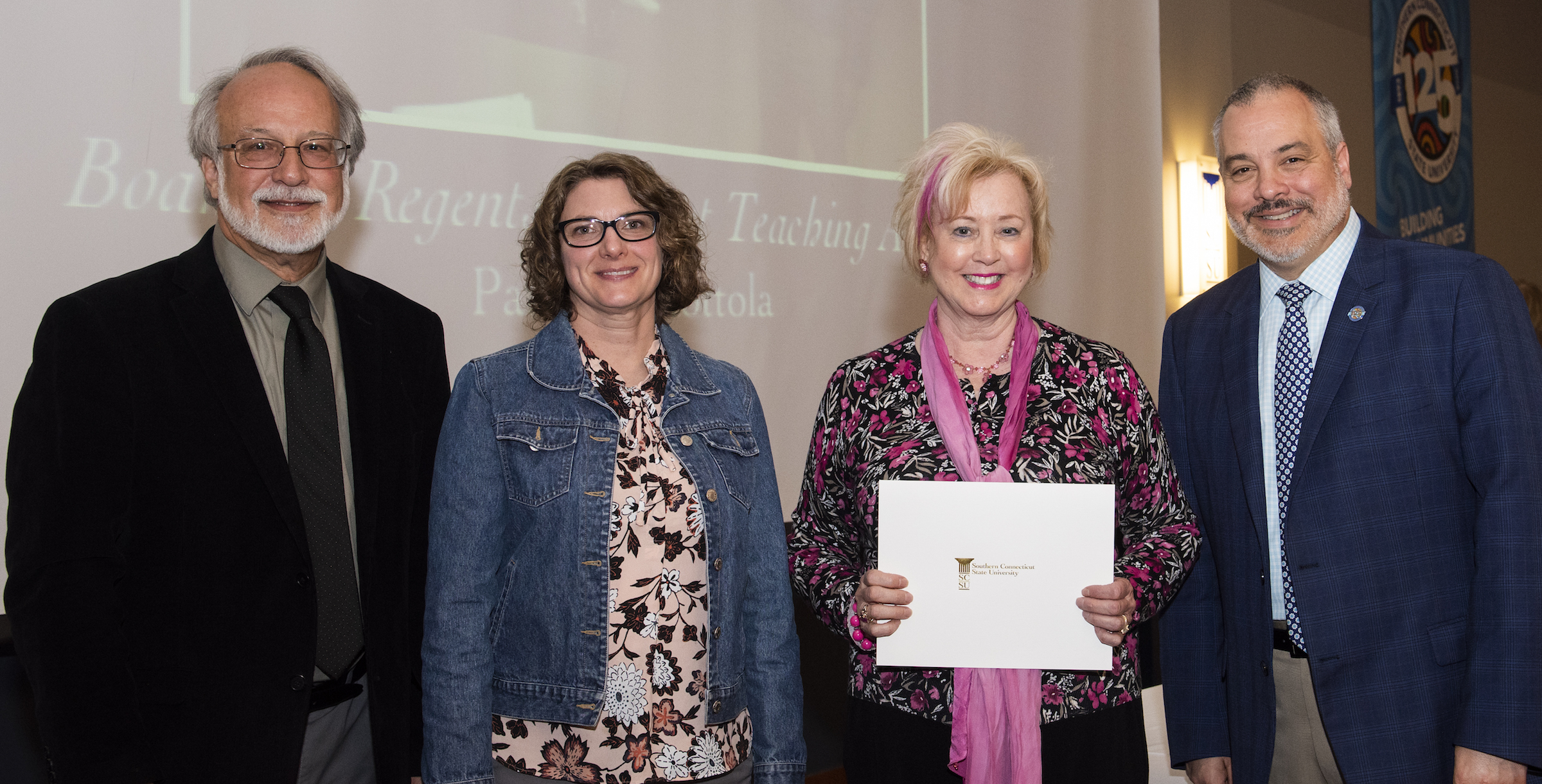 Professor Mottola has the words "respect," "personal responsibility," and "attention to detail" written on her classroom board. It is her goal to turn these values into lifelong habits and to help students thrive long after they graduate. Her instruction is one of collaboration, both inside and outside of the classroom. Students are encouraged to participate, discover, and share. Her fellow adjuncts refer new adjuncts to Professor Mottola for advice, and she is a mentor to full-time faculty as well, offering her colleagues advice on textbooks, syllabi, and assignment sheets.
Professor Mottola is a gifted instructor and an involved citizen, and her impact has a broad and significant reach. She is co-president of the Connecticut Poetry Society; works online with Afghan women and girls through the Afghan Voices project, encouraging them to write poetry in order to empower themselves; and she works with senior citizens, encouraging them to have a rebirth at a time when they are nearing the end of life.
Professor Mottola earned an MFA in Creative Writing from Southern in 2011; an MS in Art Education from Southern in 1990; study in the Art Psychotherapy Institute, SCSU Department of School Psychology, in 1988; and a BS in Art Education from Southern in 1987.