It's a scorching-hot day in Phoenix, and attorney Lelia Adams, '02, has just completed a call with an exhausted new client. "They told me they'd talked to 15 lawyers, but I was the first who listened and gave them hope," says Adams. Their faith is well placed. Adams is the principal attorney at Essien Law Group, which focuses exclusively on immigration law. It's a specialized but broad practice with expertise in employment-based immigration, student visas, deportation defense, citizenship and naturalization, the Violence Against Women Act, and more. Adams' influence also is far reaching; immigration law is primarily dealt with at the federal level, meaning she can practice throughout the country.
"I don't believe in flouting the American system," she says. "But I am always touched [by the personal stories], and if there is a capable rule I can find to help clients, I am all for that." The law office's tagline — "An Immigrant Helping Other Immigrants" — underscores her personal connection. "I have been through this immigration hell on my own. That's one reason people seek me out," she says.
A family story
As a young child living in Nigeria, Adams would gaze in awe at the planes soaring overhead. "I thought America was in the sky," she says with a laugh. "Of course, the plane lands. But as a child I couldn't comprehend it. It was a fantasy."
Adams grew up in a small village without electricity or running tap water. Life was directed by the seasons. There are two in Nigeria — rainy and dry — and during the latter, she would walk 1½ miles a day to a stream for water. She also gathered firewood and helped with farming. The family raised much of their own food: cassava, taro, and vegetables.
Village life was punctuated by community gatherings. But school most sharply shaped the rhythm of life. "My dad would say, 'The only way out of here is education,'" says Adams.
Based solely on merit, she was accepted into a prestigious, highly selective secondary school. Still, her father sought more for his children, hiring local teachers to provide extra preparation in English language and mathematics. "My dad hated idleness. Even when going to fetch water, I was expected to be studying. He would buy a newspaper and tell me to summarize it. It was very annoying," she says with a laugh. "But I learned how to write summaries."
She also developed a fierce determination, which would serve her well when the family immigrated to the United States. Adams' mother had traveled to the U.S. first, formally seeking asylum. Then the door was opened to the entire family when Adams' father won the "Green Card Lottery," officially known as the Diversity Immigrant Visa Program. Administered by the U.S. Department of State, the program provides up to 50,000 immigrant visas annually. Only those from countries with low rates of immigration to the United States are eligible to register, with the winners selected randomly. Adams' father was among them, beating the tremendous odds and qualifying his wife and children to come to the U.S. with him.
"I still never thought it would happen," says Adams. "America was for the rich." But the church raised money to help pay for plane tickets. In 1996, after a 16-hour flight, Adams arrived in the U.S. at the age of 16.
There, she received an immediate lesson on perspective from a friendly stranger. Hearing Adams' accent, she asked where she was from. "Africa," explained Adams, prompting more questions. "How did you get here?" asked the woman. "I won the lottery," she answered — leaving the woman to mistakenly imagine the family's multi-million-dollar winnings.
Living the dream
Adams settled with her family in Middletown, Conn., adapting to life as an American teen. "I vowed to work extremely hard. I was beyond determined," she says. She attended high school, worked as a cashier at Stop & Shop, and started saving for a car.
Snow was a revelation as were occasional unkind comments. She recalls classmates repeatedly asking her to say "water," then laughing at her pronunciation. "I hated it," she says.
But out of all the hardships and challenges, only one would prove disastrous: Adams' mother's critical misunderstanding of one aspect of the immigration process. When her husband won the Green Card Lottery, she had been told there was no need to continue with her asylum case and missed the final hearing. The advice was wrong, and she ultimately was deported. Thinking back, Adams says she was driven to succeed since childhood. "But the focus on immigration law came from my mom being deported and the single goal of bringing her back to the U.S. no matter what," she says.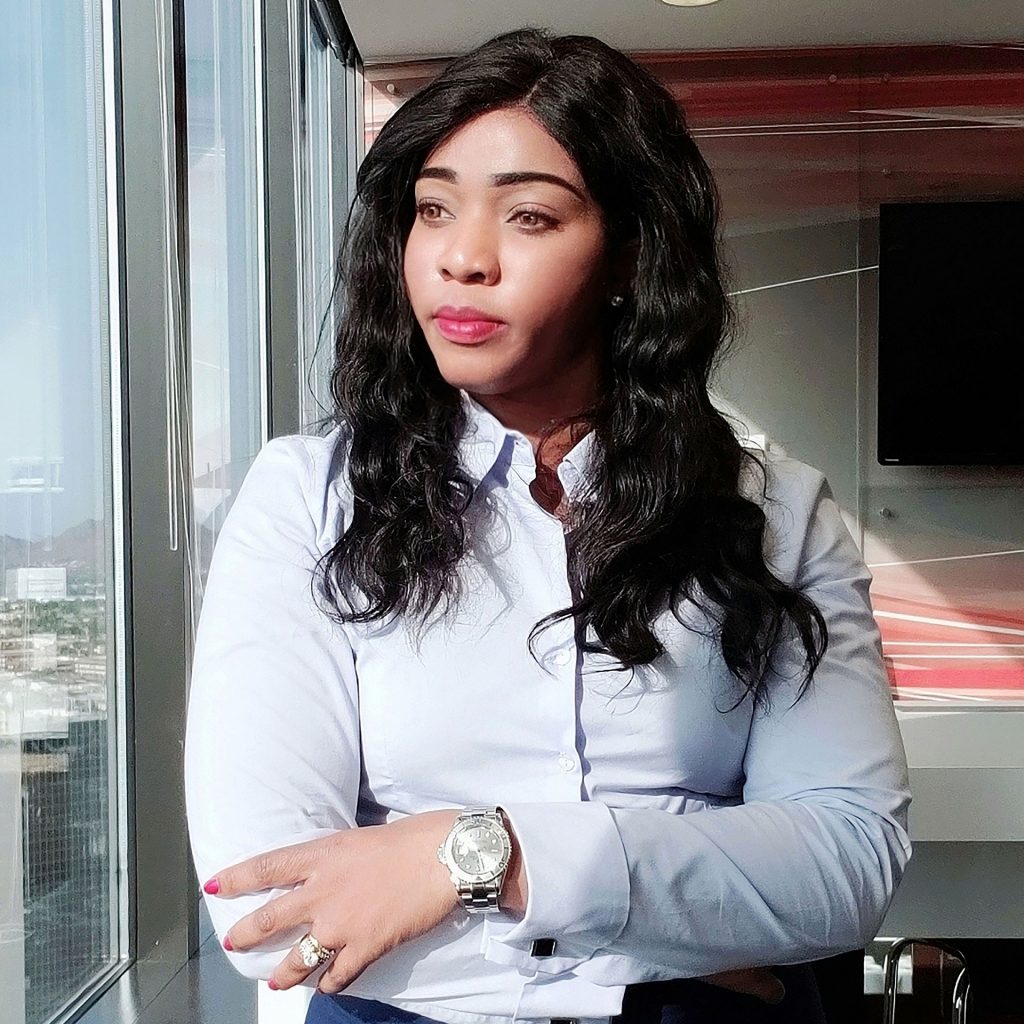 Becoming a lawyer
Adams enrolled at Southern where she majored in political science, enhancing her education by interning with U.S. Rep. Rosa DeLauro and joining the university's Pre-Law Society. It was an active group, she says, providing camaraderie and needed advice on everything from LSAT prep to admissions interviews. "The people at Southern are very remarkable," says Adams.
After graduation, she worked for Verizon Wireless as a coordinator in the Department of Continuity Marketing and Operations and began laying the groundwork to attend law school, which she financed on her own. At 26, she enrolled at Stetson University College of Law in Tampa Bay, Fl., earning a juris doctorate and receiving honors. She also studied common law and the law of restitution at Oxford University in the United Kingdom. "Nigeria was colonized by the British. . . . They have similar systems," she says of her desire to learn about international immigration.
(Further illustrating her drive to succeed, Adams launched a side enterprise, Muesliikon, after discovering the health benefits of muesli cereal while studying in England. It's now sold online and at several retailers, including AJ's Fine Foods in Arizona.)
After passing the bar, Adams practiced law in Missouri, working in consumer protection, and family and juvenile law. She then relocated to Phoenix to focus solely on immigration.
The stories her clients share convince Adams she's made the right choice. There are the two friends who were lured to the U.S. with promises of a better life, only to have their documents and wages stolen — effectively forced into slave labor. (Adams successfully represented the two, who eventually fell in love, married, and found fulfilling work.) There's the young woman who sought asylum after her family was killed in Mexico. "It was the first time I had to look at an autopsy report as an attorney. It was not fun," says Adams. The client, who was in her early 20s, was jailed in the U.S. for illegal immigration. She told Adams, "Not to worry." She was happy to be in custody. There was food, a place to rest, and no one was trying to kill her. "I told the judge, 'If anyone is happier in a jailhouse than at home, they have a true case,'" says Adams. Her client was released.
Of course, her mother's case will always have the most prominent place in Adams' heart. "The day I got licensed, I went home, got all the documents I could for my mom, and started petitioning for her," she says. Adams was ultimately successful. But not without nail-biting, stressful moments — including a last-minute denial at the embassy. At 2 a.m. in Phoenix, Adams found herself faxing rebuttals to the Department of State and the embassy supervisor. Her mother's application was accepted. "I cried my eyes out. I'd officially graduated and passed the bar. But it finally felt like I finished law school," Adams says.
The feelings of despair and elation have not been forgotten — all intrinsically tied to family and a sense of purpose. Last spring, Adams had her first child, and much to her husband's chagrin, she answered her cellphone less than two hours after giving birth. Handing the baby to her husband, she spoke at length to the officer from U.S. Citizenship and Immigration Services, who she'd been trying to reach for weeks. "When someone relies on you so much through a messy situation, this is what you do," she says. ■
Read more stories from the fall 2021 issue.