Like many people who hit retirement earlier than expected, Jacques Cesaire, '11, wasn't sure what to do next. What does a 31-year-old man do for an encore after a nine-year career playing in the NFL?
Answer: Return to the NFL. This fall, Cesaire, now 41, begins his second season as the Buffalo Bills assistant defensive line coach. But his path from the San Diego Chargers defensive line to the side­line wasn't an obvious one.
Thanksgiving weekend, 2012, the year after his retirement, Cesaire found himself back in Massachusetts, watching his Gardner High School football team, something he hadn't been able to do while playing in the NFL and at Southern, where he was a first team NCAA Division II All-American. He was mesmerized by the action — not on the field but on the sideline — observing his former coach Walt Dubzinski Jr.
"I'm watching this 72-year-old guy run around in the freezing cold, in short sleeves, chasing refs, motivating players," Cesaire says. "I thought, that's fantastic. He's so full of life, giving back to life. He's doing the things I love to do."
That planted the seed. It took root in 2014 when his older brother, Carmy, the offensive coordinator at La Jolla Country Day School, a pri­vate school in California, invited Cesaire to be the defensive coordi­nator. The brothers, who had been teammates at Gardner, led La Jolla to the section championship.
An offer from the University of San Diego to be the defensive line coach followed, a position Cesaire held from 2015-2019. Beginning in 2014, he also did a series of summer coaching internships through the Bill Walsh NFL Minority Coaching Fellowship with the Chargers, Minnesota Vikings, and Carolina Panthers. Several past interns in the program — Tony Dungy, Leslie Frazier, Lovie Smith, Mike Tomlin — went on to become head coaches in the NFL.
In February 2020, Cesaire got a big break when he was invited to interview with the Bills for the assis­tant defensive line coaching spot. He'd gotten to know Bills head coach Sean McDermott in 2016 when he was interning with the Panthers, and McDermott was their defensive coordinator. McDermott had witnessed Cesaire's skills, which include attention to detail, a posi­tive mentality, and the ability to motivate. Cesaire's days on the field predisposed him to coaching as well. "As a player I was big into details of the position, the tech­nique, motivation, and the process of preparing for a game," he says.
Still, he had a lot to learn, from a new playbook to installing defen­sive packages tailored to a new opponent each week. COVID-19 complicated matters. Cesaire had to figure out how to keep his players' attention during Zoom meetings and, once they met in person, remind them to keep their masks on. "I like to keep my mouth shut and learn as much as I can and then apply it," he says.
He credits several of his past coaches with teaching him along the way. Among them are Southern's Mike Dodge, '83, M.S. '93, who was defensive coordinator when Cesaire played for the Owls, and Rich Cavanaugh, then head coach, who often had to sculpt a team with players passed over by Div. I football programs. [Cavanaugh retired in January 2014 as the winningest (170 victories) and longest tenured head coach in Southern history. Dodge is now athletic academic support coordinator. "I learned how to develop players from them," Cesaire says. "Southern prepared me for the NFL, to work hard and be motivated."
The fruit of his labor often goes unnoticed by the casual fan on Sundays. "They don't realize how much detail is involved with the defensive line. It's not just guys smashing heads with one another," he says. "There's footwork, hand placement, individual blocking schemes, beating someone one-on-one, where the eyes go — and that's just first and second downs."
He's grateful to remain involved in the game beyond his playing days. "I love football — what it does for young men. It's a microcosm of life, with its ups and downs," he says. "You have to learn how to respond to what happens to you."
Cesaire hasn't forgotten his past, which underscores his motivation to give back. His parents both emigrated from the poverty of Haiti. They worked hard but didn't always have the money needed to provide for Cesaire and his four siblings. The school delivered a dinner basket at Thanksgiving. The church gave them toys at Christmas. "Those are things I remember," he says. "I'm passionate about impacting another person's life, whether it be through coaching or charity."

He and his wife, Jill [Murray] Cesaire, '03, whom he met at Southern, and their three children, Viviana, 12; Desmond, 9; and Cassius, 6, still reside in the San Diego area, where they have made an impact through various charitable works, from supporting a school for homeless children to making hospital visits. The United Way honored him in 2008 for his work in the community. The Cesaire family also has generously supported Southern's football program through the years — and Cesaire has returned to campus to meet with the players.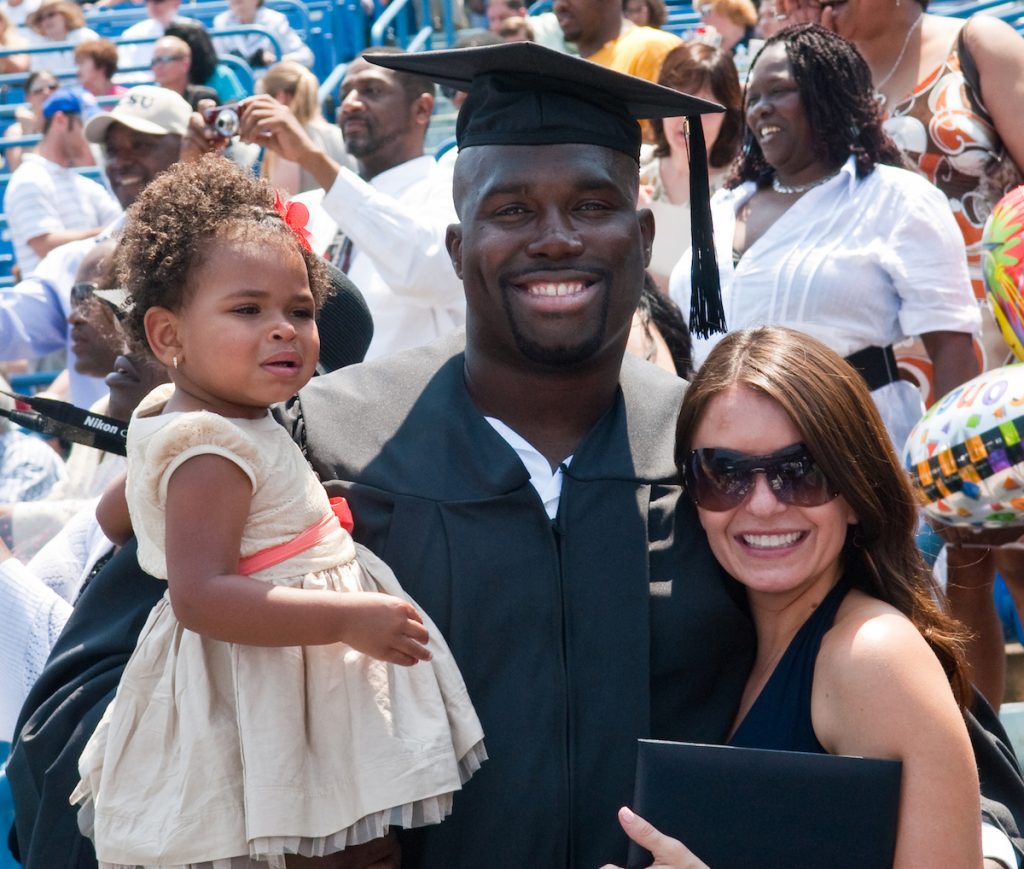 On May 27, 2011, he and his family returned to New Haven for a more personal reason. It was commencement day, and Cesaire was among those crossing the stage to receive an undergraduate degree. Years ago, after completing his senior playing season, he had left Southern several courses shy of graduating after signing with sports agent Joe Linta. It was a solid plan for the then student-athlete. Cesaire joined the Panthers in May 2003, launching his NFL career, but he always intended to complete his degree — and ultimately did so, finishing the needed few courses in the spring 2011 semester.
"My mom always preached the importance of going to college, as well as finishing what you start," he says of receiving his degree, adding that doing so was one of his proudest achievements.
As he spends more time with the Bills, an upwardly mobile team which won its division and advanced to the NFC Championship game last season, Cesaire is looking for ways to get involved with community giving in Buffalo. He also wants to keep helping players, maybe even one day as a head coach. "I hope I can coach for the next 30 years," he says. "There's nothing better than shaping another human being's life."
Read more stories from the fall 2021 issue.