U.S. Secretary of Education Miguel Cardona recently spoke on campus during Southern's 12th annual "Empowering Lives: A Celebration of Heritage and Esperanza/Hope" event, as part of the university's observance of Hispanic Heritage Month. Other speakers at the event included SCSU President Joe Bertolino; Dian Brown-Albert, director of multicultural affairs; Diane Ariza, vice president for the Division of Diversity, Equity, and Inclusion; Samantha Maces, Multicultural Student Ambassador; and Stephen Hegedus, dean of the College of Education, among others. Each speaker discussed the importance of access to education, and diversity in education, specifically among Latinx communities.
Cardona shared how important diversity, equity, and inclusion in education are, and responded to questions from students and faculty concerning a range of education-related issues, from the pandemic response, to LGBTQIA+ representation, to community access to resources.
The event concluded with Azhaleia Reyes, the president of the Organization of Latin American Students (OLAS), reciting a poem in Spanish, before traditional Latin dishes were served. 
View a photo gallery from the event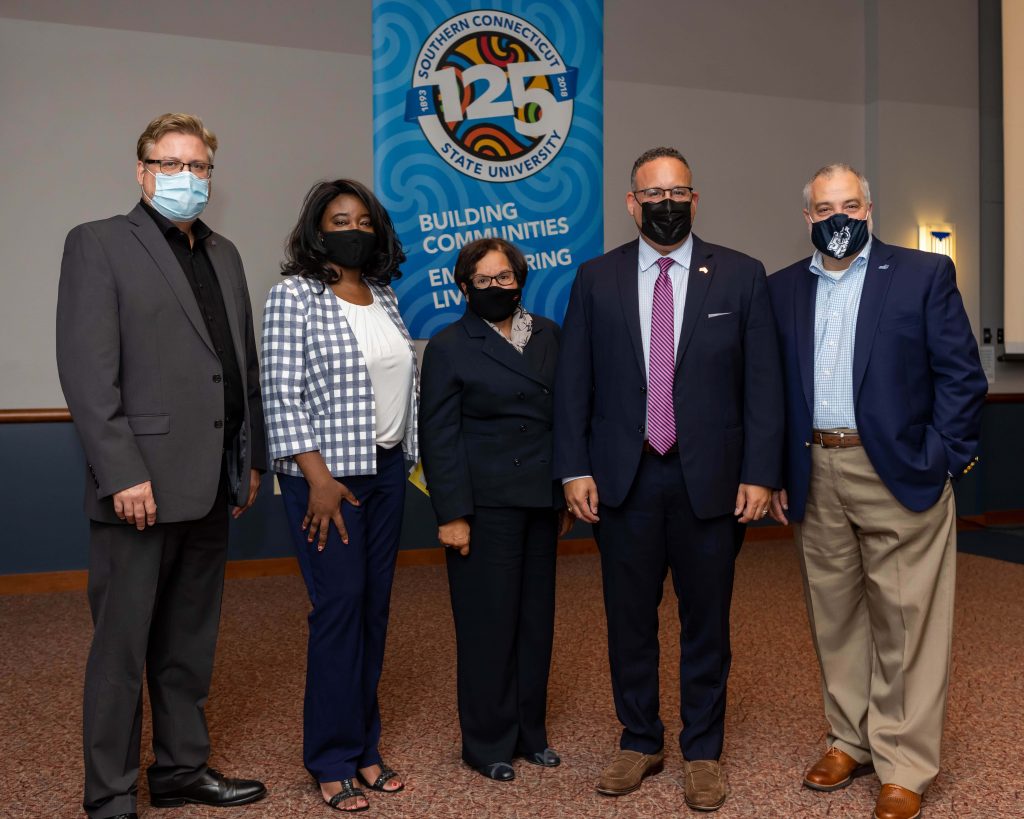 Cardona was sworn in as the 12th U.S. Secretary of Education on March 2, 2021. He previously served as the Commissioner of Education in Connecticut, a position he held after being appointed by Governor Ned Lamont in August 2019. In this position, he faced the unprecedented challenge of responding to the COVID-19 pandemic and led the safe school reopening efforts in Connecticut.
Cardona has two decades of experience as a public school educator from the City of Meriden. He began his career as an elementary teacher. He then served as a school principal in Meriden in 2003 where he led a school with outstanding programming for three to five-year-olds, students that were bilingual, and students with sensory exceptionalities. He proudly served in this role for ten years. In 2012, Cardona won the 2012 National Distinguished Principal Award for the State of CT and the Outstanding Administrator Award from UCONN's NEAG School of Education. He then transitioned to lead the work of Performance and Evaluation in the district. He then assumed the role of Assistant Superintendent for Teaching and Learning, overseeing teaching, learning, and leadership alignment.
A lifelong Meriden resident, Cardona attended Meriden Public Schools and graduated from Wilcox Technical High School. He attended CCSU for his bachelor's degree and UConn where he completed a master's in bilingual/bicultural education, Administrator Preparation Program, a doctorate in education, and Executive Leadership Program (Superintendent) Certificate. He is very active in his community, serving on several non-profit charitable organization boards of directors. He has had several articles published in AASPA Perspective, National School Boards Association, District Administration, and the Scholars Strategy Network.