The 11th Latino and Native American Film Festival @SCSU
A Virtual Film Festival
April 22 – May 1 (Earth Day to May Day)
Free to everyone from SCSU and the New Haven Public Schools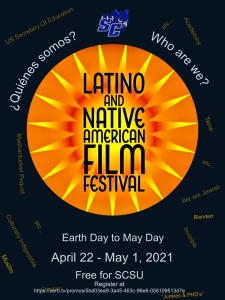 ¿Quién Somos? / Who Are We?
As Latinos, we are Jewish; we are Christian; we are Buddhist; we are Muslim; we are Indigenous; we are Black; we are White; we are Asian; we are Mixed; we are blended; we are Argentine; we are Boricuas, Dominicans, Colombian, Venezuelan, Mexican, Paraguayan, Chileans, Bolivian, Ecuadorian, Peruvians, fractal nations within nations, Pochos, Chicanos, Hispanos, Hispanics, Latino, LatinX, Latinas, Latines, "Latin American citizens"…we are Americanos, nationalist, assimilated, "hyphenated Americans," urban, rural, suburban, academics, braceros, scientists, laborers, educators, "junkies and PhD's," invisible, culturally indigestible, U.S. Secretary of Education… and the list goes on.
You may think you know us, but you have no idea. What's more, often we don't even know ourselves…the depth and the heights that we are.
An eerily similar argument can be made for Native Americans, with 567 nations, just in the U.S. alone, and over 800 nations in Latin America, with a total population of 45 million people with little or no voice in their societies. In Bolivia and Guatemala, between 41 and 60 percent of the population is Indigenous. In Peru, around 26 percent of the population is Indigenous, and Mexico has over 7.5 million people classified as Indigenous. The Indigenous people of America are the creators of cities and societies more socially and technologically advanced than that of those who invaded us. Astronomers, architects, hunter-gatherers, the creators of democracy… out of which which the U.S. system was formed. Here, as well, the list goes on and on.
Currently in its 11th year, the Latino and Native American Film Festival @SCSU will be presenting around 170 films over a 10-day period, responding to the question: "¿QuiénesSomos? / Who Are We?" These films represent a select list chosen from over 1,400 submissions made to this year's festival, and represent more than 26 countries, including some unexpected, such as Russia.