Southern's Master of Science in Sport and Entertainment Management program was ranked first on a guide to the "Top 54" online graduate programs in sport management compiled by Intelligence.com, a resource for online degree rankings and higher education planning. Southern's grad program received top honors and was highlighted as the "Intelligent Pick" by the evaluators, who looked at numerous factors, including accreditation, flexibility, course strength, cost, and reputation. Overall, 332 programs offered by 137 universities and colleges were reportedly reviewed.
Southern's Master of Science in Sport and Entertainment Management also was included on Intelligent.com's rating of the "Top 13"  advanced degree programs in entertainment management, where it was recognized for its affordability, in particular. The fully online program is designed to prepare students for a variety of leadership positions in the sport, athletics, and entertainment industries.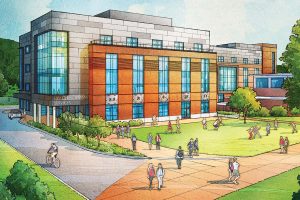 In related news, a new Health and Human Services Building is slated to open in spring 2022. The 94,750-square-foot building will house most departments in the College of Health and Human Services, including recreation, tourism, and sport management; health and movement sciences (formerly exercise science); nursing; communication disorders; and public health. Highlights will include a new Human Performance Teaching and Research Laboratory, a Center for Adaptive Sport and Inclusive Recreation, an expanded Communication Disorders Clinic, and an Audiology Clinic — all of which will be open to the public.