Alumna Ebony McKelvey, '10, was featured recently on the Daily Nutmeg website for her photography business, Ebony B. Photography. The article, "Big Pictures" (by Kathy Leonard Czepiel, July 8, 2020), introduces McKelvey as "a portrait and art photographer whose mission is 'capturing the beauty of the African American woman.' That mission comes from the message she heard repeatedly from other children when she was growing up in New Haven, first in Rock View off Wilmot Road and later at Farnam Courts in Fair Haven," according to the article.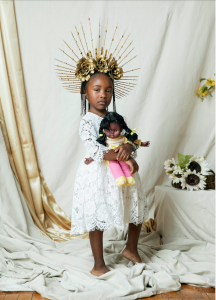 McKelvey graduated from Southern in 2010 with a B.S. in liberal studies, with concentrations in psychology, sociology, and studio art.
A past exhibition of McKelvey's, The Beautiful Ghetto, highlighted photographs of real people in the Newhallville, Fair Haven, and Hill neighborhoods in New Haven. She is now working on a project about people who were molested.
See more of McKelvey's photographs and read more about her.