First, the good news. Southern's physical campus is slated to reopen for fall 2020, with classes beginning on Aug. 26, following a staggered move-in for residence hall students. Courses will be offered in a HyFlex model, a combination of on-ground and online courses. Public health guidelines will be followed (face coverings, class size, etc.) and, if the need arises, the university is prepared to pivot to an all online schedule. The goal is to complete the entire fall semester as scheduled, with one caveat – on-ground classes will end at the Thanksgiving break. After Thanksgiving, all remaining classes and final exams will be held online and all student services will be offered remotely.
The plan is a promising return to normalcy for the campus community.
The first campus-wide warning came in January: an email with tips for fighting seasonal influenza included a sentence about the outbreak of a respiratory illness caused by a novel coronavirus identified in Wuhan, China. The news became increasingly dire in the following weeks, and, on Feb. 26, U.S. officials reported the first non-travel-related case of the illness now officially known as COVID-19.
On campus, the disease's rapid-fire spread came to light on March 10, after a Southern student attended an event where another participant later tested positive for the virus. Southern's physical campus was closed (initially for five days) for a deep cleaning, a process that included licensed professionals in HAZMAT suits.Southern's campus has remained shuttered through spring and summer to date, following the Office of the Governor's directives for statewide closures and the decision of the Connecticut State Universities and Colleges system.
At the macro-level, the effect of the COVID-19 pandemic is unprecedented: in early June when the university magazine in which this article first appeared went to press, there were more than 1,800,000 cases and 106,000 deaths in the U.S., according to the Centers for Disease Control and Prevention — figures that have been tragically surpassed today. Like the nation and, indeed, much of the world, Southern is mourning profound losses. Students, university employees, and alumni have become ill from the virus, some seriously. While impossible to track all cases, Southern graduates have died from COVID-19.  No student has died from the virus as of June 24. The university is also navigating a new world order, driven by an overarching directive: ensuring the health and welfare of the Southern community and the community-at-large.
To be clear, the university was never closed. Instead, over a 10-day period that corresponded with students' spring break, faculty prepared to adopt remote/online learning for the remainder of the spring 2020 semester. On March 23, all Southern courses began being offered remotely /online, with summer sessions soon following suit. With fall's campus opening in sight, here's a look at some of Southern's initial responses to the early phases of the pandemic.
More at:  go.SouthernCT.edu/strong  •  inside.SouthernCT.edu/coronavirus

The People:
Piloting Southern through the COVID-19 pandemic is complex. The university is a home-away-from-home for 11,072 people — more residents than 44 percent of cities/towns in Connecticut. In spring 2020, the Southern community included 9,212 students (1), a figure that comprises 7,456 undergraduates and 1,756 graduate students, both full- and part-time. There are also 2,050 faculty and staff, including some 190 students working as graduate assistants/interns.

Changing Places:
On March 31, 2020, the National Guard began assembling a 300-bed "Connecticut Medical Station" inside Southern's Moore Fieldhouse [above]. (2) Designed as "overflow" space for Yale New Haven-Hospital in anticipation of a surge of COVID-10 patients, the facility fortunately had not been needed as of early June. The university also made available 2,500 rooms in nine residence halls, which were used minimally to house some National Guard staff.
A New Way of Working:
Following the governor's mandate for statewide closures, about 1,662 faculty and staff began working remotely. They are responsible for most university operations — from admissions and teaching to information technology and health services. Those designated essential employees — 34 unsung heroes as of press time — continue to regularly report to campus. Among them: the police chief and officers, and the facilities team, including grounds crew, custodians, receiving staff, mailroom workers, supervisors, dispatchers, and building tradesmen.  An additional 116 employees are on-campus on an interim basis.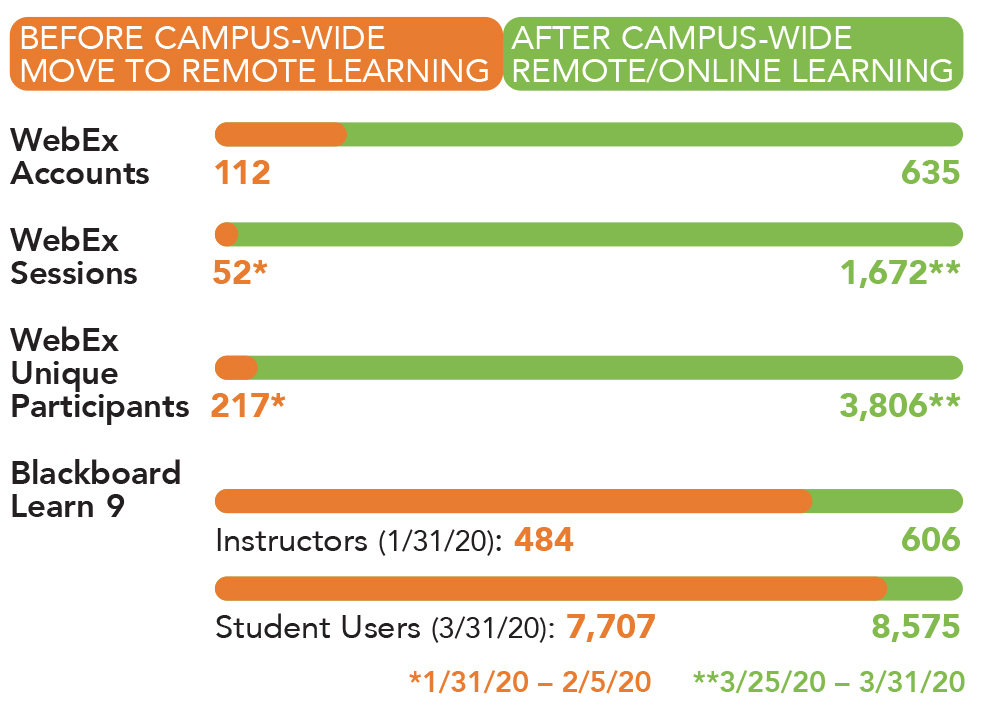 Teaching Remotely:
Between mid-March and the end of the month, the Office of Online Learning held more than 70 webinars — including individual and group support sessions. The focus was on teaching/learning through the use of several platforms: WebEx (web conferencing), Teams (an online communication and collaboration platform), Kaltura (video), and Blackboard (educational technology). In April, the office also held a three-day online Teaching Academy, with all sessions filled to capacity. In addition to the staff from the Office of Online Learning, faculty volunteers have helped with training.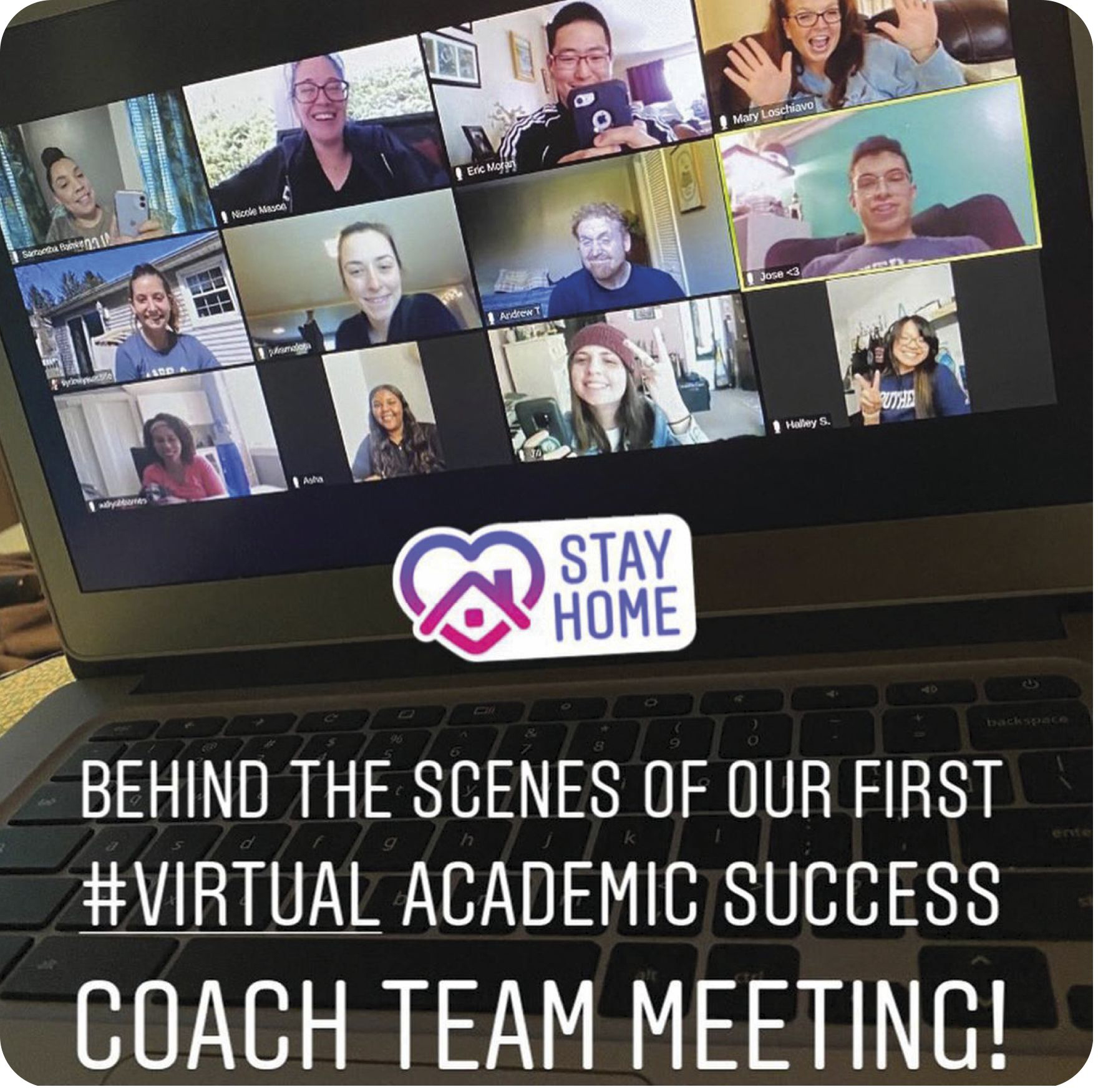 Academic Support:
The Academic Success Center is working virtually to help students succeed. The center's hours have stayed the same and its tutors, 100 PALS (Peer Academic Leaders who focus on gateway and foundational courses), Academic Success Coaches, and more than 200 student workers all mobilized online through Microsoft Teams. "The short answer is we're here," says Kathleen De Oliveira, director of the ASC. "We want them to succeed. Just like before, all they have to do is come and ask."
Buley Library:
The building is closed, but the library is open for business, with 100 percent of staff working remotely. They're a busy group. Between the shutdown and mid-May, they redesigned their web page to promote online resources and services (100,000 visitors), answered 180 questions from students, hosted numerous online events (including an online exhibit for National Poetry Month), and even used 3D printing to create mask components for health care workers at UConn Health. Since the shutdown, they've also activated 3,500-plus online resources, including thousands of ebooks and streaming videos.
A Global Issue:
The pandemic has been particularly challenging for students who were far from home. There were 13 Southern students studying abroad during the spring 2020 semester: 10 returned home in mid-March and three signed waivers after deciding to remain in their host countries. International students studying at Southern — both exchange students and those who are matriculated at SCSU — were helped by the Office of International Studies (OIS) and, when needed, Residence Life. (They coordinated flights and airport shuttles, ensured access to food and housing, and much more.) The 26 international exchange students studying at Southern this spring returned home by early April. But many of the 65 matriculated international students remained in the U.S., staying with extended family or in campus-sponsored accommodations at an extended stay hotel with other students.
Looking forward, Southern is holding strong to its long-term commitment to international education. Intercultural engagement and global diversity in the classroom "are the antidote to the isolationism and nationalism that the pandemic has fueled in some parts of the world," says Erin Heidkamp, director of the Office of International Education.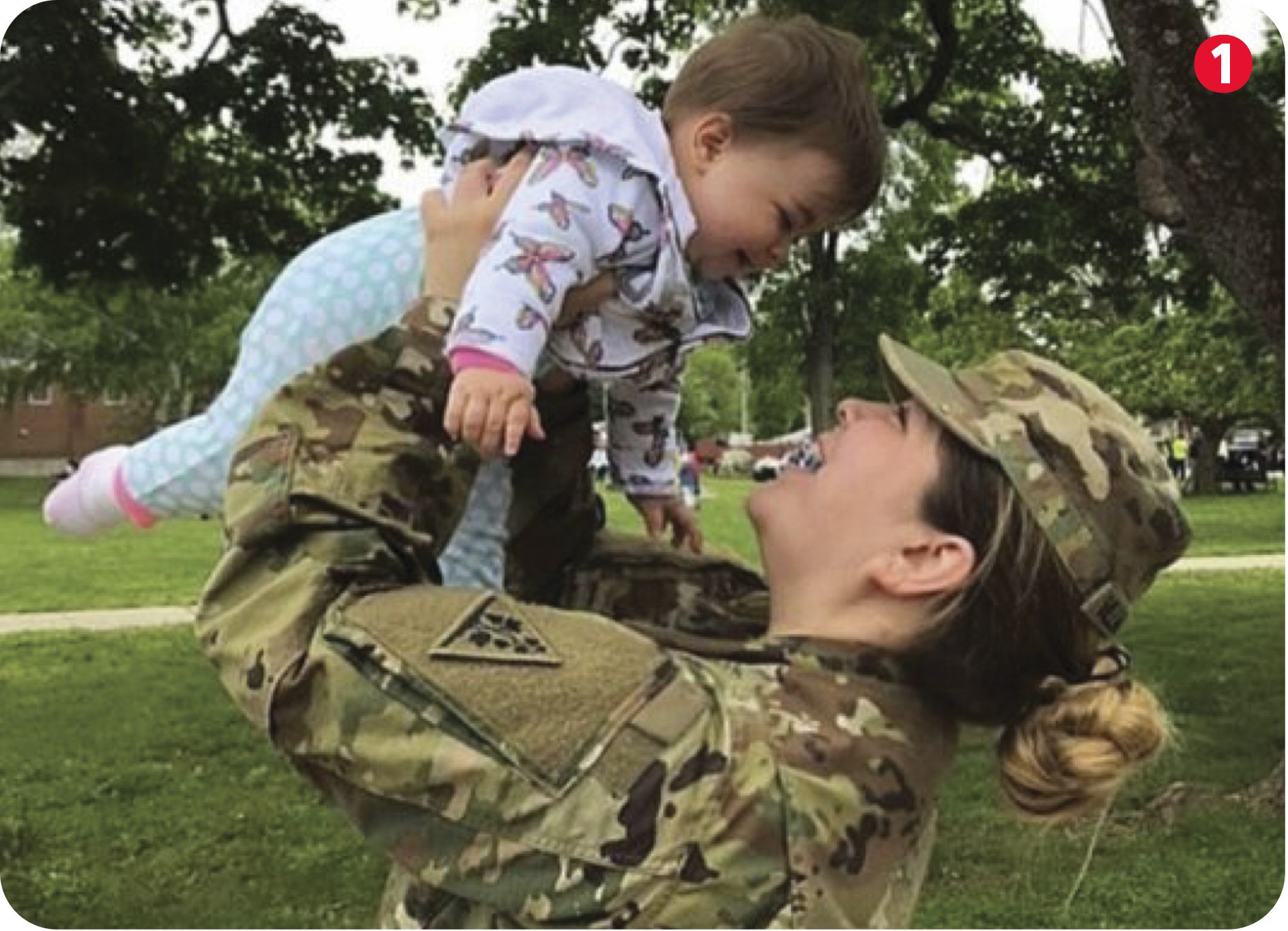 The Ties that Bind:
"The current situation is hard for students," says Sal Rizza, director of New and Sophomore Programs, reflecting on the spring 2020 semester. "We're trying to bring a little life and enjoyment. There are a ton of activities happening." Among them: SCSU Music Trivia, The Dan Baronski Hour (peer mentor and orientation ambassador Baronski talks fashion and music), Cooking with Kyra, Coffee Chat with Student Involvement, and more.
Campus Recreation and Fitness held programs to get students moving, including a live-stream workout with President Joe Bertolino and his trainer, Hunter Fluegel, that drew about 300 viewers. Similarly, more than 200 students and 100 faculty and staff signed up for A Southern Strong Step Challenge. Many student clubs also met online, with Daphney Alston assistant director of Student Involvement, noting that the university is "really proud of how clubs and organizations have tried to figure out this new normal."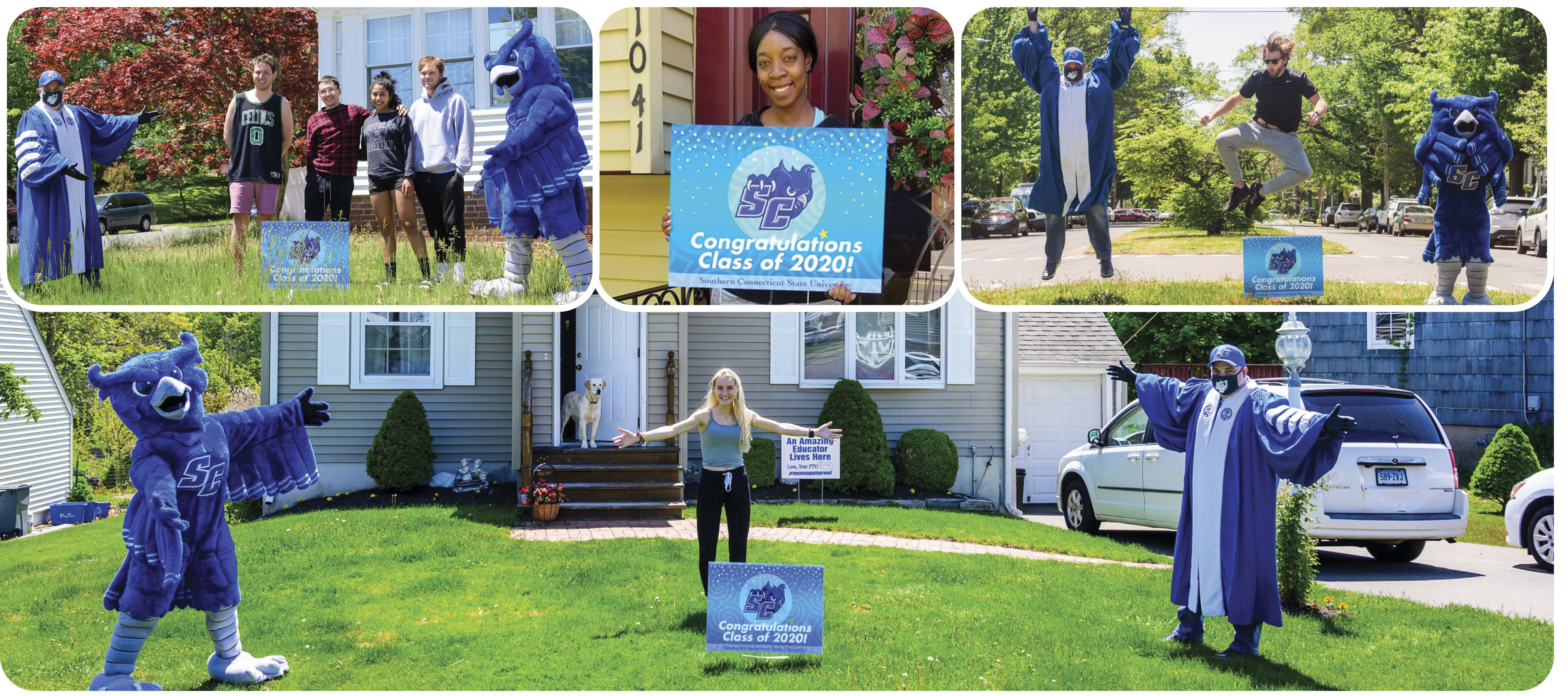 Celebration:
With large gatherings prohibited, Southern is holding a virtual commencement ceremony for undergraduate and graduate students on Aug. 15 — and also found ways to immediately honor students safely. More than 1,000 celebratory yard signs were delivered to graduates; an emotional virtual pinning ceremony was held for graduating nursing majors; and seniors submitted photos and memories for a virtual yearbook and social media spotlights.
Helping Hands:
When the Southern campus closed suddenly in mid-March, Chartwells was left with an abundance of food. That's when an existing food recovery program run by Southern's Office of Sustainability and Chartwells sprang into action. Several students and Chartwells staff packaged more than 300 pounds of food for delivery to St. Anne's Soup Kitchen in Hamden, Park Ridge Tower Affordable Senior Living in New Haven, and Monterey Place Senior Living in New Haven.
There were countless other outreach efforts. Southern police collected equipment from university labs/clinics to assist in relieving the PPE shortage, numerous community members made and donated face coverings, Buley Library staff 3D printed components for face masks, and more.
You helped, too:
Responding to students' heightened need, more than 1,000 donors contributed over $500,000 during Southern's Day of Caring, held on April 22.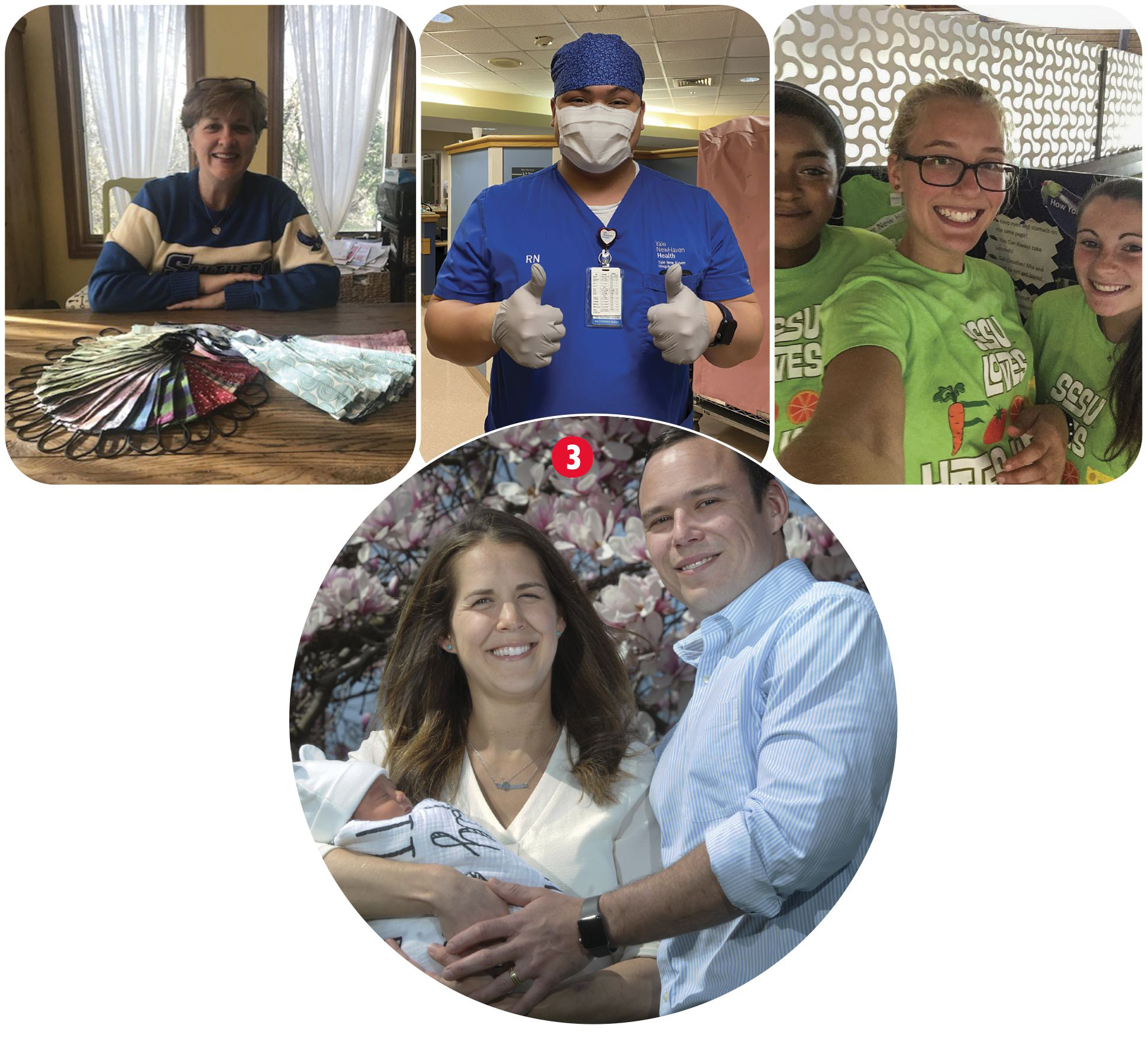 Alumni Pride:
Thoughts are also with our alumni, many of whom are in the frontlines of fighting the pandemic. Among them are more than 11,000 graduates of the College of Health and Human Services. Similarly, as the largest educator of teachers and educational administrators in the state, Southern salutes its graduates of the College of Education — who have turned to technology to educate their young charges.
Through it all, our 93,500-plus alumni have remained a source of pride, strength, and optimism. Consider Fairfield, Conn., couple Maureen and Dan Rosa (3), both graduates of the Class of 2010, who met as Southern students in 2006. Tragically, Maureen's father Gary Mazzone was among those killed in the crash of a World War II-era B-17 bomber plane on Oct. 2, 2019, at Bradley International Airport in Windsor Locks, Conn. A year later, the couple faced the fear of welcoming their first child during the epicenter of the pandemic. And, yet, they persevered and triumphed — and the media heralded their joy on April 2 when they welcomed their new daughter: Cecilia Hope Rosa.