The SCSU President's Recognition Committee proudly presents our fourth group of SouthernStrong awardees. These awards shine a light on faculty, staff, and students who are lending a helping hand, with acts of kindness large and small, not only for their fellow Owls, but also for friends, neighbors, and strangers.
We recognize and celebrate Angelica Castro, Amanda Cavoto, Meghan Gula, Michael Keating, and Alyssa Laydon for their commitment to making a difference and stepping up during the pandemic crisis. Their acts of kindness are making a positive impact during this difficult time.
Do you know an unsung hero who's been making a difference during the pandemic? Please nominate them so their kindness can be celebrated!
Angelica Castro
Angelica Castro, a senior nursing student, was nominated by a faculty member. Castro is president of the Multicultural Healthcare Leaders and, says her nominator, throughout the year "she has done an incredible job in her role. Organizing events on and off campus. This is a relatively small group and the work they do under her leadership is incredible."  As everyone in the university community began preparing work from home, Castro's nominator wrote, most faculty and students were preoccupied with their own needs and their ability to meet the demands put on them by the pandemic. As a senior, her nominator wrote, Castro has much to manage, including continued preparation in order to finish her classes, the application process for getting a job, and getting ready to take the certification exam. Yet, her nominator wrote, "she has not let that stop her from continuing to lead the MCHLs. She has continued to provide virtual meetings and activities to lift the spirit of the group as well as continue to work on their mission and vision. She recently organized and hosted 'Games at Noon.' This activity was such a great event because it brought the students together to have fun and interact with each other. Something they are all missing out on."
Castro's nominator added that she is "the epitome of Southern Strong, when the going gets tough the tough get going, and she has done exactly that. Her leadership is invaluable to the group and she will go on to be a leader in the nursing profession."
Amanda Cavoto
Amanda Cavoto, nominated by a fellow student, is a senior majoring in psychology with a minor in journalism. "Amanda is not only a genuine soul who's made a positive impact on the lives of her peers, professors, and friends," her nominator wrote, "but she has been a true inspiration for many during this trying time." As co-editor of Crescent Magazine and arts & entertainment editor for the Southern News, Cavoto has made it her duty to highlight some of the challenges experienced by her peers and fellow students within the SCSU community and beyond. She advocates for those whose voices aren't heard, and always leaves a lasting impact on those she encounters, wrote her nominator. Cavoto's hard work and dedication to her academic and professional career have led her to become one of three awardees of the new Crescent Journalist of Year honor. This impressive achievement is just one of the many she has accomplished over the course of her time at Southern, her nominator wrote, adding, "Amanda empowers and encourages others to never give up, and has brought a sense of hope and optimism into our newly founded online community. She is a powerhouse of a woman, and she is a role model for many. I am truly honored to have witnessed the impacts she has made on her community and know she destined for great success."
Meghan Gula
Meghan Gula is an MSW student who has been working as a "Food Access Fellow" for the Community Alliance for Research and Alliance (CARE) in the College of Health and Human Services. Nominated by the CARE director, Gula has spent the past two years supporting CARE's work to promote healthy food options in food pantries in New Haven. "Before the COVID-19 crisis," her nominator wrote, "Meghan had already proven herself as a competent, organized, independent, compassionate, and dependable staff person. She has been a true asset!"
When the COVID-19 crisis hit, CARE quickly mobilized with its food assistance partners in New Haven through the Coordinated Food Assistance Network (CFAN) to respond to emergency food challenges that quickly emerged. A delivery program was immediately organized to get food from food pantries to home bound, disabled or immunocompromised community members who depend on food pantries for their basic food needs — and who can no longer get out. This program is called the Pantry to Pantry Food Delivery Program (P2P).
Gula was asked to quickly transition her role at CARE to support this work. Her nominator wrote that "she didn't hesitate for one second and has been integral to implementing the program. Leaning into her Social Work skills, Meghan is the point person for all client intake as the Intake Specialist. She has been a thought leader organizing the now 3-week old pantry deliveries and has led the development of the client intake system. She has worked long hours to launch the program — registering clients, training volunteers on client intake, and generally organizing the efforts to ensure these clients continue to have access to food. She is passionate about her work and caring and compassionate in her approach."
In the first three weeks, P2P made 464 deliveries, and the number of registered clients has grown each week. Gula's nominator wrote, "This is a team effort, but Meghan is a critical contributor. Calm, practical and organized, her example inspires us all to work harder. We are so grateful for all she is doing for our community!"
Michael Keating
Student Michael Keating was nominated by his brother, who wrote that Keating "is an inspiration to me. During this pandemic, he has donated over 40 full bags of groceries to one of the Waterbury food banks so that they could stay open and be able to just give each family a bag. He has also donated diapers, formula and groceries to some needy families in Waterbury. He is one of the founders of a small organization called Step by Step that collects redeemable bottles and cans and turns the money in to help those less fortunate. He is the rock of the family and is always willing to help others."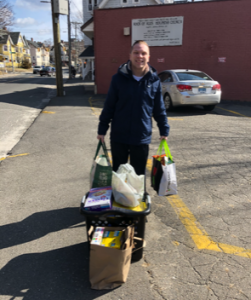 Alyssa Laydon
Student Alyssa Laydon has been working at Yale New Haven Children's Psychiatric Hospital for two years now. She has been working 12-hour shifts now that COVID-19 has presented and helps teens find comfort and courage during this difficult time. "Anxiety and depression are highly increased with this unpredictable time," she wrote, "and I have been dedicating myself to improving the lives of the children I see."