Congratulations to Collin Walsh, '08, who was awarded a highly prestigious Thomas R. Pickering Foreign Affairs Fellowship for 2020. Designed to prepare outstanding young people for Foreign Service careers, the fellowship is funded by the U.S. Department of State and administered by Howard University. We recently caught up with Walsh, who had just completed a course at the Foreign Service Institute. Here's what we learned.
The award: Each Pickering Fellow receives $75,000 to complete a master's degree; two internships with the State Department (one in the U.S., the other overseas); and mentoring and other professional development.
A standout: Only 3.5 percent of applicants were successful — with the program receiving 844 applications for 30 spots. "My emotions were a mix of elation and peacefulness, as if years of dedication realized their purpose in that instant," says Walsh of receiving the acceptance letter.
At Southern: As a student-athlete majoring in political science, he served as a White House intern and vice-president of the Pre-Law Society. An NCAA All-American athlete, he was captain of the cross country, and indoor and outdoor track and field teams — and graduated magna cum laude. "Collin's academic talent is unparalleled," notes Patricia Olney, professor of political science.
His early career: Shortly after graduating Southern, Walsh enrolled at the Indiana University Maurer School of Law, where he studied abroad in India. (He's proficient in Bengali.) Building on a commitment to public service, he next became a police officer in Milford, Conn., and taught law courses at the Connecticut Police Academy. His tenure with the U.S. Department of State began with an appointment to the Foreign Service as a Diplomatic Security Special Agent.
Challenging times: "Three days after achieving my career dream of being appointed a Special Agent in the U.S. Department of State's Foreign Service, I became suddenly and unexpectedly paralyzed with a disease I did not know I had," says Walsh. The disease: a severe form of Multiple Sclerosis (M.S.)
Fighting spirit: Told he'd unlikely walk again, Walsh began extensive medical treatment in the U.S. and India. "I was aimless and hopeless until my wife [Amika] shook me back to reality and taught me what it meant to believe and to fight. And those two things we did — all day long, every day — until I was back on my feet," says Walsh.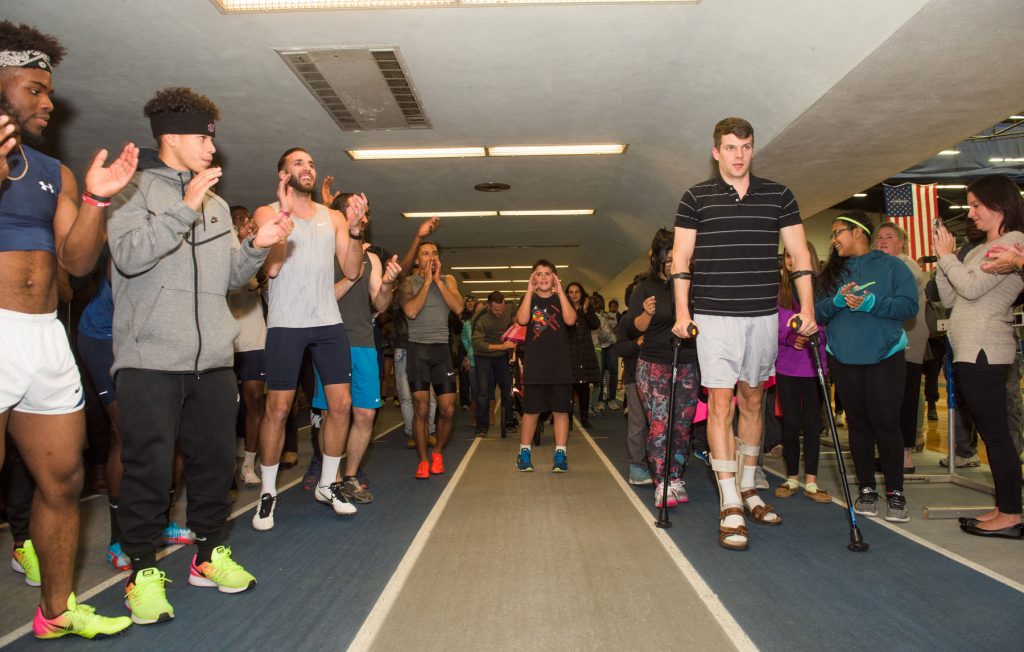 Returning to campus: On Nov. 11, 2017, he participated in the James Barber/Wilton Wright SCSU Alumni Track and Field Meet, completing the 55 meters as the Southern community cheered on. Walsh now serves as a Foreign Affairs Officer in the Bureau of Diplomatic Security, where his work spans the fields of national security, intelligence, and counterterrorism.
What's next: Supported by the Pickering Fellowship, he's pursuing a Master of Public Affairs from Indiana University's O'Neill School of Public and Environmental Affairs.
On Southern:  He gives special thanks to Patricia Olney, professor of political science, and Jack Maloney, Southern's former long-time head coach of cross country and indoor/outdoor track and field.
"Professor Olney's student-focused enthusiasm convinced me to pursue political science as a major and to dedicate my life to public service. From that point, there was no looking back," says Walsh.
"Coach Maloney welcomed me into the SCSU athletic family and steadfastly supported both my athletic ambitions and personal development from my first practice. . . . I owe an immeasurable portion of my success to 'Coach.'"
On sharing his diagnosis: "I believe in the power of story. Anyone with a disability understands the impact of stigma, but I am here to change the conversation: the community of the disabled is powerful," says Walsh.
Future plans: "It is difficult to imagine literally where I will be in five to ten years, because, by definition, I will be 'worldwide available.' However, I can say with certainty that I will be working hard every day in support of our foreign policy objectives," says Walsh.