With daily life upended and familiar people, places, and routines suddenly off-limits, there is no question that we're in the midst of a stressful time. In the face of such enormous stress, it can be hard to remain calm, let alone feel that we're thriving. Nick Pinkerton, director of Counseling Services, offers advice for taking care of ourselves and our mental health during difficult times.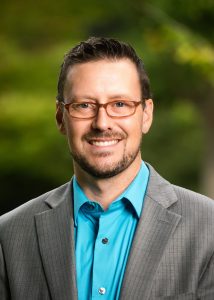 Pinkerton recommends the following ways for students — as well as faculty and staff — to THRIVE in the wake of this unprecedented situation:
TOGETHERNESS:
Having a sense of togetherness is critical in times like these, and can be challenging when, for the safety of ourselves and our community, we are practicing social distancing. Importantly, social distancing doesn't mean social isolation, and there are things we can do to stay connected to one another. Reach out to friends on social media, video chat, and call people on the phone. Talk to friends and loved ones about how you are feeling. Share memories, hopes, and fears with those you care about, trust, and love. Remind others and yourself that we will get through this, no matter how hard it is, and we will do it together.
HEALTH:
Remembering to practice good self-care is very important. Focusing on getting good sleep, eating well, and exercising are some of the most critical investments you can make in preventing illness and improving your overall health and well-being. Simple things like setting an alarm for bed time and waking time are wonderful ways to begin a healthy routine. Go for that walk, run, or bike ride you have been meaning to take if you only had the time. Get some fresh air, enjoy a bit of nature, and make and enjoy something healthy and tasty.
RESILIENCE:
One of the hardest things to do in a stressful situation is to remember that you have not only have what it takes to get through it, you actually have the capacity to come out stronger on the other side. Sometimes our true strength is only realized in the wake of tremendous challenge and adversity. While the times ahead are going to be challenging in many ways, and there are many questions and concerns we are all facing, we can and will persevere and overcome.
INSIGHT:
In this time of reflection, practicing mindfulness and maintaining optimism are essential. Mindfulness is defined as purposefully paying attention to the present moment without judgment. Rather than getting caught up in the worries about what might come (what if's) or upset about what has already happened (should have's), ask yourself what you can do right here and right now to better your situation. Focus on the things you can control and try to let go of the things you cannot. Practice yoga, meditation, progressive muscle relaxation, or a host of other mindfulness strategies regularly, and begin to see the amazing benefits they can have on your life. Recognize when you are falling prey to negative thinking, challenge it, and settle into a more accurate and adaptive pattern of thought, feeling, and behavior.
VITALITY:
Vitality is a zest for life. It is the thing that makes you grateful for breathing and experiencing the wonders of each and every moment. It is having a compassionate lens in the way you see others and yourself. Nothing is more attractive and invigorating than being with someone who has a love for life, and an appreciation for the good, the true, and the beautiful. Even in dark times, there is still so much to be grateful for. Practice vitality by remembering what you are thankful for, what you hold dear, and what is ultimately most important.
EMPOWERMENT:
Having a sense of purpose and meaning in your life is more important than we often realize. What is it that gets us out of bed in the morning? Are we needed? Are we doing things that matter? Friedrich Nietzsche famously said that "He who has a why to live for can bear almost any how." Focus on your why. What goals do you have? What hobbies have you wanted to take on if you only had the time? What creative endeavors make you lose time and engage in flow? Write a list of these activities and begin making them a part of your daily routine. Break your goals into actionable steps that you can begin working on today. Get a buddy to help you stay committed to your tasks. Take pride in each new accomplishment, and feel the sense of joy that comes with empowerment.
Here are a few other resources that may be helpful:
"Keeping Your Distance to Stay Safe" (American Psychological Association)
Mental Health and Coping During COVID-19 (Centers for Disease Control and Prevention)