If there's one constant in Charles Vaughn's life, it's this: learning. If you ask him, in fact, what his favorite part of his 14-year college journey has been, he says, frankly, "I was there to learn."
Nothing more, nothing less.
But the truth is, there is so much more — and nothing less — to the 35-year-old's quest to become a college graduate.
Charles' journey certainly wasn't a solitary one, as evidenced by the crowd in attendance as Joe Bertolino, Southern Connecticut State University president, and Robert S. Prezant, provost and vice president for academic affairs, conferred upon Charles a bachelor's degree in General Studies in a special Jan. 13 ceremony. Along with Charles' parents, Robert and Laurajean, and his brothers, Robert and David, several of Charles' special education teachers and family friends watched as he proudly accepted his degree.
"The true test of success is persistence," Bertolino remarked. "Charles, you have taken your own path."
An autism diagnosis at a young age wasn't typical in the '90s, but after watching the movie Rain Man, Charles' father, Robert, thought Charles, who was five at the time, might be on the spectrum. He and Laurajean had had their suspicions, but the movie struck a nerve.
They visited the Yale Child Studies Clinic when Charles was five and a half years old and got the confirmation they were seeking: Charles was, in fact, autistic.
Thus began a lifelong association with the clinic, where Charles has been on the forefront of many of its research protocols, such as EEG studies, facial recognition, structural and functional MRI, and social learning. The diagnosis also began a life-long journey with education. Though the resources for children with autism weren't as widespread or progressive during Charles' childhood as they are today, taking Charles out of school was never an option because, as Laurajean says, "He's a learner. He deserved a chance, like anyone else."
Charles repeated kindergarten, then grade one with a special education teacher, then attended grades two through six in the Wallingford public school system in a self-contained classroom, where a special education teacher was responsible for the instruction of all academic subjects. He joined his classmates for subjects such as gym, physical education, and science, which he excelled at.
"Charles loves astronomy, science and technology. He reads Scientific American and watches the Discovery channel," Robert says. "There was a lot of Star Trek and Star Wars at our house. And our family is big into computers and gaming."
After sixth grade, Charles was mainstreamed — the practice of placing students with special education services in a general education classroom during specific time periods based on their skills — with an aid.
According to Laurajean, "Seventh and eighth were tough years." Charles struggled with the social component and stimulation. From grade nine to age 21, he studied at Whitney High School East ACES. (Area Cooperative Educational Services, or ACES, offers Applied Behavior Analysis-based programs in various schools throughout Connecticut that serve students with autism and other developmental disorders.)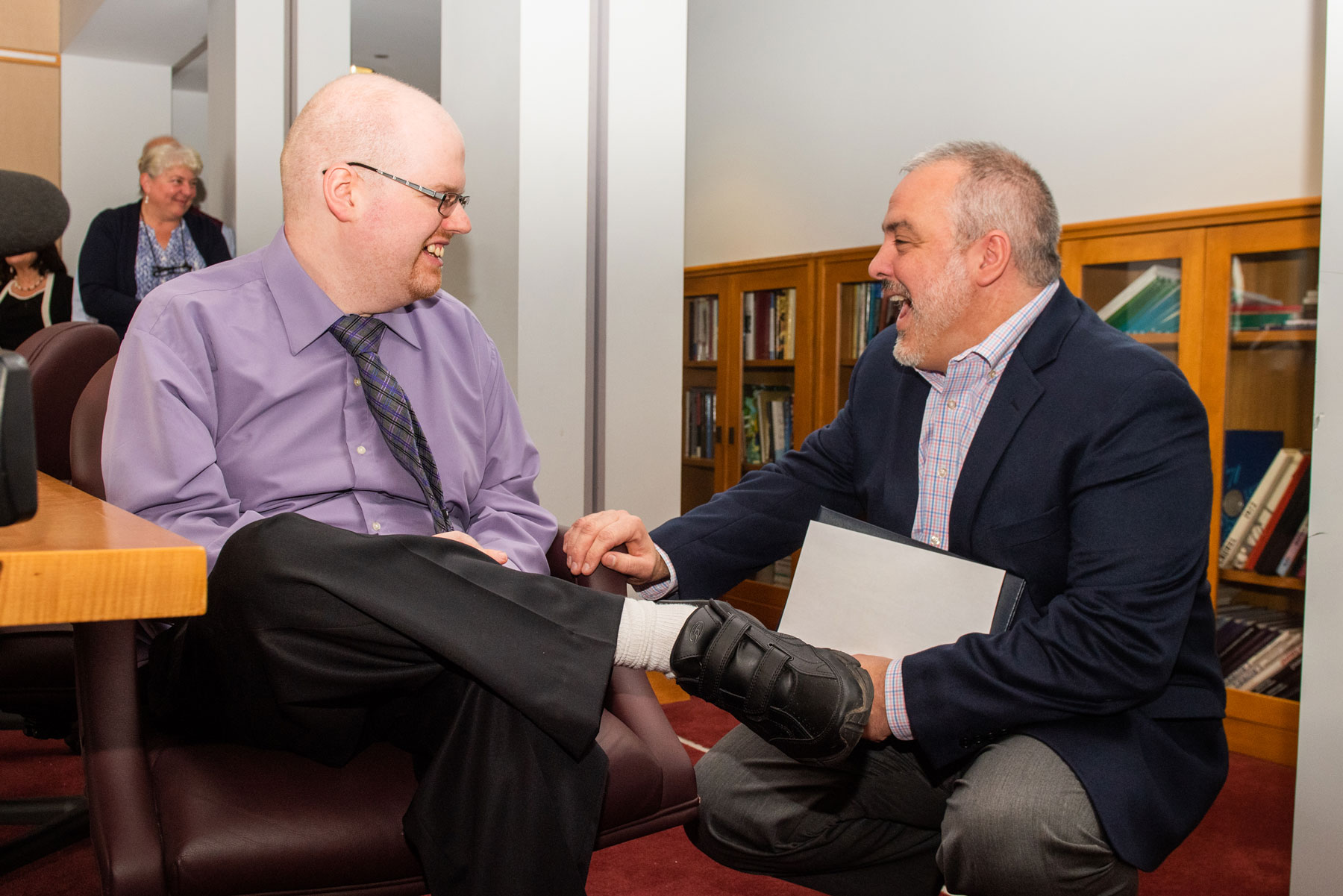 When he aged out of the program, Robert and Laurajean knew Charles' education needn't end just because school did.
"He was interested in everything," Laurajean says. "He is a voracious reader. We never had to tell him to study. Why shouldn't he keep going?"
"It's true," Robert says. "In this one class, the teacher would always ask a stumper question on the first day and no one had ever answered it. And then Charles did."
In 2006, Charles enrolled part-time at Gateway Community College. When asked about making the transition to college, Charles nonchalantly says, "It was fine. I'm a workaholic."
Alongside school, he worked various part-time jobs. His favorites were office jobs, such as data programming, because he "didn't get messy" and because they weren't physically taxing. (Like many others with autism, Charles suffers from low muscle tone, which limits his gross and fine motor skills.)
When at home, Charles continued to enjoy his favorite past-times: conducting research on the internet and spending time with his family. He scheduled his classes in the afternoon so he had his mornings free for homework and reading.
Charles studied at Gateway for seven years, eventually earning an associate's degree in 2013.
Still, there was another goal; a bachelor's degree. In 2014, Charles transferred part-time to Southern, choosing to major in General Studies. His brother Robert attended at the same time, though the two didn't share classes.
At Southern, Charles has enjoyed the welcoming environment and the peaceful nature of the large campus. His favorite spot was Buley Library.
"It was nice and quiet," he says.
The demands of his degree were challenging at times, like the time he had to read four books simultaneously for homework — "That was tough," he says — but there was never any doubt that he would keep going.
"We are particularly proud of Charles," Laurajean says. "His determination to finish has been inspiring. He's going to be a lifelong learner and Southern really helped him. It's a testament to Southern and its diversity. Everyone truly is welcome here."
Asked if there's anything he wants to add, Charles says, "That's it. I'm done."
Really though, he's just getting started.