Dean Ellen Durnin and the SCSU School of Business recently hosted the annual Business Etiquette Dinner in the Adanti Student Center Ballroom. Nearly 150 business students, faculty, and staff attended this popular event.
Sponsored by Marcum, LLC, the event featured keynote speaker, Karen Hinds, founder and Chief Executive Officer of Workplace Success Group. Hinds has an impressive list of corporate clients as well as being a regular contributor on television and radio. She is also the author of five books, the most recent being Get Along, Get Ahead: 101 Courtesies for the New Workplace; Networking for a Better Position & More Profit; and A Young Adult's Guide to the Global Workplace.
Hinds presented an interactive experience, first talking students through a mocktail networking portion of the evening, and later an immersive professional dinner.
During mocktail hour, Hinds covered a number of topics including where to position nametags, which hand to hold a drink in, how to properly shake hands, how to enter and exit a conversation, and how to deny a drink graciously. The latter she stressed heavily saying that, in interview situations, drinking while out with future employers is never a good look.
With the networking portion of the evening out of the way, the dinner — which featured proper etiquette for both Continental and American dining — delved into the proper way to drink soup, butter bits of bread, and signal to wait staff the enjoyment of a meal.
Outside of the proper ways to eat, the dinner also went over proper use of utensils and napkins, how to pass the salt and pepper shakers (always together), and how to properly excuse oneself from a table.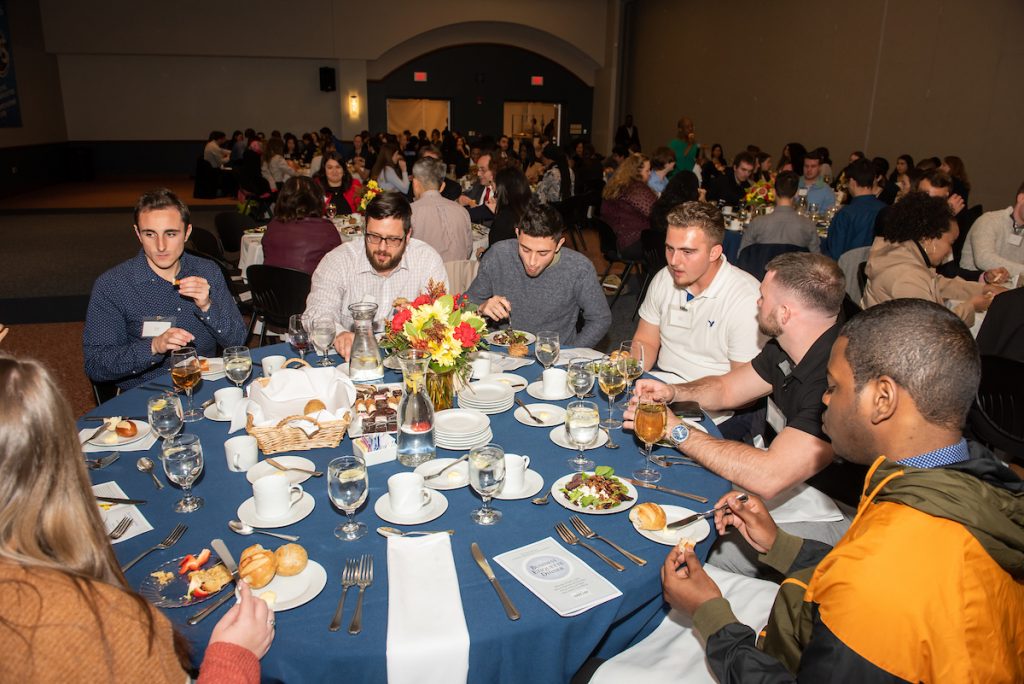 Although proper etiquette is important, perhaps the most important piece of advice given to students by Hinds was to focus more on the interview and networking opportunity than the meal. This includes ordering foods that are easy to eat with utensils, never taking a to-go bag, and possibly even eating before the actual dinner itself. In professional situations, the food isn't the main focus, business is.
From "Where do I put my bag or purse?" to "What do I do if I spill something on my host?", students had a chance to ask Hinds all of their questions to ensure a smooth dinner when the opportunity arises.
Employers frequently mention soft skills as an area where recent graduates fall short. The School of Business is committed to supporting students' growth in these critical areas with programming and resources. By practicing networking and professional dining in a real-life situation, SCSU students can become more comfortable in the situations they'll encounter in the workforce as well as in their personal lives.
Story by Goldy Previlus