Americans are divided on everything — except division. That's the not-so-stunning conclusion of an NBC News and Wall Street Journal poll in which 80 percent of respondents described the U.S. as divided.
Helping to bridge this political and ideological rift, Jonathan Wharton, associate professor of political science and urban affairs, is a unifying force on campus — serving as adviser to the College Republicans and the College Democrats.
"I never thought I had to be partisan," says Wharton of his students-first approach. Wharton is a member of the Republican Party, but was raised with an acceptance of opposing viewpoints by parents, who are members of different political parties. "They actually agree on 80 to 90 percent of things. But they are sticking [with their parties], and it was never problematic or disrespectful," says Wharton.
The College Democrats and College Republicans work well together. The two student organizations held on-campus viewing parties during the 2016 presidential election. (Inspired, in part, by Wharton's dual advisory roles, the vibrant gatherings received significant attention from the media.) In 2018, 20-plus students — members of both parties — joined faculty at the gubernatorial debates at the Shubert Theatre in New Haven. More joint events are promised for the 2020 election.
When it comes to political action, Wharton describes himself as "a behind the scenes kind of guy," drawn to planning fund raisers and networking. "My students would rather do the door knocking, the phone banking, the social media. They'd rather follow the research, get the data," he says.
Adept at wearing multiple hats, Wharton is also the internship adviser for the department. Many students complete multiple internships, up to 15 credits, working in federal and state congressional offices, law firms, nonprofit organizations, city offices, think tanks, and more.
"Most are much better students because of it," says Wharton, who finds their commitment inspiring and heartening. "Do you know how many students love to do campaign work? It boggles my mind," he says.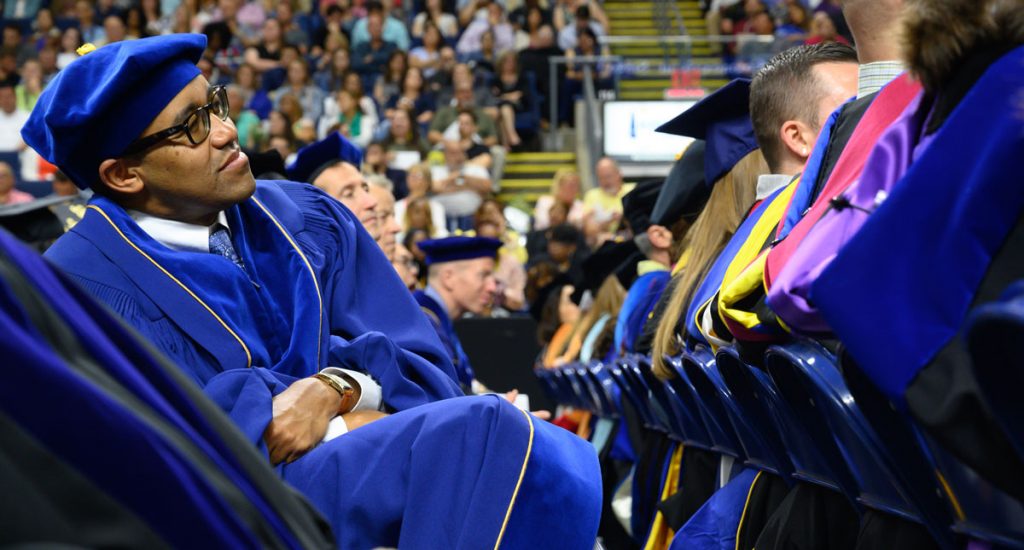 Following, Wharton shares more on his commitment to urban planning, politics, and students.
A born educator: "One could argue it's in the DNA. Both sides of the family have been educators," says Wharton. His parents met in the doctoral program at Teachers College, Columbia University in New York City. His grandmothers were teachers. Both grandfathers were lawyers; his paternal grandfather an ambassador as well. "There was always this interest in politics, law, and education," he says.
A career change: Wharton left a position working with the New Jersey State Legislature to pursue a career in education. "The classroom drew me back in every time," he says.
In the class: "I like to spark debate and discussion. . . . I want students to be intrigued, curious, and provoked."
Always civic minded: Wharton serves on the City Planning Commission of New Haven.
Thinking local: "What I try to convey to [students] is that you can make a difference in your community at the local or state level. It takes them a while to get their heads around that. But when they recognize it, the potential is there," says Wharton.
Why he choose Southern: "I was struck by the fact that it was a teaching university. . . . I liked the small classroom sizes at Southern. And I like the regional universities dynamic. They take teaching so seriously, which I think is critical. They do faculty development workshops, analyze teaching methods, and focus on pedagogy concerns."
Four treasured office mementos:
1) campaign signs — "A great opener with students when discussing the ins and outs of campaign work," he says.
2) a first-place banner from a National Collegiate Club Golf Association tournament (2017), signed by the participating students. Wharton also is adviser of Southern's golf team, which competes in the Metro region.
3) several awards for exceptional work as an adviser
4) a "Distinguished Alumnus Award" from Sigma Phi Epsilon Fraternity (March 2019)
Research focus: Wharton and Theresa Marchant-Shapiro, associate professor of political science, are working with university librarians to accession the archival papers of several former New Haven mayors. The collection was established through the generosity of attorney Neil Thomas Proto, '67, and is housed in Buley Library.
In the News: Wharton is a monthly state/local politics analyst on WNPR's Where We Live and The Wheelhouse.