The Greater New Haven Chamber of Commerce (GNHCC) will award Ellen Durnin, Ph.D., dean of Southern's School of Business, with the with the Leadership Center Alumnus Award at the Annual Leadership Awards Luncheon on September 26, 2019.
The Alumnus of the Leadership Center Award honors an exemplary leader and graduate of the Leadership Center. The Leadership Center supports the professional growth of business executives through leadership training and community education.
Durnin was appointed dean of the School of Business at SCSU in 2010. She has served in this role since, excluding 18 months when she served as interim provost for 2016 and 2017.
Under Durnin's leadership, the School of Business has created the nation's first Public Utilities Management Program; a Women's Mentoring Program; a Business Success Center for student internships and professional development; and a Business Advisory Council.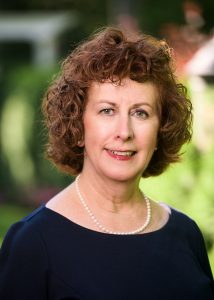 Durnin is also leading the School's committee to design a new School of Business building that will be the first "net zero" space constructed by the State of Connecticut, and she developed the Business School's first international partnership with ESPEME University in France. Additionally, Durnin leads SCSU's Transatlantic Alliance with Liverpool John Moores University in Liverpool, England, providing international research and educational experiences for faculty and students.
Previously, Durnin was the dean of Graduate Studies and External Programs at Western Connecticut State University. While at WestConn, she was a member of the Business Women's Forum; TBICO, an advocacy organization for women in the workplace; and provided training for corporations such as Boehringer-Ingelheim and Cartus.
Durnin holds a B.A. in sociology from Wagner College, a master's in industrial and labor relations from Cornell University, and a Ph.D. in business from the City University of New York Graduate Center. Her teaching, research, training, and consulting focus on the areas of human resource management, negotiations and conflict resolution, and work/family balance.
Durnin sits on the Board of Directors of the Greater New Haven Chamber of Commerce, the Board of Director's for Chapel Haven's Schleifer Center, and the Vista Life Innovations Economic Development Committee. She was named the Business Community Advocate of the Year by the Hamden Regional Chamber of Commerce in 2013.
The Annual Leadership Awards Luncheon will take place at the Omni New Haven Hotel at Yale, 11:30 a.m. to 1:30 p.m. on Sept. 26, 2019. Tickets can be purchased online at the Greater New Haven Chamber of Commerce.