Celebration of Excellence: Board of Regents Research Award
2019 Recipient: Dr. Darcy Kern, Assistant Professor of Medieval Mediterranean History
About the award
The Board of Regents Research Awards are given to recognize faculty from the four state universities who are doing exceptional research/creative work.
About the recipient
Darcy Kern is an accomplished and prolific scholar whose work impacts a variety of fields in late medieval and early modern history.
The main argument of Dr. Kern's research, which spans continents and timelines, is that language shapes culture. She specifically focuses on translated texts that move between cultures; in her own words, her research "adheres to the humanist tradition, emphasizing language as a key component of understanding history, culture, and power."
Students have sought out study with Dr. Kern, understanding that her specialties are important frameworks through which we can trace chronology and methodological trends. As one colleague noted, "Dr. Kern's work in translation studies is playing an important role in redefining how scholars understand the transmission of knowledge and the application of power in the late medieval and early modem world."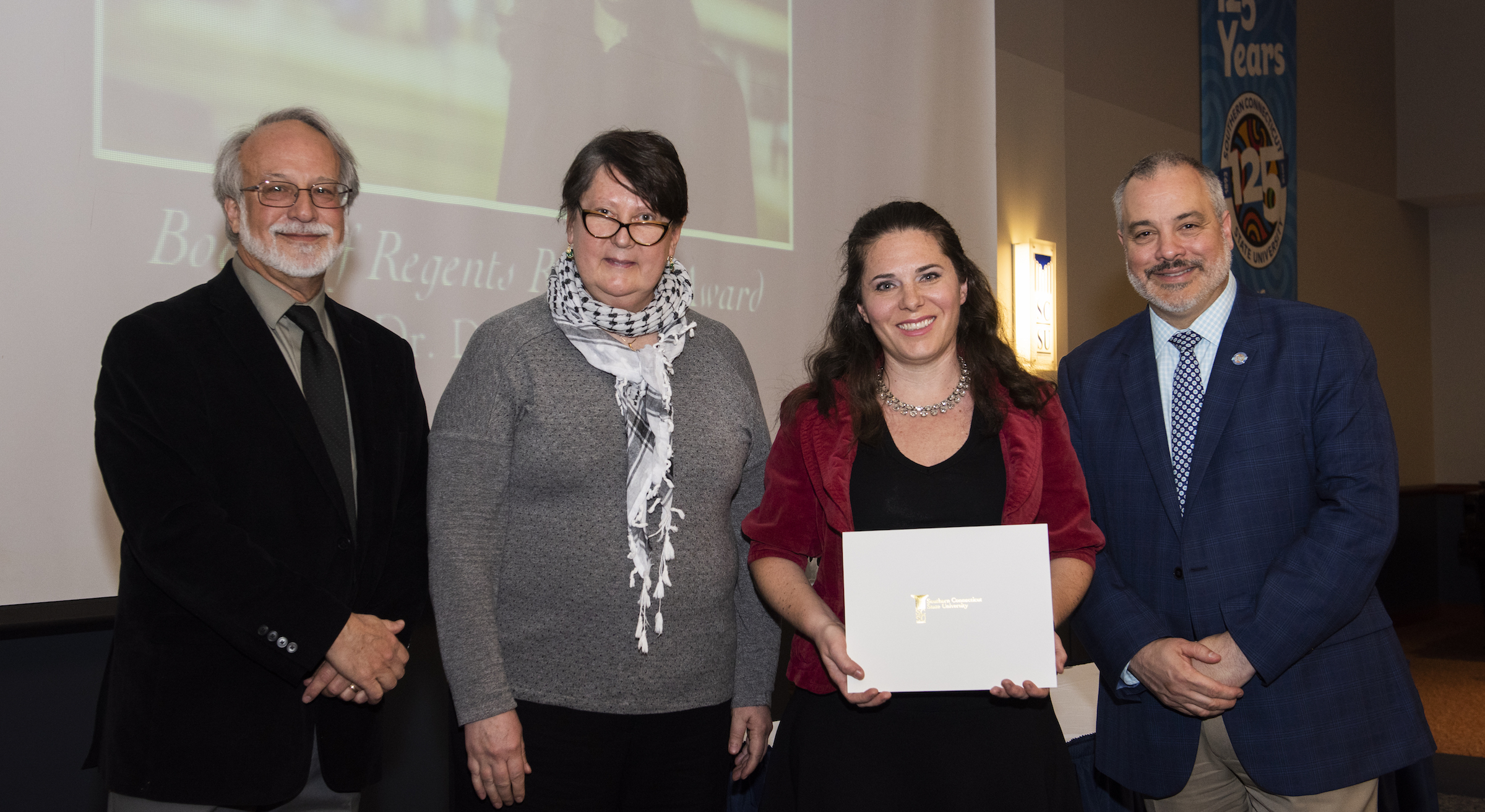 Dr. Kern's work has appeared in a number of highly selective publications, specifically "The Journal of Medieval History," "English," and "Philological Quarterly." Her article "Platonic Words: Paolo Sarpi and Roberto Bellarmino as Translators in the Venetian Interdict Crisis" was so significant that she was invited to Cambridge University to present follow-up research on the topic. She is currently at work on a manuscript, "Texts, Translation, and Political Thought in Late Medieval Spain."
Dr. Kern earned a Ph.D. and an M.A. in History from Georgetown University, and a B.A. in History and Spanish from Kansas State University. Since arriving at Southern in 2015, she has participated in several programs to enhance her scholarship, most recently at the Beinecke Center for Preservation and Conservation.