Southern sculpture students have collaborated on "Silence the Violence," a three-dimensional work referencing the national debate about 3D printed guns. Their socially engaged work is being presented in the #Unload: Pick Up the Pieces exhibition at The Ely Center for Contemporary Art in New Haven.
The work encompasses a human-shaped target with circular vignettes representing the different viewpoints of each of the artists. Each vignette becomes a point on the target that can be interpreted as either a bullet hole or as a lens detailing the student's personal thoughts, feelings, and opinions about guns.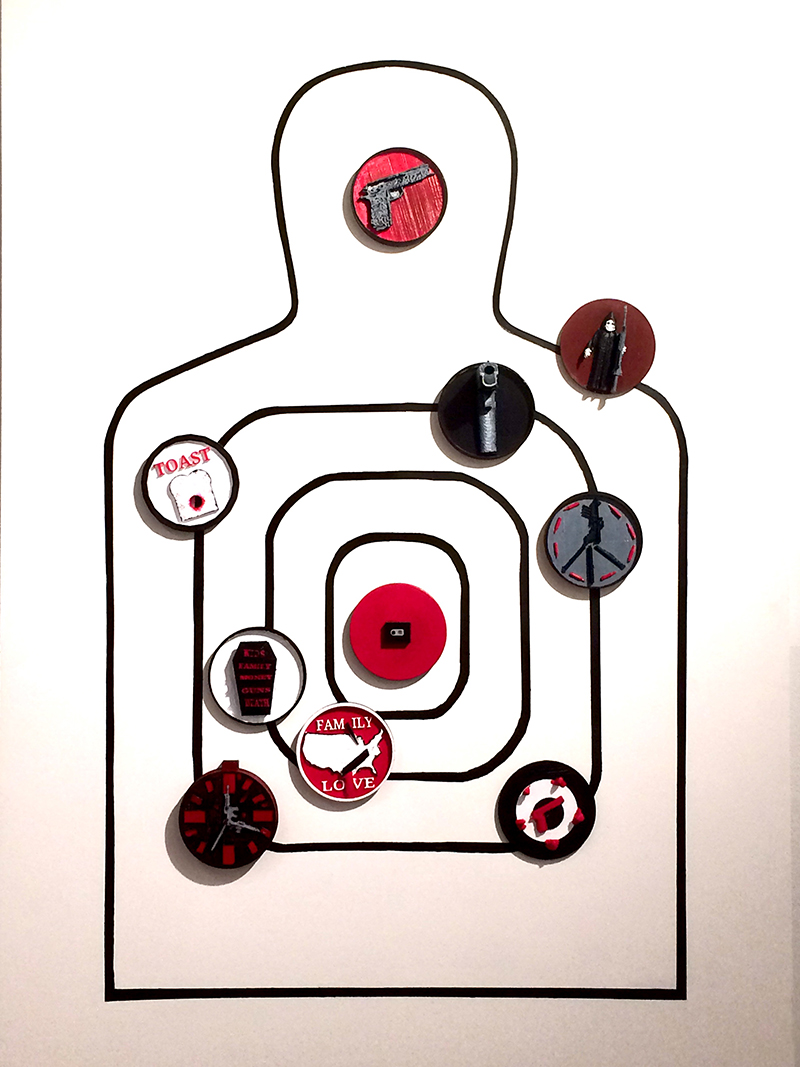 The individual vignettes are constructed as 3D prints to serve as a formal reference to the 3D printed gun debate. Guided by Professor Art Rachael Vaters-Carr, Southern's student collaborators include: Karen Daye, Evan DiGiovanni, Danielle Fleuriot, Tyãnna Garner, Sammi Huang, Tyler Kopeck, Isabelle Louime, Duke Pierre, Amber Pindulic, and Jenna Reeser.
#Unload: Pick Up the Pieces, which runs through November 11, is an unjuried, inclusive, community-driven exhibition that explores issues surrounding gun control laws and the impact of guns on society. The exhibition aims to raise questions regarding violence, safety, gender, equality, and the influence of media on violence and mental health stigmas.
Artists from diverse backgrounds and working across media have created material-driven and conceptually-charged works either from decommissioned gun parts from a Hartford buy-back program or works inspired by the theme. The artworks reflect society's divided attitudes towards gun control, gun safety, gun reform, the Constitutional right to bear arms, as well as recent events relating to gun use, ownership, safety, and violence.
The exhibition is a highlight of Artspace New Haven's 21st annual City-Wide Open Studios festival  complemented by artist talks, panel discussions, presentations by political candidates and other community notables, and a voters' registration table leading up to November 6 mid-term elections.