You know your college business course is a standout when it inspires you to launch an actual business. So it was for Jack Dowe, '17, and Gabriel Geist, '17, who on April 12, 2017, exited Management 450 — Business Policy and Strategy — and headed to a study room in Buley Library to incorporate their new company.
"How's that for a founders' story?" asks Dowe of the resulting enterprise — FlyReal, a marketing and consulting company that specializes in drone video and photography. Based in New Haven, the company works primarily with the real estate industry, but has expanded into general marketing. Soon after taking to the skies, the FlyReal team has completed projects in 12 states for clients that include the KeyBank Foundation and commercial real estate leaders Marcus and Millichap, Cushman and Wakefield, Northside Development, and the NNN Pro Group. "The biggest kick for me is that we are helping to define an entire industry," says Dowe.
A partnership forms
The FlyReal story began in a classroom — a Saturday session of the aforementioned Management 450, taught by Linda Ferraro, assistant professor of management. All business majors are required to complete the capstone course, which challenges teams of students to "run" a simulated business — a sensor company with about $100 million in initial hypothetical sales. Working online and in the classroom, each team draws on everything learned in previous business courses: accounting, economics, management, marketing, and more to operate their "sensor company" as successfully as possible.
The business-strategy simulation — called Capstone™ — is fittingly challenging. It was originally developed by Capsim for corporate management training, used by companies like Microsoft, General Electric, PwC, and Samsung. "It's used in quite a few MBA programs," says Ferraro. "It definitely requires students to up their game."
Dowe and Geist were placed on the same Management 450 team. The senior business majors hadn't previously met but had a lot in common — specifically a commitment to their studies. Dowe transferred to Southern from George Washington University in Washington, D.C., where he received a scholarship after graduating summa cum laude from Hamden Hall Country Day School. It had seemed a dream scenario. But the fit wasn't right, and he made the difficult decision to leave for New Haven.
At Southern, everything fell into place. Dowe was named one of eight School of Business Ambassadors — a leadership-development program — and was invited to Tokyo, Japan, to explore international business through a program led by alumnus Austin Auger, '78. Dowe ultimately graduated summa cum laude.
Gabriel Geist was a transfer student as well, enrolling at Southern after taking classes at Middlesex Community College. He also studied abroad, spending a semester at the highly regarded EDHEC Business School in Lille, France. As a Southern student, he tutored classmates at the Academic Success Center, completed two tax internships, and served as treasurer of SUMA Marketing (Southern's chapter of the American Marketing Association) as well as the Accounting Society. He also worked part-time as a ballroom dance instructor —managing his busy schedule and graduating cum laude.
The two dedicated students took Management 450 in their final semester — and they gave it 110 percent. They each worked near the New Haven green, and would sometimes meet for lunch to discuss the project. One day, Geist shared an idea he'd had while studying abroad in France: a drone marketing company.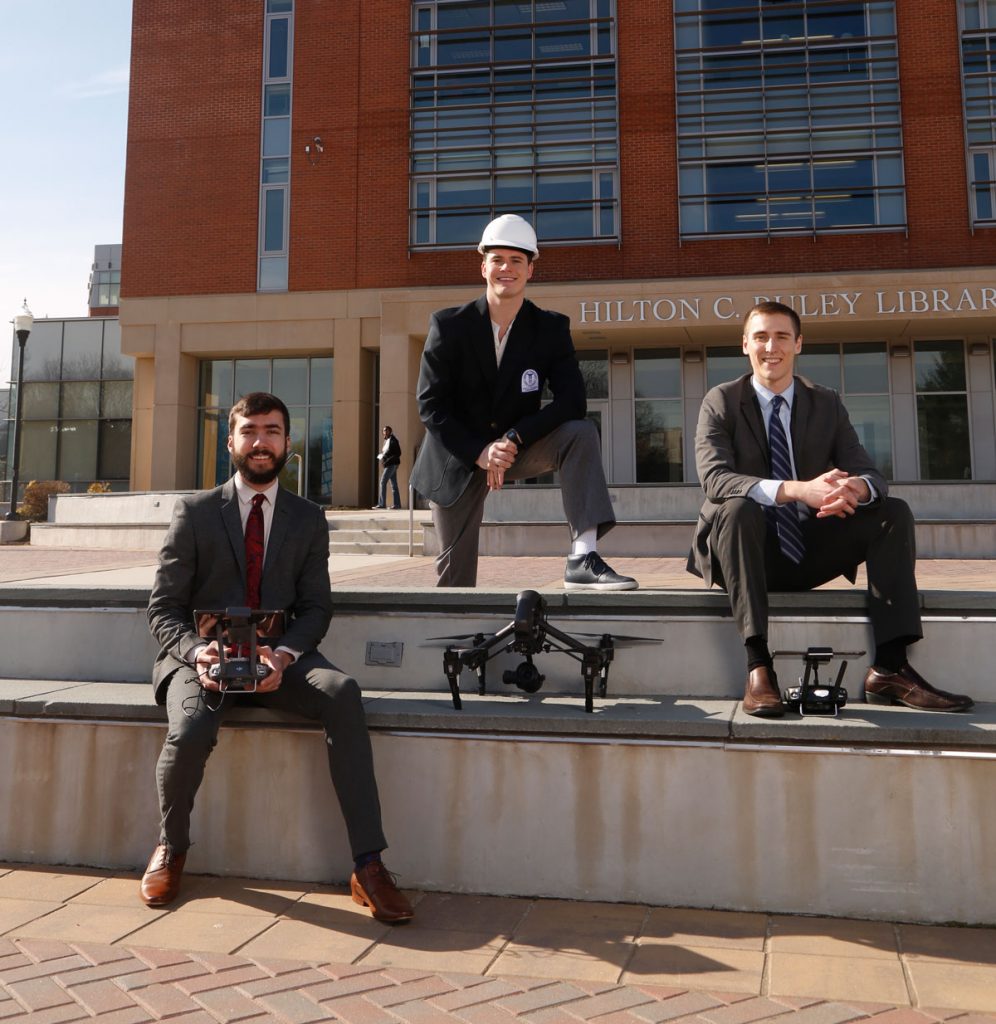 Dowe was intrigued and the student teammates soon became real-life business partners. They found an initial investor, purchased the required equipment, and within months FlyReal was open for business.
"The most important thing I learned in Management 450 was to view my learning outside of the context of the classroom," notes Geist. "I give credit to Linda Ferraro and her discussion-based learning style for our success in developing our business idea."
Their former professor is thrilled but not surprised to learn about FlyReal. Dowe and Geist did well in the class, ending the business simulation with more than $400 million in hypothetical sales over eight simulated years — a 300 percent increase. "Both are extremely intelligent and exceedingly professional," she says. "Jack [Dowe] has the ability to unite people around a common purpose. He has great energy and enthusiasm — and a level of curiosity that inspires him to ask questions without fear," says Ferraro.
Her opinion of Geist is equally telling. "Gabe is extremely thoughtful and analytical. He integrates information so well and is also curious, but in a less extroverted way." They are, she notes, a good team.
Which leads us to today. Challenges remain — including balancing the demands of holding traditional corporate positions while running their own business. Dowe is a multi-family analyst at M&T Realty Capital Corporation and Geist is an international tax associate with RSM US, where he previously interned.
They are also entrepreneurs. As managing partners at FlyReal, they work alongside partners José Alvarez de Lugo, director of business development, and Justin Kegley, creative director, who pilots the drones.
Dowe and Geist say the opportunity for future success is their ultimate inspiration. They hope to expand FlyReal's focus and work with hotels, resorts, golf courses, and more. They also would like to segue into industrial applications such as mapping, zoning, and surveying.
"Right now, drones are largely for hobbyists," says Dowe. "But in 10 years, every industry is going to have an application for a drone." He pauses, then asks a hypothetical question: "When that time comes, who is going to have a platform of FAA- [Federal Aviation Administration] certified, experienced drone operators — one that is large enough to meet that huge need? There will be very few. And if you can be one of the top 10, you're all set."