Julia Rotella, '17, excelled in honors-level courses at Masuk High School in Monroe, Conn., and had her pick of potential colleges. Drawing on her long-held interest in business — Rotella sold items on eBay as a child — she looked into Bentley University, a regionally top-ranked private college specializing in business where annual tuition/fees totaled more than $41,000 at the time (2013-14).
At Jonathan Law High School in Milford, Conn., Cody Edson, '16, M.S. '17, also earned top grades but planned to postpone college. The oldest of five siblings, he knew tuition costs would be challenging for himself and his parents, both police officers. So he thought he'd enlist in the U.S. Navy and attend college later.
In contrast, Kara Jones, '18, the oldest of four, says postponing college was never an option. A talented student at Stonington High School, Jones intended to become an educator — and a well-respected teacher recommended Southern, citing its historically excellent education program. "But to be honest, it was at the bottom of my list," says Jones. "I had my eye on a number of other places. I didn't even know about the Honors College."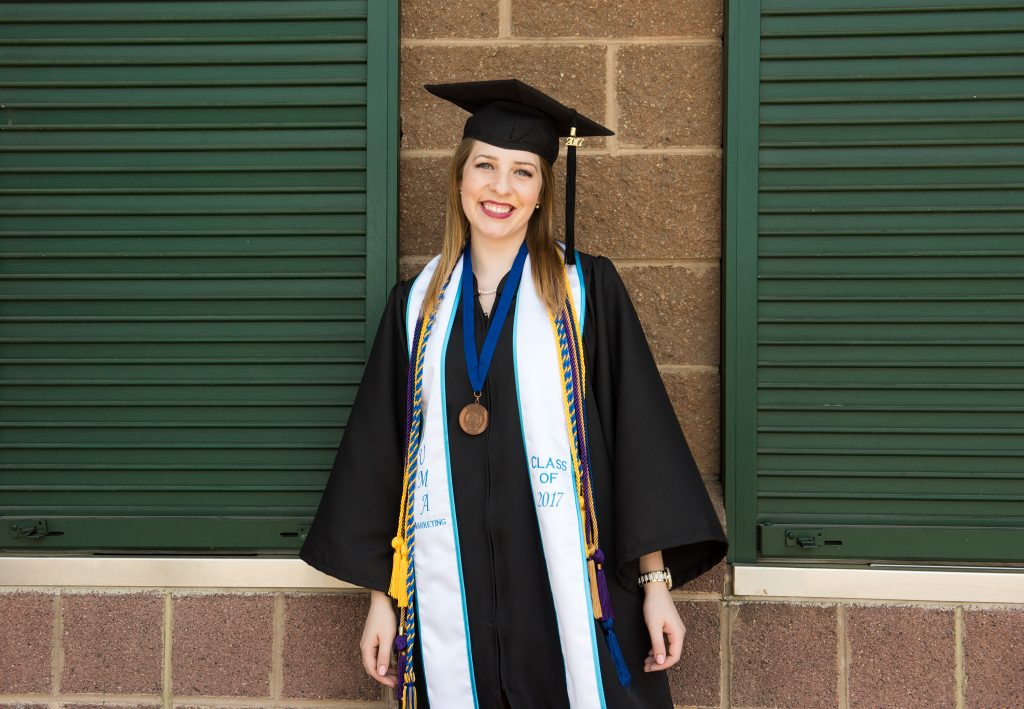 Ah, the twists and turns of the college search process — the oft-demanding quest for the perfect mix of access, affordability, comfort, and aspirational goals. Months later, when Jones happily enrolled at Southern, she was one of about 40 first-year students in Southern's Honors College — a program for students who excelled in high school and show a strong desire to continue their outstanding academic success.
Her experience was echoed by Rotella and Edson. All received Presidential Merit Scholarships covering full in-state tuition and fees — and, in hindsight, all say their decision to join Southern's Honors College was the right one. Their academic success is certainly telling — reflecting the program's historical student-retention rate of well-over 90 percent. In 2017, Rotella graduated summa cum laude — after being named the runner-up in the American Marketing Association's national "Student Member of the Year" competition.
As for Jones and Edson? Both moved on to graduate school at nationally top-ranked universities. In the fall, Jones started a master's degree in the reading specialist program at Teachers College, Columbia University — aided by a scholarship covering full tuition and fees. Meanwhile, Edson — who earned undergraduate and graduate degrees in chemistry in five years through an accelerated program at Southern — is pursuing a doctorate at Rensselaer Polytechnic Institute (RPI) in Troy, N.Y. "Applying to a Ph.D. program is very competitive," says Edson. "But because of the research I did at Southern and all of the extracurricular activities, RPI said, 'We want you.' It was a very humbling experience to be wanted by such a prestigious university."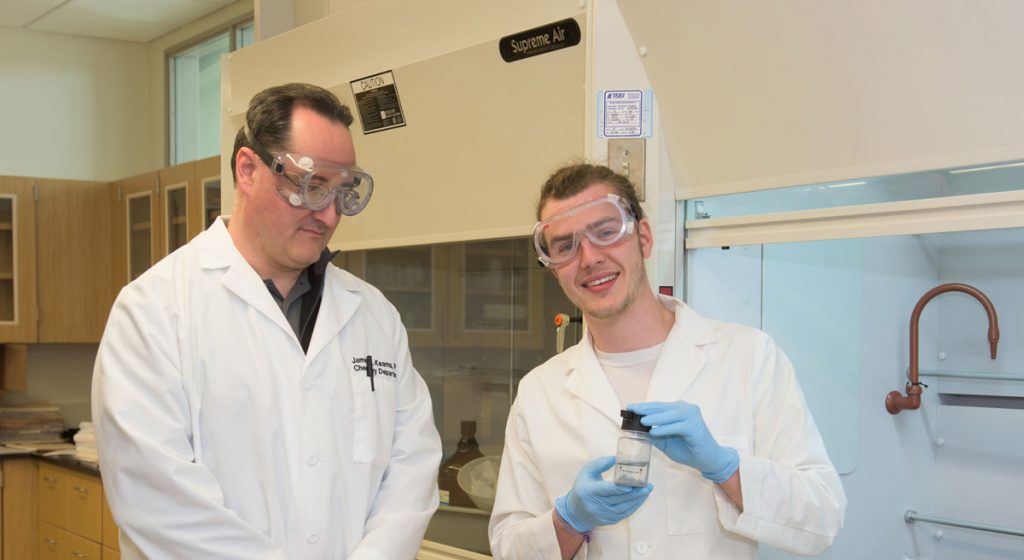 Southern's Honor College has a history of such success stories, says Terese Gemme, who's led the program since 2002. A commitment to excellence is a hallmark of the Honors College, which offers small, seminar-style classes (under 20 students) and a focus on interdisciplinary study, faculty-student collaboration, research, and writing. "Those who apply are looking for a challenge. They want to be part of a community of scholars — and they believe that education should provide room for in-depth exploration and creative learning," says Gemme.
At some universities, honors programs have come under fire for being isolationist, in effect creating a multi-tiered approach to education. In contrast, Southern's Honors College is highly inclusive. Students may choose any major — and also take many regular courses. In 2016-17, honors theses were completed by 35 students representing 15 different majors, including art, communication, economics and finance, nursing, and physics.
The program was recently restructured to offer two levels of study. Most students continue to participate in the program over four years, completing honors courses in place of most university liberal arts requirements. In addition, a new Honors College minor also has been introduced, requiring a minimum of 18 honors course credits, including a capstone experience.
This capstone experience — required of all traditional Honors College participants as well as those electing the minor — has become more flexible as well. As in the past, students may complete a departmental honors thesis or creative project. But they may also conduct community-engaged research or study abroad.
The depth and diversity of their work are impressive — particularly for students at the undergraduate level. For his honors thesis, Joshua Cohn, '17, an art major in the Honors College, held a solo exhibit of stunning sculptures he created from "repurposed earthly materials"— granite, ceramic, and metal. In contrast, Edson worked with James Kearns, assistant professor of chemistry, to develop a field test to determine arsenic levels in soil. And Rotella developed a business plan that incorporated social responsibility.


This added flexibility is a boon to students who are dedicated to making the most of their education. "If you ask most students in the Honors College what they like to do, they can't keep quiet. There are just too many things they're interested in," says J. Philip Smith, professor emeritus of mathematics and former interim president of Southern. Smith was the founding director of the Honors College and continues to teach Honors College courses, including "Ambiguity and Uncertainty in the Arts and Sciences," an interdisciplinary course he leads alongside Michael Shea, professor of English.
Jones, who double majored in education and psychology, says the course was one of her favorites. She comments: "I love English but wasn't able to pursue it as a major in college, so I liked having that time to explore literature — or even to talk about math because it's not a subject I would normally approach.
"From an educational standpoint, that is something I value," Jones continues. "I don't think you should be going to college just for a degree. I think you should go to learn . . . to become well-rounded and a critical thinker."
There are significant financial incentives as well — particularly relevant since college students from all four-year institutions of higher learning in Connecticut graduated with an average debt level of more than $35,490 in 2016. Beginning with the Class of 2020, all first-year students admitted to Southern's Honors College receive a merit-based scholarship. Currently, the top 20 percent are awarded a Presidential Merit Scholarship covering full in-state tuition costs and fees. For the remainder, the scholarship covers a minimum of one-half of these costs. All are renewable for four years.
Francisco Salinas, an Honors College student who graduated in May with a degree in computer science and a minor in mathematics, says that the financial support allows students to focus more fully on their studies — as well as meaningful internships, research opportunities, and community outreach. A native of Quito, Ecuador, he immigrated to the U.S. with his family in 2001 — and went on to graduate seventh in his class at Platt Technical High School. He applied to the Honors College at his father's urging — and says he was somewhat overwhelmed to receive the acceptance letter and learn he'd received a full Presidential Merit Scholarship. "We were immediately celebrating. That was one of the best days of my life," he says.
FINDING THE PERFECT MATCH
There are 180 students in the Honors College, including those who applied to the program after their first-year or as transfer students. (The latter groups do not receive scholarships.)
Honors College students are a talented group: the Scholastic Aptitude Test (SAT) scores of last year's entering class averaged 1250. (The 2018 application suggested a minimum combined SAT score of approximately 1080, or the ACT equivalent.) That said, admissions is based on far more than test scores, including letters of recommendation; a review of past leadership and community service; and several essays. "I can tell you that 100 percent of our students are involved in leadership or community service in high school," says Gemme.
Finalists are invited to an Honors College Essay Day to learn more about the program, complete a writing prompt, and join an Honors College-style class. The review process is rigorous and time-consuming, particularly in comparison to some colleges that rely solely on standardized test scores. "We only have 40 spots per year — and not only do we want the 40 best students, but we want the 40 students who we think will be most successful and thrive in the program," says Gemme.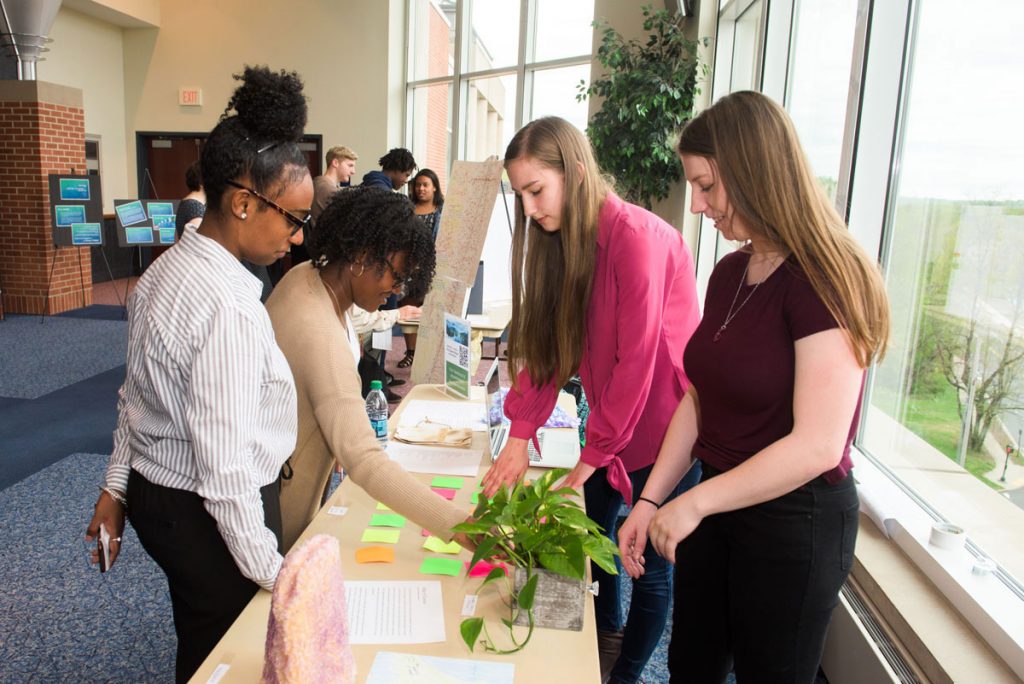 Interest in the Honors College has grown significantly, fueled, in part, by rising tuition costs at private colleges and the comparatively low cost of attending Southern. In recent years, the New York Times, U.S. News, USA Today, the Washington Post, and countless others have lauded the benefits of honors programs offered at state universities.
At Southern, there were more than 200 applicants for the Honors College's 40 spots for first-year students in 2017 — an increase of more than 122 percent from four years prior. "The Honors College now attracts students from across the country – which it didn't do initially," says Smith.
Regardless of where students hail from, once at Southern, the Honors College is home. Building that sense of community, in recent years, about 74 percent of students opted to live with peers in the on-campus Honors College Living and Learning Community, located in West Residence Campus Hall.
Kara Jones chose that option her first and sophomore years — and continued to live with three Honors College students when she moved as an upper-classman. "We built lifelong friendships. . . . We worked on group assignments and helped each other edit papers. Some of the Honors College classes are very challenging, so it was good for morale to live together," says Jones.
Students also often gather at the Honors College Library, which in March 2010 was dedicated in memory of Daniel Ort, professor emeritus of English and the Honors College co-founder. (The program began in 1982 and was initially the brainchild of Ort; Martin Anisman, then dean of the School of Arts and Sciences; and Kenneth Gatzke, professor of philosophy, says Smith, who became the program's first director.)
Looking forward, the program's recent changes — including the aforementioned adoption of the new minor, enhanced capstone options, an increased focus on community outreach, and scholarship dollars for all — offer expanded opportunities for future scholars. Yet, challenges remain. Gemme notes that based on interest, the Honors College could easily double in size while still keeping its small community feel. But additional funding is needed to provide more merit scholarships. "There are so many students who we think would be great in the program that we just don't have the scholarships to support," says Gemme.
In the meantime, she is committed to making the experience as rich as possible for today's Honors College students. She concedes that at least initially some of these "star students" did not see themselves as Southern candidates. "But once they see what we are and what we do, they realize Southern is exactly what they want," says Gemme. "They find it's like being in a liberal arts college with peers who are as excited about learning as they are. And they also have all the resources of a large university — the football team, the campus-wide service learning opportunities, the theater, student government, clubs, and student life. It's the best of both worlds." ■