As a high school football star from northern New Jersey, Rick Capozzi, '83, was being actively recruited by several NCAA Division I universities when he broke his back playing in an all-star game at Giants Stadium. He recovered from the injury, but was no longer a top Div. I prospect. Southern, however, was interested and Capozzi soon was playing in New Haven.
"The first year was tough," says Capozzi, of his shift in plans. "But I came to love Southern." Majoring in business administration, he played football for the Owls for three years. He also was a nationally ranked power lifter and served as a residence hall adviser. The latter, he says, provided a crash course in leadership and responsibility.
The skills honed on campus fueled Capozzi's post-graduation success. He held senior management positions at TD Private Bank, Merrill Lynch, UBS, Wells Fargo, and other industry leaders. His tenure at Morgan Stanley helps illustrate the breadth of his experience. As national sales manager at the organization, he was responsible for the firm's network of 8,000 financial advisers in nearly 500 offices across the U.S. — and as Morgan Stanley's regional director, he oversaw more than $35 billion in assets.
Building on such experience, he founded Capozzi Advisory Group in December 2014. "After 30 years on Wall Street, I wanted to be a bit more entrepreneurial," he says. Today, he's a sought-after consultant and speaker, who's made more than 1,200 keynote presentations throughout North America, Europe, the Middle East, and Asia. He's also a successful author, whose most recent book, "The Growth Mindset: Leadership Makes a Difference in Wealth Management," outlines strategies for success.
In November, Capozzi, who serves on the Business Advisory Council for Southern's School of Business, returned to campus to meet with students. Following he shares a few of his thoughts on thriving in business today.
Tell us about the book's title: "The Growth Mindset."
Capozzi: Because of technology and innovation, we are facing arguably the greatest period of change in the business world in our lives. If you don't have a growth mindset — meaning if you are not constantly thinking about ways to grow both professionally and personally — you will fall behind in this rapidly changing economy and world market.
Describe someone with a growth mindset.
Two words come to mind: responsibility and curiosity. Someone with a growth mindset wants to know more about the world around them and they take full responsibility for their lives. They always believe they can improve.
What are some of the changes shaping business?
In my world [economics and finance], the disruption comes from technology — algorithms and robo-advisers. You call in, basically talk to a computer, and based on your responses, it will, in essence, try to manage your money.
In other industries, some of the best examples of disrupters are Uber, Airbnb, Amazon, and Tesla, the electric-auto manufacturer. Think about how much disruption Uber has caused — and they are able to do so because of technology. Uber is basically a technology company. We have no idea where artificial intelligence will lead to in the future. But we know that technological innovation is not going away. It's going to accelerate.
What's the effect on the personal level?
Everyone in the business world needs to ask: Can a robot or technology do my job? If the answer is, 'Yes' or 'At some point soon,' you are probably going to become less relevant unless you take steps.
You stress the importance of the human component as a way of maintaining a competitive edge.
Communication skills are paramount in this economy — and I stress this whether I am talking about leadership with college students or management directors. Seventy percent of our economy is service-based. If you don't have the right interpersonal and soft skills, it will be hard for you to compete.
People generally do business with people they like. It's best to form those relationships face to face. . . . If I look you in the eyes when negotiating, I can learn more in three seconds than through 25 email exchanges.
Any quick tips?
I am a big proponent of mentors. Based on the research I did for my book, you are never too old for mentors. I know CEOs who have run organizations with 50,000 employees — leaders who are 70 years old — who still have mentors. Being a mentor is also important. I consider myself a student teacher.
Did you have a mentor at Southern?
I had several. One was my philosophy professor Dr. Mohan [professor emeritus of philosophy]. He opened doors to a world that didn't exist to me before. I'm from the Class of 1983 — but philosophy is still at the core of what I do today.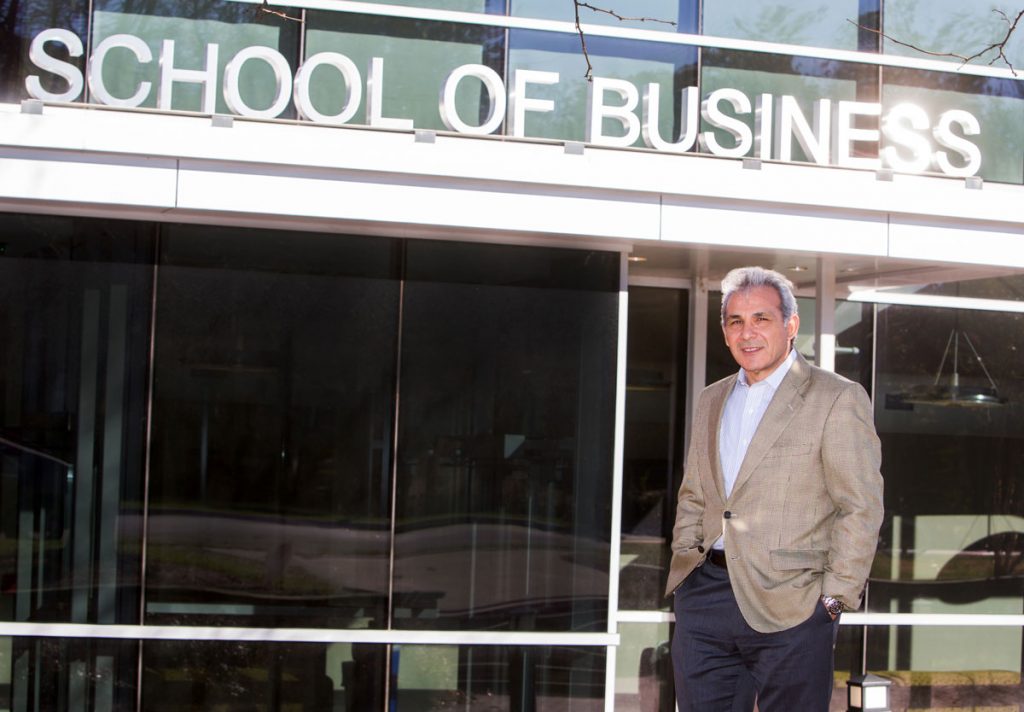 To what do you attribute your success?
It all started with a belief system. I was absolutely certain that if I wanted something badly enough, no one — no matter who they were — was going to tell me I wasn't going to achieve it. That belief came from my parents and my siblings. They stressed a strong work ethic and the ability to persevere no matter what.
Also, if I didn't know something, I was not afraid to ask. I wasn't afraid of surrounding myself with people who were in some way smarter than me. In fact, my goal was to hire people who had a skill set or knowledge that I didn't.
Finally, I never stopped learning — and I'm not just talking about the business world. It's all about curiosity.
What's something you've learned about recently?
My daughter wanted to go shark diving with great whites, so I went. Why? Because I was curious to see what great whites look like from a foot away.
Any final thoughts?
You never master it all. The best professionals, when they are in their 80s and 90s, will tell me, 'Rick, I am excited about today, because I'm probably going to learn something new.'