A group of students, accompanied by Assistant Professor of French Luke Eilderts and Professor of Art History Camille Serchuk, recently returned from this summer's International Field Study in Paris, France. Eilderts and Serchuk provided the following account of the students' experiences. 
Dear Friends of the Southern in Paris Program:
With the close of the program only a few short days ago, Dr. Camille Serchuk and I would like share with you some of the highlights of this year's trip to the French capital and its region.
We departed New York's John F. Kennedy International Airport on May 31, 2018, shortly after 11 p.m. After picking up baggage and making our way through passport control and customs, Dr. Serchuk, who had departed a few days earlier, met us at arrivals bearing croissants and water to the great excitement of the students. After a short ride on the RER—the regional train system that serves the Paris region—we arrived at our lodging for the month. Built to house students from Belgium and Luxembourg, the Fondation Biermans-Lapôtre also welcomes guests for short stays during the summer months. This is our third time staying with them, and we continue to be impressed with their dedication to the students' comfort and wellbeing.
That evening we began our culinary tour of the city; we try to introduce students to regional French cuisines and International foods that they might not find at home. Our first meal together was a dinner at the Crêperie Plougastel, a restaurant specializing in the cuisine of the western region of Bretagne (often called "Brittany" in English). Students feasted on savory galettes and sweet crêpes until they could eat no more. Tired from travel, we headed back to our rooms and turned in for the evening.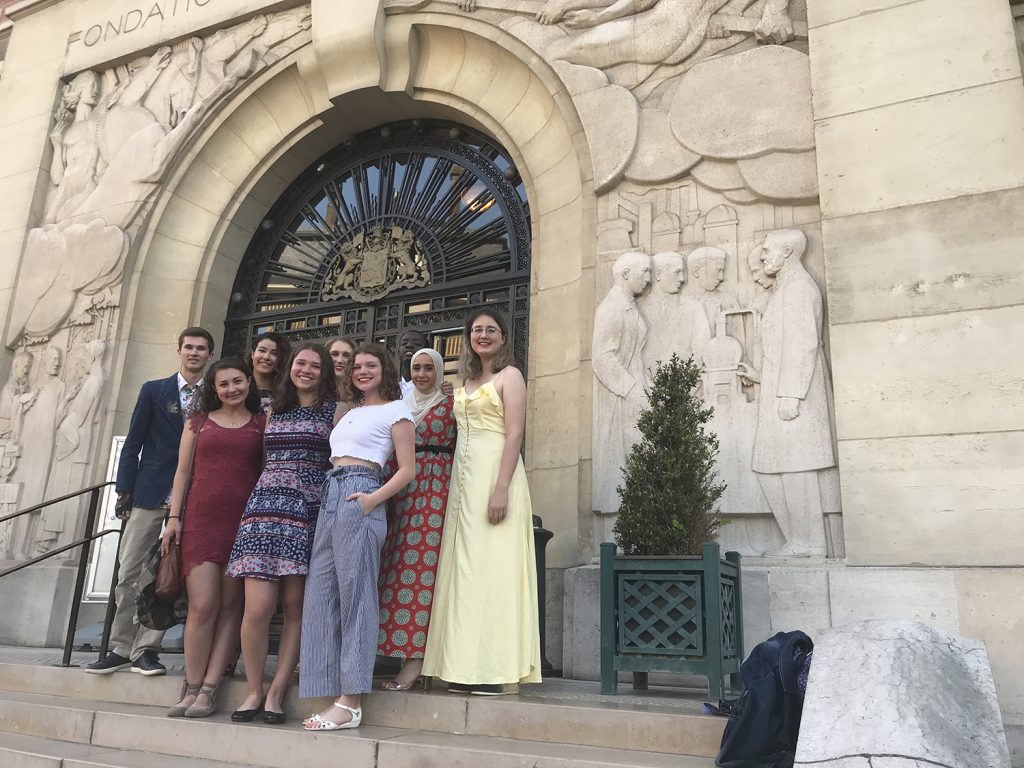 As a part of their introduction to the city, students familiarized themselves with the neighborhood by visiting the local grocery store, bakery, and banking locations. Since it is vitally important that students become proficient users of the city's many transportation options, one of the orientation activities included a race to see which three-person group could reach the Louvre the fastest. Not only entertaining, this activity turned out to be a very useful exercise since the transportation workers had announced multiple strikes throughout the month. With this early training in problem solving, students were well prepared to tackle a variety of challenges.
Since we use Paris as our classroom, every day brought a new adventure and a new piece of French art, architecture, history and culture to study. From the remains of the Gallo-Roman Arènes de Lutèce, an amphitheater that could hold up to 15,000 people, to the Centre Pompidou, the modern art museum; from the Basilica of Saint Denis, the first example of Gothic architecture, to the Art Nouveau architecture of the Métro system. While Paris offers a nearly inexhaustible list of objects to study, we also traveled outside the city to important sites such as the castle of Vaux-le-Vicomte, the Palace of Versailles, the medieval town of Provins, and Monet's gardens at Giverny. With each visit, students were asked to consider several probing questions and/or exercise their linguistic and cultural competencies.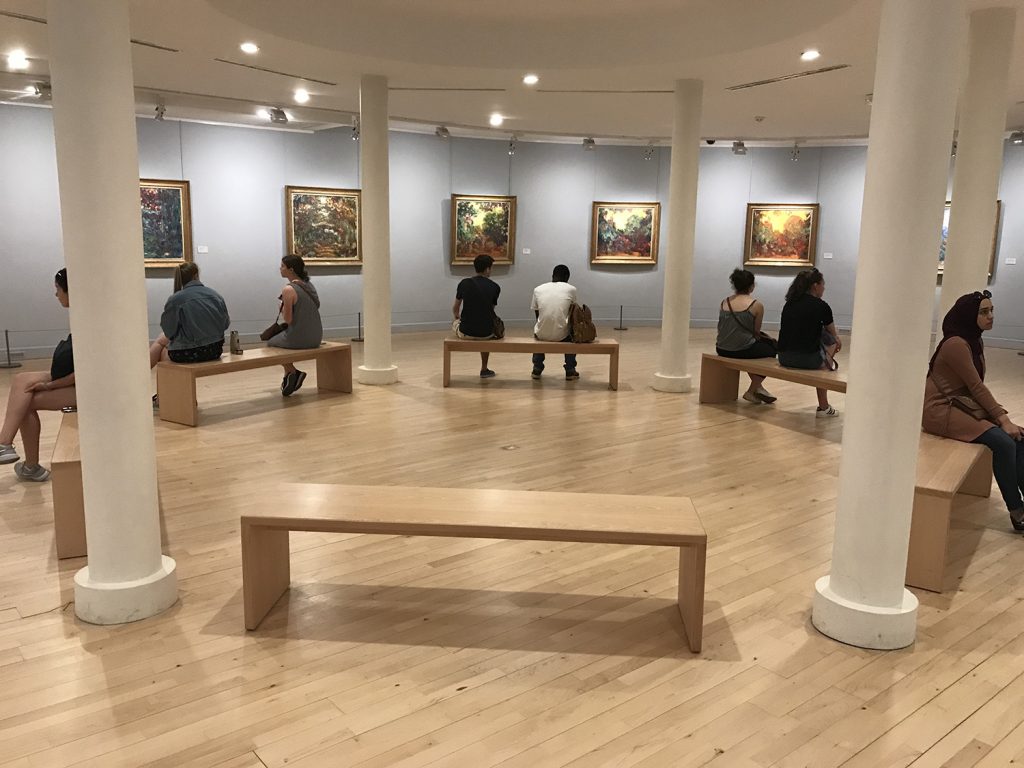 Throughout our stay, Dr. Serchuk and I asked the students to reflect upon their time in France. Here are a few of the impressions they gathered as well as some of the lasting memories they made:
"I think one of the amazing qualities I took away from studying abroad was patience, with myself, others, with the RER B. Paris has stolen my heart, and if I ever have the opportunity to return I will do it in a heart beat." – Kulsoom Farid
"I have grown through this program tremendously and not just through my school work but as a person. I'm more independent, confident, resourceful and mature and these are just a few things that have changed." – Lauren DeNomme
"It's my last day here studying abroad and I'm actually really nervous. It feels strange that I won't be in Paris anymore. I'm not sure if I'll get an opportunity like this again. […] I've actually considered moving here." – Joseph Warzel
"One of my goals this trip was to improve my French speaking & use it whenever I could! Since I decided to make my own food every now and then, I've met some French speakers in the shared kitchen we have. They're all so nice and help me with my French if I get stumped. I got invited to attend some events with them on campus & they made sure I was going to be able to attend the floor family dinner & photo op near the end of the month." – Jessica Hartwell
"We've seen many things in France, but my favorite would have to be the Louvre. I loved the gothic chapels as well, but the stories told within their stained glass cannot match the stories told within the endless works of art at the museum. One night, we had class in one display room of the Louvre, and spent a long time analyzing each painting in the [Marie de Médicis] sequence. It was so interesting, I didn't even feel the discomfort from standing in virtually the same spot for an hour! I look forwards to Louvre classes the most, because there is just so much the museum holds that I know the class material will always be interesting." – Madelon Morin-Viall
"I cannot thank my two professors enough for their generous effort throughout this trip. Reflecting back, I can see how much time and energy they put into showing us the ins and outs of Paris. I do not know how they do it, but they have created a fantastic program that I am blessed to be a part of not only once, but twice. MERCI BEAUCOUP!!" – Alexandra Takacs
"Though I have only been in Paris for [a short while], I feel at home. The room where I stay I have made my own, I see familiar faces in the hall each day such as my friend Katherine from Luxembourg, and whenever I want, I can hop on the RER (across the street) and take it to whichever place I choose. One thing can be guaranteed- no matter where I go, it will be beautiful and there will be really good food." – Ally Morin-Viall
"A month seems like a long time but it's not. Every single day I spend in Paris is precious and I'm not gonna waste a second. The only great thing about coming home after my trip in Paris is I get to brag to all my friends about my new experiences!!!!" – Trevon Homeward-Bennett
Finally, we would like to thank the Office of International Education for all the work that they do before, during, and after the trip.
Thank you for supporting Summer study abroad programs!
Drs. Camille Serchuk and Luke Eilderts
Co-Directors, Southern in Paris 2018