The J. Philip Smith Award for Outstanding Teaching is presented each year to one full-time and one part-time faculty member for exemplary teaching. The award is one of the university's highest honors, and faculty honorees are recognized at undergraduate commencement with a plaque and an honorarium of $2500.
The awardee for 2017's full-time award is Associate Professor of English Charles Baraw, known for his thoughtful, meticulously prepared and stimulating English classes, as well as his rare ability to switch gears if that's what he senses students need. The awardee for the part-time award is Michelle Stoehr-McCarthy, Adjunct Professor of English, an accomplished writer, who has made a remarkable impact on students and colleagues during her short time at Southern as an adjunct professor teaching composition/academic writing.
In eight years at Southern, Baraw has designed and taught more than a dozen different courses and created two new ones again this year. He has a broad range of experience teaching 19th- and 20th-century literature, as well as the works of Shakespeare and the British poets.
One of his most popular classes, "Comics and the American Experience," ends with a project in which students create their own comic, along with an essay about the creative process behind their productions.
"I have to listen carefully to what students say and what they do not say in their conversations with the text, with each other, and with me," Baraw wrote of his teaching style. "And I have to be ready to act accordingly, to change, to try a different approach. What do we do, for instance, when students are reluctant to speak in class because, as some have told me, they are 'afraid of being wrong'? Or when students do not know what to look at or what to look for in a text, or when they don't or won't or can't do the assigned reading?"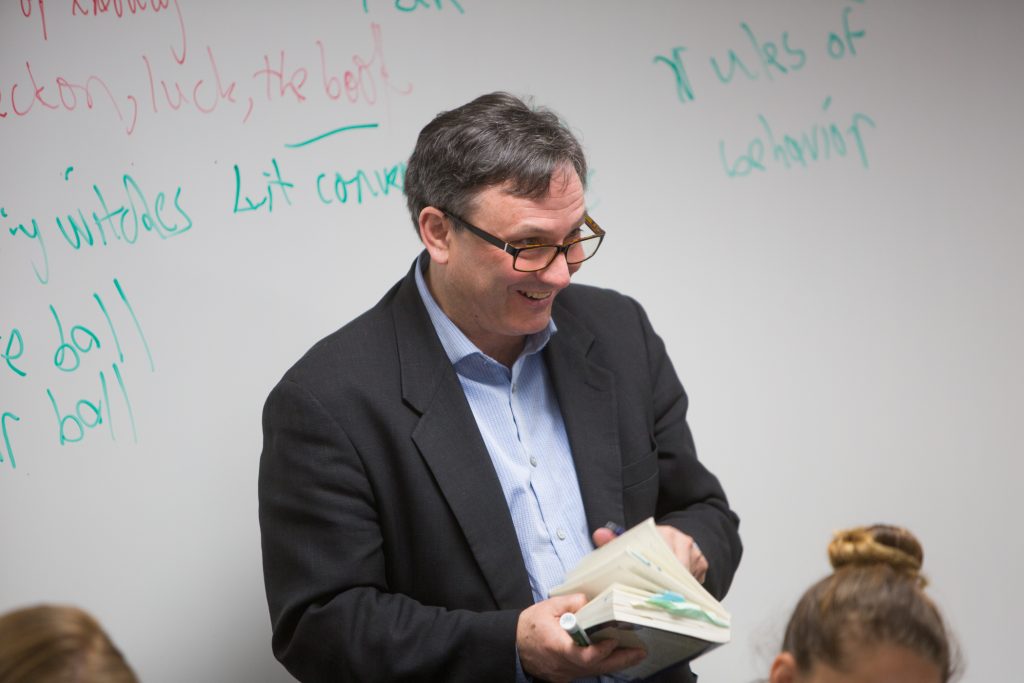 One colleague, calling Baraw "respected and admired," said that he "has made a dramatic and positive difference for our English majors and for students across the university." The colleague added that Baraw's instructional design is "brilliant," and he has "deep care for the learning and development of each student."
Baraw has said his core philosophy of teaching, is based on a "mutual imperative to trust," explaining, "I have to trust that all students can learn . . . and they must trust that I can teach them," he said.
Baraw has been a champion of study abroad, and in recent years has been a key figure in the university's growing relationship with Liverpool John Moores University. He has also started, and through his family endowed, a foundation fund to help Southern students with limited financial means to travel to Liverpool, or elsewhere, for their studies.
Beyond academics, Baraw has steadfastly promoted the AAA fund, designed to help at-risk students in times of financial crisis. The fund aids Southern's efforts to encourage student retention and persistence.
A graduate student-turned-colleague of Baraw's describes him as an "incredible mentor," who has guided her through tough situations. The student said Baraw modeled behavior that has changed not only "how I teach, but how I live, with a focus toward progress, not perfection."
Colleagues also said they've learned a lot about the art of teaching from Baraw. "Chuck is one of a very small number of my 'go-to' people in the department when I want to talk teaching," one colleague said, adding that Baraw is "a font of great ideas, sensitive self-criticism, and constructive experimentation in light of actual classroom results."
Baraw holds a Ph.D. in English from Yale University, a master's degree in English from Middlebury College, and a bachelor's degree in English literature and American history from the University of Vermont.
Stoehr-McCarthy says that her goals in the classroom "have been not only to teach reading and writing, but to promote social and personal engagement and commitment to excellence," adding that "one of my talents as a teacher has been to discern student strengths, and to bring those out through positive feedback with attention to student-generated goals, while minimizing student weaknesses through redirection."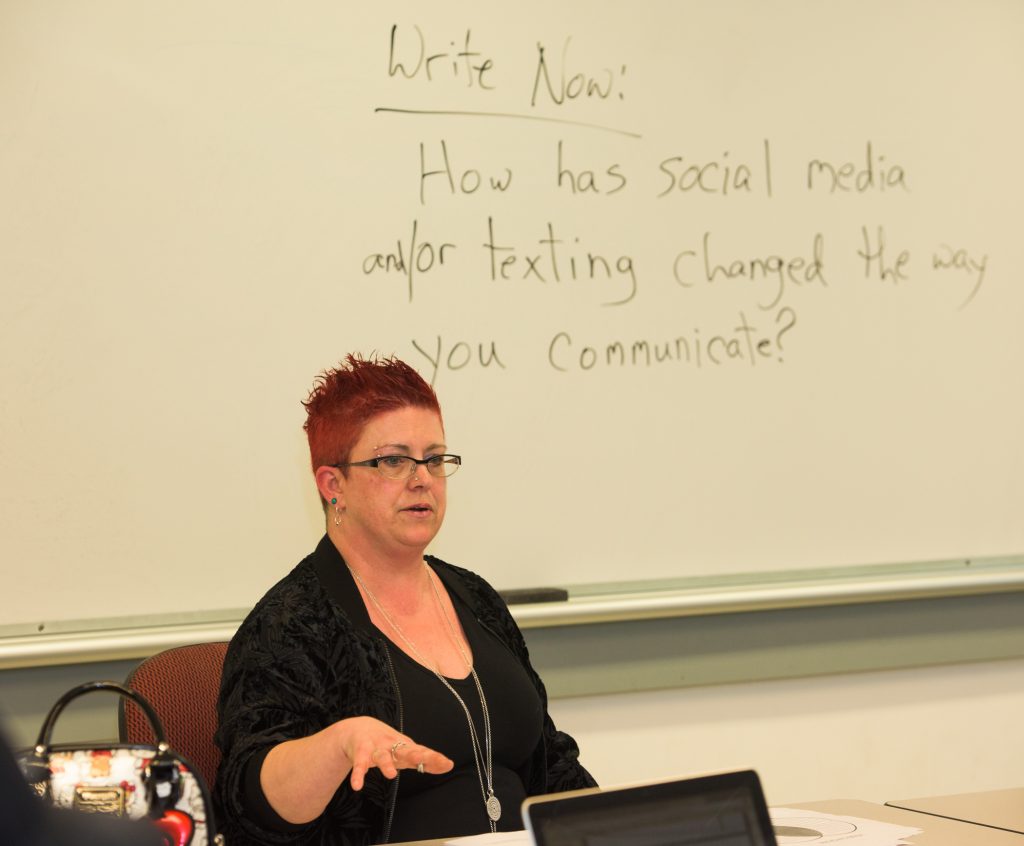 She frequently ask students to present their writing both in and out of class in order to build their confidence and to promote leadership skills "that will serve my students in future SCSU classes and in life."
One colleague wrote that Stoehr-McCarthy "has taken a leading role in encouraging students at all levels to present their research and writing to the public." The colleague explained that Stoehr-McCarthy instituted a partner system among the 20 students in her class so they could respond to each other's postings and work collaboratively in class. "Since that time, I have seen more evidence of why Professor Stoehr-McCarthy's students, colleagues, and fellow writers respect her so much. She works closely with writers of all levels and cultivates confidence among them," the colleague wrote.
Another colleague of Professor Stoehr-McCarthy's said that while she's certain there are many who can attest to her highly effective, engaging, and innovative teaching model, "what makes her a truly outstanding teacher is her commitment outside of the classroom to the profession itself."
A student who had Stoehr-McCarthy for the spring 2017 semester said that she is a fabulous teacher, but most of all a wonderful person who took great care of her emotionally when the student's brother died.
The student wrote: "Never in my life have I known such grief and have been tormented by such pain; Shelley was the only professor that took time out of her day to sympathize with me, and made sure I was ever okay. During my leave of absence from class, she put my mental health first before my assignments that I was going to miss. When I returned to her class, she was so patient with me and would come over to my desk to encourage me when I would look or act withdrawn from what we were doing. I have never been more thankful for an educator that had such a big heart for her students."
Another student wrote that Stoehr-McCarthy "truly made the class relatable for all the students, giving a technological twist for our millennial culture. She gave us, the students, the ability to express our thoughts and have intelligent class discussions about what our feelings were on topics and she even told us about herself and how she related to such topics."
Professor Stoehr-McCarthy holds a bachelor of arts degree from Connecticut College with a major in dance and a minor in English. She is an author and has held many writing positions, including as a freelance editor, ghost writer, freelance reporter for Milford Patch, and guest book reviewer for The San Francisco Chronicle. From 1992-1996 she served as head teacher for School for Education in Dance in New York City. She is an MFA candidate in creative writing at Southern.