Business Students Victorious in Statewide Competition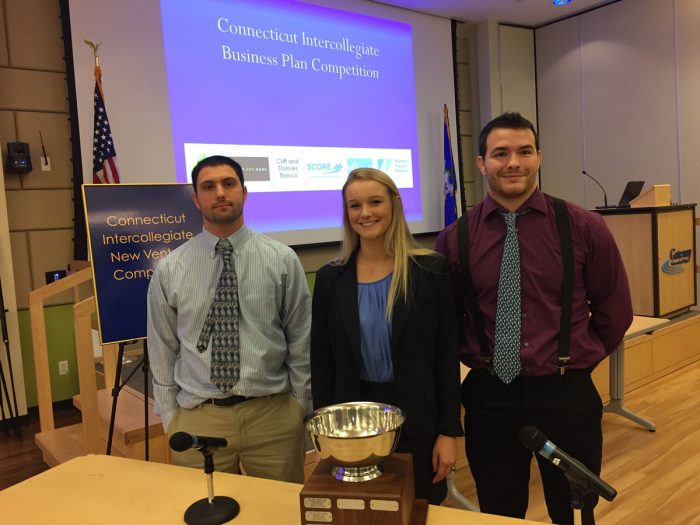 It's a three-peat for Southern's business students in the Connecticut Venture Capital Investment Competition (VCIC).
The team of Paige Decker, Tyler Fedak and Mike Sullivan earned first-place honors recently to mark the third consecutive year in which an SCSU trio triumphed in the event. Student teams from Connecticut colleges and universities presented business and investment plans for hypothetical companies, which were evaluated by investment industry professionals. The program was held at Gateway Community College.
Connecticut is the only state with its own VCIC competition, according to Mike Roer, president of the Entrepreneurship Foundation Inc., which sponsors the statewide event. On the basis of its victory, the SCSU team advances to the New England Regional Finals in Boston on Feb. 24. Southern will compete against schools such as Boston University, Wharton School of Business (University of Pennsylvania), Yale University, Cornell University, and Babson College. In addition to retaining the Connecticut team trophy, the team also earned $1,000 for travel expenses to the Northeast Regional competition.
"The consistent professionalism and courage of the Southern team speaks well of the acumen and state-of-the-art curricula of the (academic) Finance Department and School of Business," Roer said. "The Entrepreneurship Foundation is proud to support the SCSU contingent by underwriting the entry fee and providing a travel stipend."
Benjamin Abugri, chairman of the SCSU Economics and Finance Department, said he was proud of the students.
"As business faculty, we all celebrate the impactful achievement of our students and their two faculty advisers, Drs. Han Yu and Dave Tyson," Abugri said. "Winning the trophy three consecutive times, taking the Connecticut State trophy for keeps at the SCSU Business School and advancing to a regional final for the second time as state representatives are historic achievements."
Roer explained that under the rules of the VCIC program, the first team to win three competitions gets to keep the team trophy. A new one will be purchased for future competitions.
Decker said she learned much from participating in the event. "This competition was a great real world experience for my fellow classmates and me," she said. "We were able to be venture capitalists for the day, judging startup ideas from various local colleges. We won the competition and had a lot of fun participating."