Isabel Chenoweth has searched for light in the darkest places — including the basement of James Moore Field House. In Hutchinson Natatorium. Under the water.
On that particular day — April 8, 2013 — Chenoweth stood in the humid-thick air, her mind set on finding a new way to photograph Southern swimming sensation Amanda Thomas. Thomas, among the most celebrated student-athletes in Owl history, would go on to graduate with two degrees in exercise science (a bachelor's in 2013 and a master's in 2015) and four first-place finishes at the NCAA Div. II national championships. But at that moment some four and one-half years ago, victory would be a simpler thing for the 18-time All American — look serene while swimming horizontally across the pool, face aimed directly at a viewing window where Chenoweth stood camera-in-hand.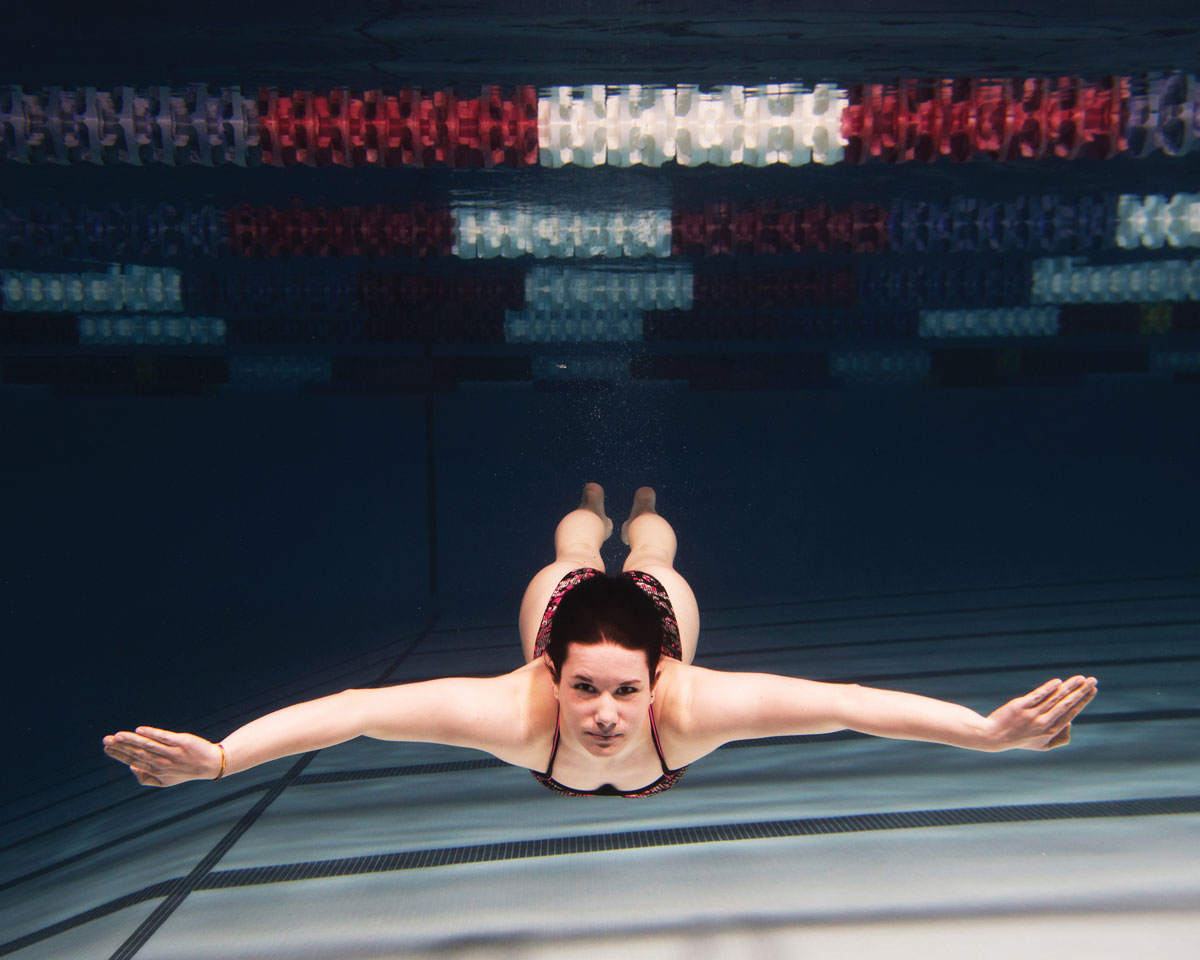 "We focused the lights into the water and then triggered them with radio transmitters," says Chenoweth. "It took several takes to get her hands perfectly placed, with her legs right behind her. You can see where the light falls off. It wasn't an instant portrait. It was trial and error."
The resulting shot is one of Chenoweth's favorites — and that is saying something. As of July 2017, she has chronicled campus life for more than a decade, taking close to 50,000 Southern-related photographs every year. The subjects and assignments are decidedly varied. They include portraiture, event coverage, and photo journalism as well as editorial and marketing shoots.
On a "typical day," Chenoweth has captured megastar John Legend on stage at the Lyman Center, singing with such strength the microphone had to be turned down. She's also traveled to Europe to photograph Southern's choir performing to sold-out audiences — and made countless trips throughout New Haven neighborhoods to get shots of students volunteering, interning, and conducting research. And she's spent hours taking portraits of faculty members, often learning about their fields of scholarship.
She says these and all other assignments share a common denominator: "Photography is storytelling with light and a moment in time. Light is key. You have to always be conscious of where your light's coming from — its source and direction, the quality and quantity of light, and the patterns being created."
The attached gallery showcases more of Chenoweth's favorite photographs — images captured when the light was perfect and all was right with her world.
Gallery: 10 Years, Favorite Photos