It takes about 30 hours for Natasha Fitzpatrick to travel the 10,403 miles between her home in Tasmania, Australia, and Southern's New Haven campus. The senior public health major transferred to Southern after completing two years of college in her native country — and although she's only been home once in two years, she's found her comfort zone. A record-setting member of Southern's Track and Field Team, Fitzpatrick has met students from around the world while living in North Campus on a floor for international students. "We help each other out," she says. "I've met people from Germany, Spain, the Netherlands, the United Kingdom . . . "
As for the U.S., she says the country has exceeded her preconceptions, which she jokes came largely from movies, like "High School Musical" and "Mean Girls." "That was the only idea I had of the U.S. It was a lot different than I expected it to be, which was probably for the best," she says with a smile.
She, in turn, has corrected her classmates on a few fallacies about life Down Under, including common catch phrases like, "Throw a shrimp on the barbie."  "We call them prawns, so it's a little ironic," Fitzpatrick says. Americans do, however, have some things right. "The word 'mate' is definitely used as much as people think it is," she says. Following, she shares more of her Southern story.
 Tell us a bit about Tasmania.
Natasha Fitzpatrick: We're a little island at the bottom part of Australia. It's the typical Australian scene, with the beaches really close by and warm weather. We get a winter, but nothing as extreme as in New England.
So February in Connecticut was an adjustment.
Yes! My first winter was a bit of a disappointment. There wasn't much snow. [laughs] I kept hearing about this thing called the snow day! But I had my snow day this year — and by the time the morning passed, I was ready for things to get back to normal.
How did you come to attend Southern?
I went through a company in Australia called NSR. They recruit Australian athletes in all sports to the U.S. They help us find the right schools, the right coaches, and universities that have our major. I got introduced to coach Stoll and really enjoyed talking to her. [Melissa Stoll is head coach of women's cross country and track and field at Southern.]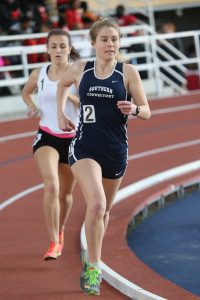 Why did you choose Southern?
Mostly for athletics purposes, but I am glad I chose this school for many more reasons, including the friendly people, the academic opportunities and the opportunities to get involved within the school community.  It helps everyone to fit in.
 What activities are you involved in?
In addition to Cross Country and the Track and Field teams, I'm an orientation ambassador during the summer. I'm also involved with the Public Health Club on campus and work at Southern's Center for Educational and Assistive Technology.
 Let's talk about track a bit. Are there any differences between track and field in the U.S. and Australia?
We don't have indoor track. That was probably the most nervous I've been — my first race lining up indoors to run the mile, which is not an event we do at home. So that was nerve-racking. But I loved it and I hope to bring it back home. We should have indoor.
 You've done extremely well at Southern, making nationals in cross country and setting the university record in the steeplechase. Can you explain the event?
In college, the steeplechase is 3 kilometers. Each lap has multiple hurdles. They're the wider hurdles — so you can step on them — and there's a water jump. The idea is to clear the water jump. But sometimes you get wet, so it's definitely a sport to do in the warmer weather.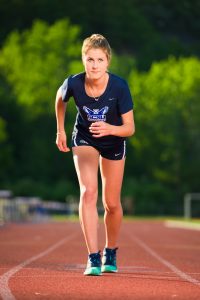 What was it that like to set Southern's record?
I didn't realize how close I was. I kind of left that up to the coaches. . . . They just kept pushing me along. When I actually broke it, they came over and congratulated me. It was quite a good moment. It felt like I achieved something for the school.
 Had you traveled previously?
I pretty much have traveled the whole of Australia. This was actually my first time out of the country. So it was a bit of a big move. But it's been a good choice.
 Have you had the opportunity to travel in the U.S.?
I have, luckily. With the team, we get to travel a lot in the New England area, which has been a lot of fun. And during breaks I have been able to travel both the East and the West coasts.
 What are some of the things that you'll enjoy once you're back home?
It's so stereotypical but we love our barbecue. Just the whole idea of going to the beach for a barbecue. I got to go home for Christmas which is [during] our summer — and I think we had a barbecue every day.
 Speaking of food, any new favorites?
I haven't had a proper one yet, but I really want to go to Chicago for a deep-dish pizza. I've been to a few states and had their main dishes. The Philly cheesesteak is definitely one of the tops on the list.
What is the most common question you get from Americans?
They definitely ask things to do with the outback and the animals we have in Australia. We kind of reassure them that there aren't too many deadly ones. [laughs] If you stick to the cities, you'll be fine.
Since you mentioned animals and stereotypical questions from Americans, how often do you see kangaroos and koala bears?
Kangaroos aren't in the big cities, but if you go a bit further out, you'd find a lot. They're common — a little like deer in the U.S. [Koalas] aren't as common because they need a certain tree — the Eucalyptus tree.
And since you're from Tasmania, you know where this is leading.
I've only ever seen one wild Tasmania devil. You find a fair few in sanctuaries.
What do you plan to do after graduating?
I've always thought that I'd probably end up in Australia, but in the meantime, I'd love to stay — work a bit. I definitely want to do my internship in the U.S. and if I can keep studying, do graduate school [here].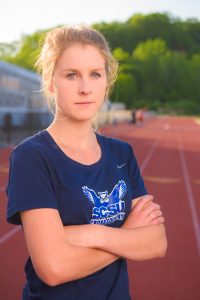 Any advice to someone who is considering coming to Southern to study from abroad?
It gives you a hugely different perspective – even traveling between English-speaking countries. There are so many differences in the way of life, in schooling, sports. It is definitely an experience I recommend.
Last but not least, vegemite. Yeah or Nay?
I am a huge fan. My mom sends over vegemite just for me. I've tried to get people to like vegemite as much as I do, but I don't think it's something Americans enjoy. We're working on it.