Earlier this month, Philosophy Professor David Pettigrew traveled to Paris to make an important presentation: on behalf of SCSU President Joe Bertolino, CSCU President Mark Ojakian, and the CSCU Board of Regents, Pettigrew presided over a ceremony to present Dr. Juan-David Nasio with an honorary doctoral degree. Nasio, a medical doctor and trained psychiatrist from Argentina who emigrated to Paris in 1969 to pursue a career in Lacanian psychoanalysis, has made an exceptional contribution to society and to academic culture. He has been working as a psychoanalyst for more than 50 years and is also widely recognized as a distinguished intellectual and author, having published more than 30 books that have been translated into more than 13 languages. In addition to his private practice, Nasio gives professional development workshops and so-called "closed seminars" for psychoanalysts from throughout Europe. He also taught at University of Paris 7 for 31 years (1970-2001) and was the first psychoanalyst in history (1999) to be named a Chevalier (Knight) in the prestigious French Légion d'Honneur. His other distinctions include an honorary degree from the University of Buenos Aires in 2012, and an honorary degree from the Universidad Autónoma del Estado de México in November 2015.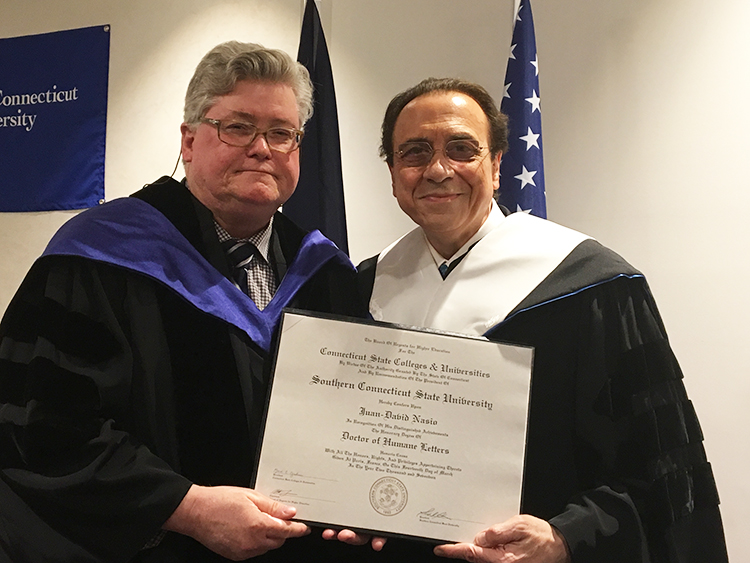 Pettigrew was chosen to confer the degree on behalf of Southern, CSCU, and the Board of Regents because he nominated Nasio for the honor and has worked on his texts since around 1995: he presented three lectures for Nasio's exclusive "closed seminars," co-translated three of his books, and is finishing the translation of a fourth book on his own. Pettigrew's co-translations of Nasio's work have received various recognitions, including the SCSU Faculty Scholar Award in 2000, and recognition from the French Ministry of Culture, including the Hemingway Award. "I have had a unique opportunity to witness Dr. Nasio's contribution to therapeutic and academic discourse," Pettigrew said.
President Bertolino chose to send Pettigrew to Paris to confer the degree so that the ceremony could take place in the presence of Nasio's family, friends, and colleagues. Nasio's entire family was in attendance, including his wife Nelba, his four children, and three grandchildren, as well as many friends and colleagues.
Bertolino, who was unable to attend the ceremony, said that, "all of us at Southern Connecticut State University are honored and proud that Dr. Nasio will be receiving this well-deserved recognition.
"As a social worker, I can relate to his professional efforts in a caring practice, and as an academician, I am wholly impressed by his contributions to society as both an educator and a scholarly author."
At the ceremony, after the presentation of the degree and Nasio's hooding, Nasio delivered remarks, thanking President Bertolino and President Ojakian, as well as the Board of Regents. He also thanked Pettigrew, on behalf of himself and of all those gathered for the ceremony, "for bringing a message of friendship, culture, and passion for psychoanalysis," and added that Pettigrew had "just added a new link to the golden chain that connects or bonds French psychoanalysis to American psychoanalysis and philosophy, French culture to American culture, and in a word, to the chain that links France to the United States."