The term "street art" might conjure images of graffiti splashed across the side of a building, but street art – works of art created in public spaces – actually encompasses many media and is often legal and permitted, says Noelle King, an adjunct professor of art. Many artists are doing street art now, says King – herself an artist — so she proposed a new course on street art to the Art Department, and it ran this semester as a beta, or experimental, course.
As a final project, after hearing from several invited guests on the topic of street art, King's students completed two approved community service art projects: a large mural inside the Yale New Haven Hospital George Street Parking Garage, called "A Leaf History of New Haven," and "A Friend for Life," an image of dogs and cats painted on a door at the New Haven Animal Shelter, intended to encourage adoption of animals at the shelter.
Throughout the semester, leading up to these projects, King invited several guests to the class to discuss various aspects of street art. Detective Orlando Crespo of the New Haven Police Department, a specialist in gangs and graffiti, who explained to the students the nature of graffiti and the legal repercussions of street art that is done without permission.
Another guest, Tatyana Fazlalizadeh, is an artist based in Brooklyn, N.Y., whose "Stop Telling Women to Smile" campaign addresses gender-based street harassment. In 2015, Fazlalizadeh was named one of Forbes Magazine's 40 Artists Under 40. In her project, she invites women to tell their stories of street harassment, does their portraits, and adds text from their stories to the portraits. She then pastes the portraits up on walls in public spaces. Fazlalizadeh's project is universally lauded as being an important part of the dialogue concerning sexual harassment of women.
Other guest speakers in the class included artist and community organizer Alex White-Mazarella; Tina Re, curator of artists' books and librarian in Buley Library; and Pairoj Pichetmetakul of The Positivity Scrolls Project in New York.
King describes the course as writing intensive, with writing assignments including everything from essays to poems, to letters to responses, and a project King calls indoor sky writing, that involved students writing messages with whipped cream.

To prepare for the mural they painted inside the Yale New Haven Hospital George Street Parking Garage, students researched plants native to the New Haven area from ancient days to the present and decided which leaves to depict. They then stenciled on the garage wall the mural of leaves, creating "a very calm and peaceful" feeling, says King.
Leaves depicted in the painting are from kelp, pin leaf cherry, tulip tree, birch, cinnamon fern, daimyo oak, fern, Franklin tree, white pine, sassafras, slippery elm, mulberry, chestnut oak, aquatic moss, red maple, willow, white oak, sycamore, northern red oak, apple, dandelion, white spruce, and two-leaf water fern.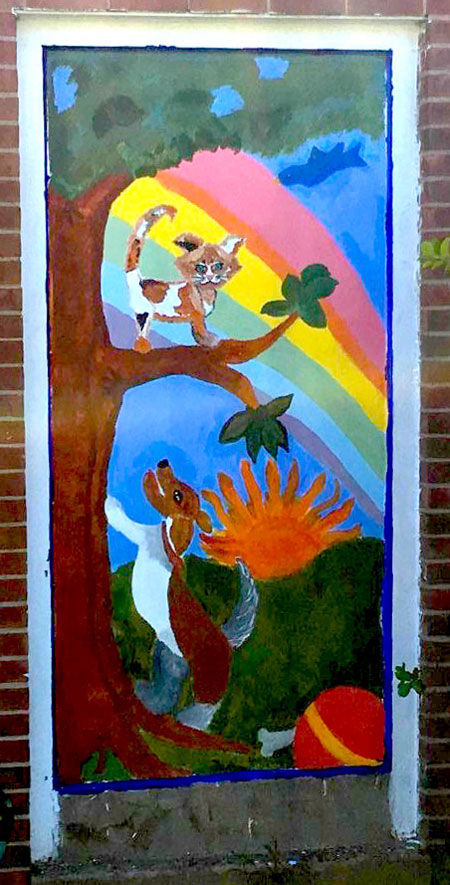 For the animal shelter mural, the class responded to a request from the shelter. "A man from the shelter approached the Art Department about having someone come paint something to beautify the shelter," says King. "They wanted to make the shelter feel more family-friendly and cheerful." Students submitted designs for a painting, and student Traci Henri's design, "A Friend for Life," was chosen. The painted mural on an exterior door portrays a dog and cat and encourages adoption of animals.
King says she is proud of her students, who included Shannon Anderson, Ben Asbell, Nick DiDominicis, Alexis Dillon, Dannielle Gladu, Valerie Glibert, Tracy Henri, Ariel Herbert, Dan Holloway, DJ Johnson, Tessa Karmelowicz, Rahni Lawrence, Alexandra Marx, James Mastroni, Kelsey Page, Katie Pfeiffer, Rebecca Ramirez, Laura Salvatore, Jane Snaider, Nathan Tracy, Katie Verrastro, Roleen Bisaillon-Sheehan, Alyssa Fernandes, Kate O'Keefe, Melissa Urban, and Nina Zachary. King says, "They saw how they could make a relationship between themselves and the city of New Haven, and between the university and the city." She wanted them to learn about doing street art for the public good, as, she says, "art has tremendous power and can change lives."