Mark McRiley, M.P.H. '12, was intrigued by the bumper sticker. So instead of rushing inside to place his order, the Southern alumnus stood outside of the Connecticut Dunkin' Donuts and waited for the car's driver to explain why the phrase, "I Administered Narcan to an Honor Student," was plastered on his car.
Narcan — a drug generically known as Naloxone — is an opioid antagonist, meaning it counters the effects of opiates, including heroin, morphine, and oxycodone. It is used when an overdose is known or suspected, potentially saving lives in the process. "I explained that I was a nurse and that I wanted the story," says McRiley. "He told me that he worked at a high school and had given Narcan to one of the students who had overdosed."
Many, including McRiley, would argue that such firsthand accounts are highly illuminating, providing important insights about the issues affecting a community — in this case, everything from the increased use of opiates in the U.S. to available treatments for those who are addicted.  In January — armed with a full scholarship — he began a doctoral program in public health at England's Liverpool John Moores University (LJMU), which recently launched a trans-Atlantic partnership with Southern.
"Liverpool John Moores University's Public Health Department is so strongly focused on social services — homelessness, opiate addiction, alcohol addiction, violence against women . . . It is incredible for me to have the opportunity to work with them," says McRiley.
His research will cut across the Atlantic, focusing on long-term opiate addiction among people living in both New Haven and Liverpool, England. He will use photovoice, a participatory research technique that employs cameras and other photographic techniques to explore issues through the eyes of community members — in this case, those addicted to opiates. "We'll be able to compare the two [populations] to see what the major hurdles are," he says. "What are the influences? What are the risks for a relapse? What are the difficulties related to methadone use over time? How are people being treated by the community?"
McRiley will be supported by faculty at both institutions — Gordon Hay (his lead advisor) and Conan Leavey, both from LJMU's Centre for Public Health, as well as Jean Breny, chair of the Department of Public Health at Southern. Four undergraduates from Southern also have been studying at LJMU this spring. Countless more ultimately will benefit from the initiative, which will offer courses taught by faculty members at both universities, in addition to more opportunities for students from SCSU and LJMU to travel abroad for study, research, and field work.
"I'm receiving a 100 percent scholarship — which is three years of tuition and essentially enough money to pay for my housing," says McRiley. "I feel unbelievably lucky and extremely honored . . . to have the opportunity to work so intently on my own research. Who gets to do that?"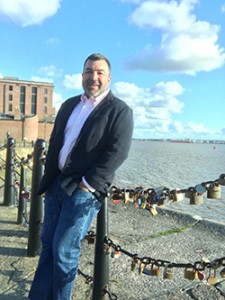 The experience promises to be life-changing personally and professionally, building on McRiley's diverse resume, which includes experience in the film and television industry, nursing, international aid, teaching, and public health. "I grew up in LA, where everybody is supposed to be in the entertainment industry," says McRiley, who took photography courses at City College. He found work in the industry, first in craft services and later as an emergency medical technician (EMT).  He worked on more than 30 Hollywood films and television shows, including "Van Helsing," "Rush Hour" (I and II), "Roseanne," and "The Family Man." But while the projects were high profile, McRiley came to find the work unsatisfying.
"I realized I wasn't using my brain. . . . I needed to go back to school," he says. McRiley moved to New York City, and enrolled at the College of New Rochelle to study nursing. One of only a few men in the nursing program, he earned his B.S. in 2005 and soon become a critical care nurse at Yale-New Haven Hospital.
When Hurricane Katrina hit, McRiley traveled to New Orleans with a group of doctors who set up a makeshift clinic at the Cajundome where about 7,000 displaced people were living. "I learned so much," says McRiley, "but I came back totally changed. As a nurse dedicated to giving aid . . . this is where you want to be."
With thoughts of working in international aid, McRiley enrolled in Southern's graduate program in public health. For his master's thesis, he researched the relationship between post-earthquake housing and health in Léogâne, Haiti. The city, located near the epicenter of the quake, had been devastated and many residents were still living in tents provided as emergency shelter. McRiley traveled to Haiti four times for his research. Using photovoice methodology, he gave 23 Haitian nursing students cameras to explore the issue. They then met as a community to discuss their images. "I would record their responses in Creole," he explains, "asking them to tell me what I was looking at and why the photo was taken."
Their issues included pollution, roaming livestock, garbage, lack of water, poor sanitation, and more. Armed with about 500 photos and their accompanying narratives, McRiley wrote his thesis. He met a few others working on similar projects, and together they connected with local city stakeholders. "Low and behold, one year later the trash was gone, the center of town was clean . . . water and electric infrastructure came through. . . .  It was terrific," says McRiley, whose work was recognized with the 2012 Scholarship and Service Award from Southern's Department of Public Health.
"The advantage of the photovoice methodology is that you are not just handing somebody a 50-page report. You are handing them 50 photographs that are taken by the people [most affected]," he says.  The researcher notes that today's "selfie" culture is a tremendous boon for his upcoming research on opiate addiction. "I can collect through Instagram, Facebook, direct text, email. . . . My intention is to gather significantly more information than I have ever gathered before," he says.
He and his doctoral advisors fully understand the potential power of such testimony. McRiley's goals include creating a documentary on addiction. Looking further ahead, he envisions returning to Haiti — and again standing at the front of a college classroom. "I love everything about teaching," says McRiley, who was an instructor in Southern's Department of Public Health. Having resigned from that position and his 10-year post with Yale-New Haven Hospital  —"two terrific jobs," he says — he notes with awe the trajectory his life has taken. "When I left Los Angeles before I went to nursing school, I was a roller-blading bartender," he says. "Fifteen years later, I am entering a Ph.D. program."