This entry was written by Christine Allard and Hannah Bodner.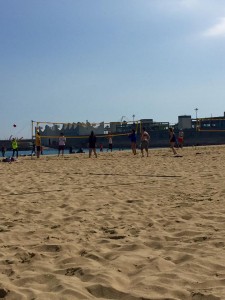 Today was our last full day in Barcelona. Around 11 o'clock we ate breakfast and headed out to spend the day at the beach. Although it was a little cloudy when we first arrived, a few hours into the trip the sun came out and it was very nice. There were about 10 different beach volleyball courts set up and our team took full advantage of them. We were challenged by several different teams of Spaniards and had a blast while doing so. The water was extremely clear and there were lots of people walking around enjoying the beautiful day. We all ate lunch at a restaurant on the beach and left around 4 p.m to head back to the hotel.
The rest of the afternoon/night was spent cleaning and getting ready for the next morning's departure. However, we did get to have one last dinner all together at a local Spanish restaurant. We were able to each pick from a variety of Spanish appetizers, entrees, and desserts. It was a great way to end the trip and reminisce on how great of an experience we all had.
While our time in Spain was nothing short of amazing, one unfortunate experience that definitely stuck out to everyone was the terrorist attack in Brussels. Being abroad while something like this happened was quite scary and really put everything into perspective. We were able to see firsthand how international security was stepped up around train stations, airports, and other public places. It was very inspiring to see the support for Brussels in Barcelona and throughout the rest of the world for that matter.
We are all truly grateful and appreciative of this amazing experience. On behalf of the team we want to thank everyone who supported this trip in any way. It was an experience that none of us will ever forget. Not only did we have a great time, but we also learned a lot about the Spanish culture and were able to appreciate and respect the many differences and similarities between American and Spanish culture.