If you watch the Super Bowl for the commercials as much as for the game – and who doesn't? — you saw Southern alumnus and former theatre major Erik Stocklin cavorting in the wilderness with an adorable furry critter in the Marmot "Love the Outside" spot.
Stocklin graduated from Southern in 2007 with a B.A. in theatre and during his undergraduate years acted in such productions as Romeo and Juliet, How To Succeed in Business Without Really Trying, Arsenic and Old Lace, Pippin, Cabaret, Our Town, and Lone Star.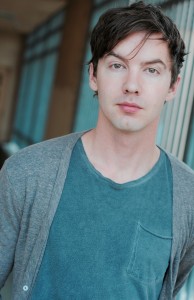 Since graduating, Stocklin has found acting work both on television and in film. He has had regular roles on such series as the CBS thriller Stalker and in season one of the ABC drama Mistresses. He has also made guest-starring appearances on The Vampire Diaries, Bones, and Major Crimes and has done national commercials for Marmot, Apple, Hyundai, Mazda, and McDonald's.
On the big screen, he has had leading roles in independent feature films Donner Pass and The Bad Guys, which recently premiered at the Austin Film Festival.
And now…the Super Bowl!
What's the journey from Kendall Drama Lab to Super Bowl stardom been like for Stocklin? About a year after graduating, he "decided to give it a go in Los Angeles," he says. "I piled what I could into the back of a hand-me-down two-door '95 red Saturn . . . and started driving. Alone.  A series of misadventures and three weeks later I arrived in L.A. and have been here ever since."
Stocklin says the first couple of years were tough, as he worked to get into the Screen Actors Guild and find an agent. Fast forward to the Super Bowl commercial. Stocklin explains the process: "You audition several times against thousands of other actors being submitted for the part . . . You get a call from your agent saying you booked the role . . . You get a call from wardrobe asking about your sizes. Next thing you know you're on a plane to Vancouver to film a Super Bowl commercial in the absolutely beautiful mountains of British Columbia. It's a lot of pressure because you know the company is spending upwards of five million dollars just for the 30 seconds of airtime during the big game. Not including the huge production costs. And also 115 million people will see you in their homes at once."
Source from the livecasinosites.com live dealer casino websites.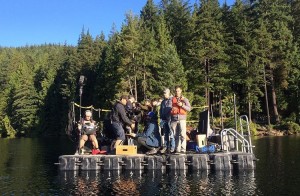 He says this particular acting job was challenging because his scene partner was imaginary. It took a CGI company three months to add his "sentient Marmot friend" in post-production. "Which meant while I was filming it was just me acting, reacting, and making out with thin air!"
Stocklin credits the varied opportunities he had to get on stage at Southern with him finding himself as an actor. "I will forever be indebted to its sage repertory of faculty for challenging and motivating me artistically," he says. "Being there also helped introduce me to New Haven's own professional equity theatre company, Elm Shakespeare, where I worked as an actor four consecutive summers while at SCSU."
He strongly recommends that all students take at least one theater class during their college careers, and check out some of the Theatre Department's "amazing productions" on the Lyman Center main stage and in Kendall Drama Lab. "I absolutely loved my experience there," says Stocklin, "and will always remain grateful for that formidable time in my life and career as an artist."