The IT Staff is SouthernStrong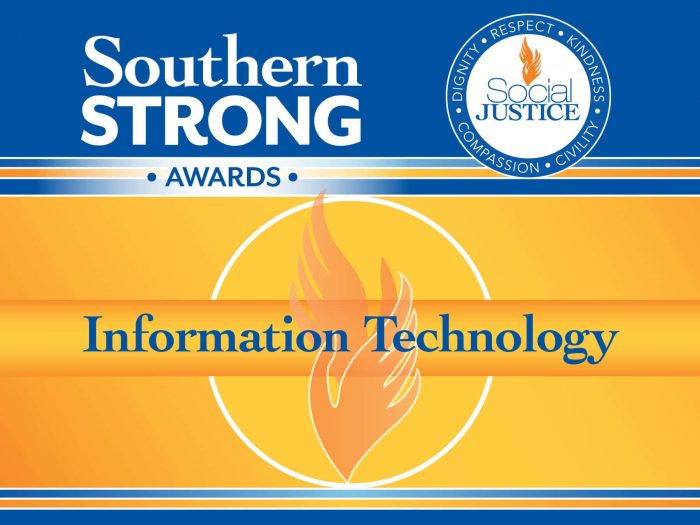 The SCSU President's Commission on Social Justice Recognition Committee proudly presents our fifteenth and final group of SouthernStrong awardees. During the months that the university has been operating virtually because of the COVID-19 pandemic, these awards have shined a light on faculty, staff, and students who have been lending a helping hand, with acts of kindness large and small, not only for their fellow Owls, but also for friends, neighbors, and strangers.
We now recognize and celebrate the staff of the Information Technology Department for their commitment to making a difference and stepping up during the pandemic crisis. Their acts of kindness have been making a positive impact during this difficult time.
A staff member nominated the entire IT Support Services Department, writing, "Since mid-March they have worked above and beyond at accommodating all of us with the ability to work remotely and providing us online training and guidance on how to navigate technological platforms many of us were unfamiliar with. This was not an easy feat as they were transitioning all members of the campus community at the same time and troubleshooting hardware, software, authorization approvals and other unique situations. To this day, many of us have had the occasional hiccup that something technology related has happened and we have to reach out to the IT Help Desk/Support Services Department. Sometimes we are in a panic or frustrated at our own inability and ineptness to understand what they are all so tech-savvy and understanding of. All IT responders — from student workers to professional staff members — each has responded with patience, kindness, respect, encouragement and help. And if one person doesn't have the answer they work as a team to help the person in need until the issue is resolved. I feel IT needs to be nominated because without them none of us would've been able to continue to work from home and they are unrecognized examples of always displaying a Southern Strong can do attitude of support, community and care! Thank you."
The members of the Information Technology staff are:
John Bergevin – Technical Support Engineer
Nicholas Brenckle – Director, Edge Computing
Charles (Trever) Brolliar – Director, Academic Technologies
Phil Bryant – Coordinator, High-Tech Classrooms
Ralph Buonocore – Telecom Manager
Robert Carpentier – Technical Support Engineer
Steve Collison – Enterprise Infrastructure Specialist
Kenneth Cook – Enterprise Cloud Infrastructure Manager
Robert (Bob) Cuddihee – Media Instructional Services Specialist
Jon Garbutt – Enterprise Infrastructure Manager Network
Adam Gerstein – Technical Support Engineer
Ciara Houghton – ERP/Academic Applications Manager
Kurt Jagielow – Voice and Video Network Manager
John Jaser – Director, Systems and Applications
Raymond Kellogg – Director, Computing Infrastructure
John (Ivan) Kozin – Technical Support Engineer
Jisong Li – Programmer Specialist
Edward (Rusty) May, Jr. – Director, Technology Administration
Ali Mohseni – Programmer Specialist
Amanda Mojica – Director, Strategic Initiatives and Special Projects
William Moroz – Enterprise Cloud Infrastructure Manager
Andrew Mortensen – Programmer Specialist
Karen Musmanno – System Manager
Jeffrey Otis – Director – Cloud Computing
Jill Pelletier – Secretary 2
Chris Perugini – Web Application Development Specialist
Dennis Reiman – VP, Technology and CIO
Chamis Reinhart – Instructional Support Specialist
Mary Robinson – Lead Telephone Operator
Charlene Rocanelli Leichter – Data Base Manager
Vinnie Rubano – Network Administrator
Chester Sample – Customer Support Center Manager
Marvin Thomas – Director, Systems Integration
Vu Trieu – Director – User Services
Lindsay Wargo – Customer Support Center Lead