Morocco Visit Promotes Global Engagement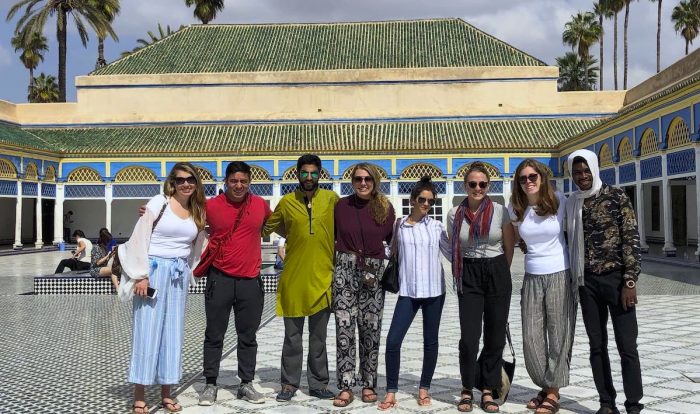 During the spring semester, 13 Southern students spent a week in Marrakech, Morocco, learning about sustainable development and how they could apply the concept in their home communities and Greater New Haven.
The program was hosted by World Merit Morocco, part of a worldwide, apolitical organization that seeks to empower young adults to create a better future  "by building confidence, raising aspiration and connecting diverse people of merit."
World Merit, founded in 2012 by Liverpool, England-based entrepreneur Chris Arnold, has engaged 120,000+ youth worldwide in more than 1,000 projects advancing the United Nations' 17 Sustainable Development Goals (SDGs). The U.N. goals address global challenges including those related to poverty, inequality, climate, environmental degradation, prosperity, and peace and justice, with a view to resolving them by 2030.
The 13 Southern participants, led by Erin Heidkamp and Michael Schindel from SCSU's Office of International Education, were nominated and selected by department chairs from the various schools and included five from the School of Business, six from Arts and Sciences, and two from Health and Human Services.  Airfare, airport transportation, and required student/staff international insurance policy were paid for using funds from the SCSU Alumni Foundation LJMU/Better Futures Network initiative along with a contribution from the SCSU School of Business Alumni Foundation account. In-country expenses (accommodation and meals) were provided by World Merit Morocco. Students were responsible for paying in country transportation, excursion costs, and individual meals/snacks.
The itinerary prepared by World Merit Morocco was designed to provide the students with an overview of the World Merit organization and a cultural introduction to Marrakech.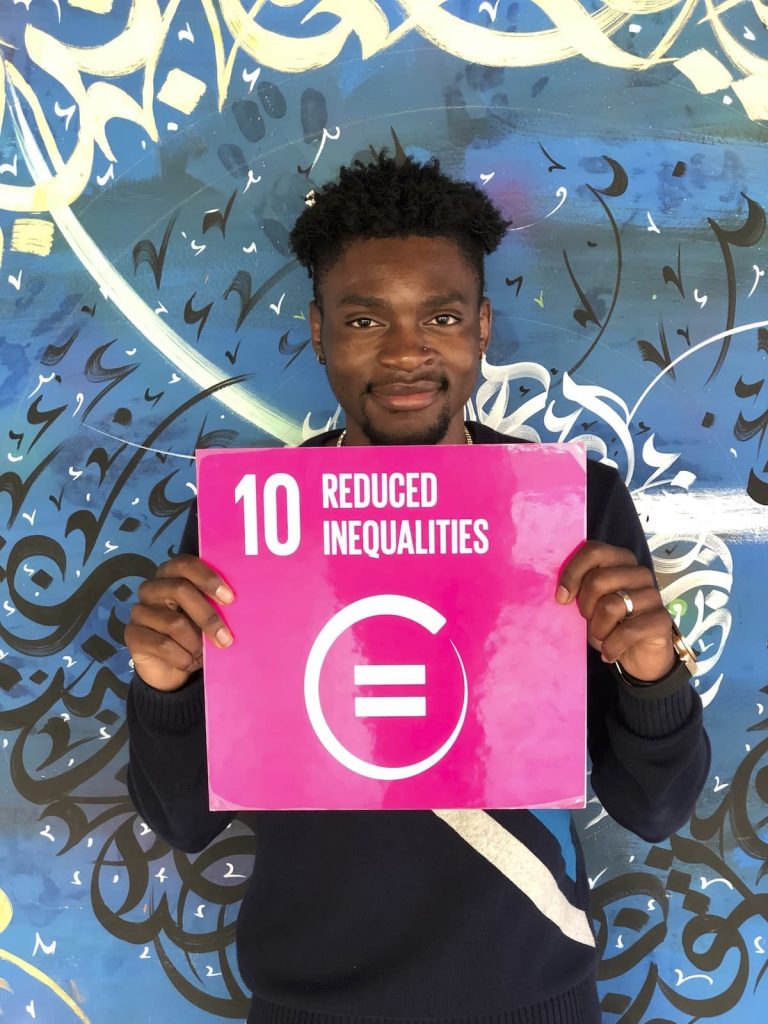 Following an unfortunate flight cancellation, the group departed a day late and arrived in Marrakech on March 25. The students were met at Marrakech Menara Airport and transferred to the lodging at Cadi Ayyad University Club before being invited to the Marrakech Medina for a traditional Moroccan mint tea on a rooftop restaurant overlooking the Medina.
The following day, attended sessions that provided an introduction to the mission of World Merit and an overview of the United Nations' 17 Sustainable Development Goals (SDGs).
Discussion focused on how  World Merit Morocco has focused on shaping its mission and ethos around SDGs that are particularly important within the context and culture of Morocco, and the group was shown videos of projects engaged in by student participants from all over the world during the 2018 World Merit Council Summit. In the afternoon, small focus groups were formed to develop  models for projects and programs that could help participants' own communities achieve SDGs on a local scale. The students then presented these models to their peers, sparking conversations about how World Merit could contribute to the Greater New Haven area.
The next day,  students were invited to take in the rich and variegated history and culture of Marrakech. Students participated in a tour of the Jardin Marjorelle, the El Basi Palace, the Medina, and the historic Souks. This unforgettable day was capped off with a field trip to a local female-owned Argan oil collective, where students had the opportunity to watch how Argan oil and other Argan products are processed, and to learn how collectives such as this are critically important economic pillars, particularly in the country's rural regions.
On the second-to-last day, the group visited Mohammed VI Polytechnic University. There they were treated to a campus tour, led by Monia Fdail, Research Officer in the Office of the President General Manager for OCP Group. With its headquarters in Morocco, OCP group is one of the leading exporters of phosphate in the region and provides substantial funding for the university and its innovation lab.  This Leed-Certified campus is part of a national initiative, championed by the King of Morocco, to create a fully sustainable community.
Throughout the university's expansive campus, solar panels provide all electricity and the water for irrigation is recycled and reused. The campus is 100 percent paperless and its labs are industry standard.
The university's innovation lab is part of a collaborative partnership with the Massachusetts Institute of Technology (MIT) to create new cluster degree programs preparing students for a modern workforce that requires hard and soft transdisciplinary skill sets.
On the final day of the World Merit Morocco program, March 29, the students attended English class at the Centre Mohammed VI des Handicapés. The Centre, staffed entirely by volunteers (many of whom belong to the Marrakech World Merit council), offers English training to children with intellectual disabilities. Southern students had the opportunity to work with these youngsters one-on-one, as well as dance and play. In the late afternoon, as a final treat, they traveled to the foothills of the Atlas Mountains where they sampled traditional Berber cuisine and went on a ropes course and zip line.
On March 31, the group said its goodbyes and returned to the U.S. The students returned with a clear desire to bring the message of World Merit and the U.N. SDGs to SCSU, hoping to start a chapter or a World Merit council on campus.