Home
Announcements
Student Research Honored at National Speech Language and Hearing Conference
Student Research Honored at National Speech Language and Hearing Conference
Students from the Department of Communication Disorders presented three research papers at the 2017 National Black Association for Speech Language and Hearing Conference on April 8. Two of the papers earned the distinction of highlighted posters, and were recognized among "the best research posters presented by faculty, students and clinicians."
Undergraduates Coral Jiménez, Jacqueline Hernández-Flores, Teresa Wirtemburg, Shea Keeley, and Giovanna Diana presented "Cultural Competence Club–Join-Up!"  The paper examined the development of Southern's trailblazing student-led organization Cultural Competence Club, which invites cross-disciplinary involvement in learning about and engaging across cultures.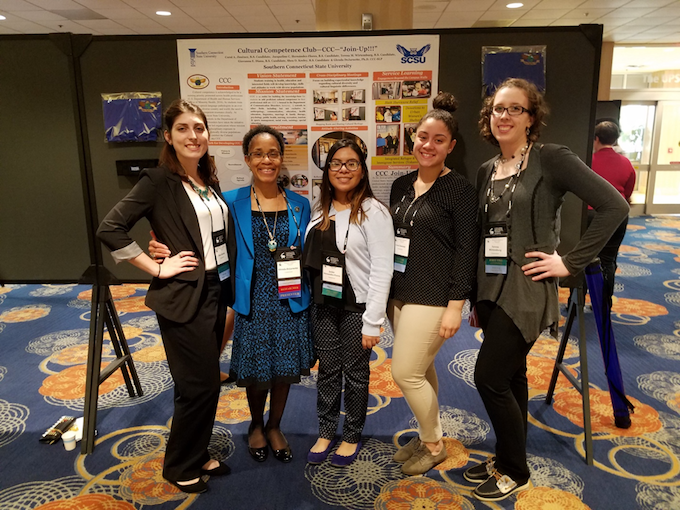 Graduating senior Taylor Bird presented "Systematic Review of African American English (AAE) Narrative Discourse: Impact on Literacy." The paper was an extension of research Taylor conducted as a recipient of the 2016 SCSU Undergraduate Research and Creativity Grant to determine AAE narrative skills across disciplines.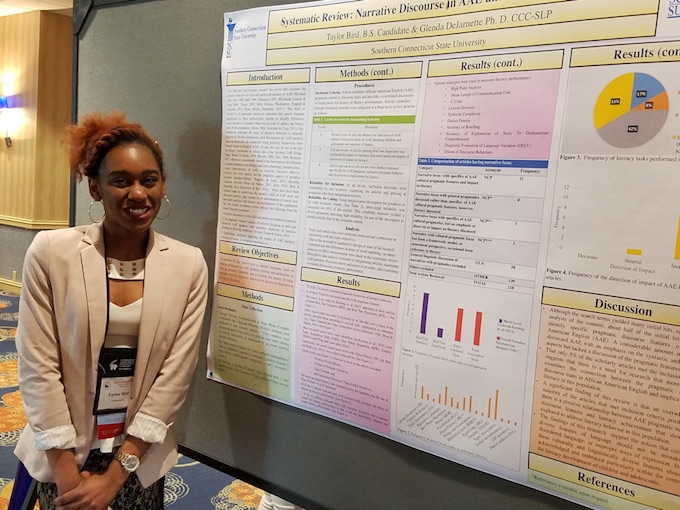 Graduate students Caroline Berkovich and Peyton Moss presented "Gauging Institutional Commitment to Cultural Competence for CLD Populations." The research examined policies from national organizations in health-related fields regarding professional workforce preparation to address cultural diversity.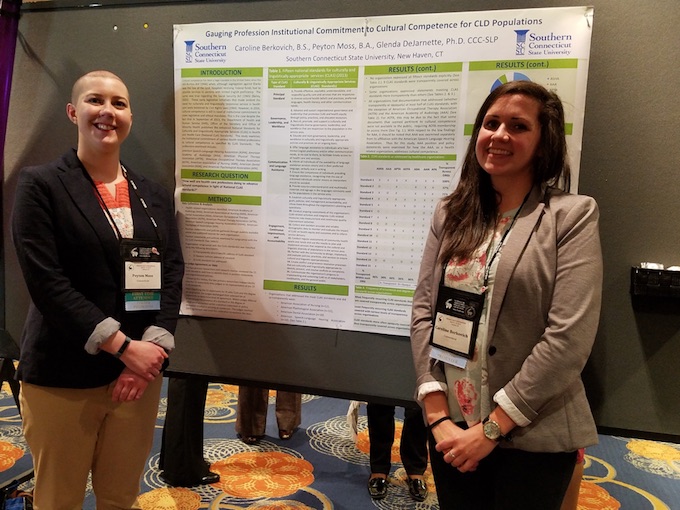 "Numerous faculty colleagues approached me to share how impressed they were with the caliber of research and professionalism demonstrated by our students," said Glenda DeJarnette, faculty mentor to the projects. "I watched as each student fielded questions and engaged attendees in very thoughtful conversations about their research. As a mentor for these projects, I extend kudos first to the students who worked diligently on the research and secondly to colleagues at Southern whose efforts have helped to shape these promising scholars."