Norwegians Leading Owls to Soccer Summit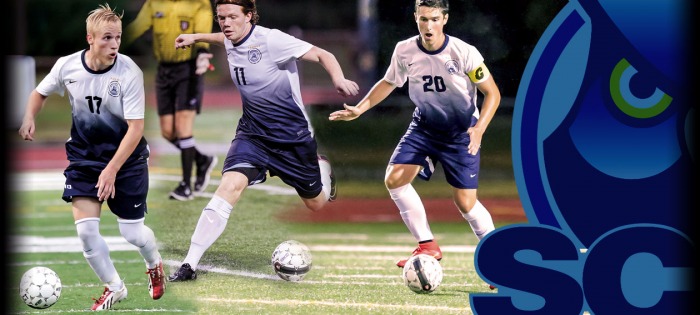 The men's soccer team is used to having players from all over the globe. England, Scotland, France, Israel, Serbia, and Trinidad and Tobago are among the countries that have been represented over the years.
But this year, the Owls are relying on a troika of Norwegians to ensure success.
Jonas Folstad and Mads Larsen, natives of Trondheim, made the journey from across the Atlantic for the 2012 season. The pair had previously played together and attended the same school in Norway. A year later, Oslo's Markus Jacobsen arrived to turn the duo into a trio.
All three have been starters since their arrival on campus. This year, each is playing an integral role as the Owls look to cap their best season in several years.
The Owls won their first nine games of the year to elevate as high as No. 5 in the National Soccer Coaches Association of America Division II poll. The 9-0 start was the team's best since 2002, when it won 11 games in a row to open the year. The No. 5 national ranking was also the highest for the Owls since 2007.
Larsen and Folstad, now juniors, have clearly established themselves as team leaders. In fact, Folstad is serving as a captain for the second year in a row this fall. However, it wasn't so long ago when each was faced with the decision to leave home for an opportunity in Connecticut more than 3,000 miles away.
"It started with one of my teammates from back home who went over here to play," Larsen says. "It sounded interesting so I decided to do the same. I got in touch with this agency that helps students get over here to play. It was a big process, a lot of paperwork to do, a lot of mailing back and forth. Then we got in touch with coaches over here and sent some videos of us playing. We got to talk to coach Lang and obviously Jonas and I wanted to go together. He wanted us both, so that's why I decided to come here."
By the time Jacobsen joined Folstad and Larsen the following fall, the newest Owl had a built-in advantage.
"Especially the first year, it was a big benefit," Jacobsen says. "I lived with them for the first week I was here before I could move into the dorms. They showed me everything — how to get a phone; they showed me around campus; they showed me how to sign up for classes. It was definitely a big advantage the first year and it still is. We can talk about stuff that's difficult."
Each has enjoyed individual success during their time as Owls. Folstad earned All-Conference and All-Region honors a year ago, while Larsen collected All-Conference laurels in 2013. Jacobsen ranks among the team leaders in points as a sophomore. All three featured in season-ending conference honors again this year, along with four other Owls including Danish first-team honoree Sebastian Brems, a stalwart on defense.
One thing that has eluded the Owls in recent years, though, is an NCAA Tournament berth. For a program that has won a record six Division II national championships and made 32 NCAA Tournament appearances, Southern has not reached that level since the 2010 season.
Thanks to the outstanding start, and a march through the NE-10 conference play-offs to the final against reigning national champions Southern New Hampshire, that trend will change this year.  The Owls are expecting an at-large entry into the NCAA Tournament playoffs tonight, and will likely host first-round matches this weekend. Follow their progress on the Southern Owls site.  And come out and cheer them on this Sunday when they play the winner of Merrimack vs. Philadelphia at Jess Dow Field at 1 p.m.