Philosophy Professor Kenneth Gatzke often said that if he did not teach philosophy he would have wanted to be a professional baseball player, and if he could not play baseball he would have liked to be an announcer at the Chicago Cubs games. But he settled for teaching philosophy.
Indeed he did. Gatzke began teaching at Southern in 1970, and he retired recently after serving on the faculty for 52 years. At the time of his retirement this year, he was reportedly the longest serving professor in the CSCU system. To honor him in a way that was especially meaningful to him, his department chair, CSU Professor David Pettigrew, nominated Gatzke to be honored as "Educator of the Game" at a recent Hartford Yard Goats game.
The Yard Goats and Capital City Education Alliance honor "Educator of the Game" nominees by recognizing them on-field and on the outfield video board during the pre-game ceremonies. Honorees also get to throw a ceremonial first pitch and then enjoy the game afterward through Field Box seats. In addition, Pettigrew was able to purchase a congratulatory message for Gatzke to be posted on the scoreboard in the 4th inning.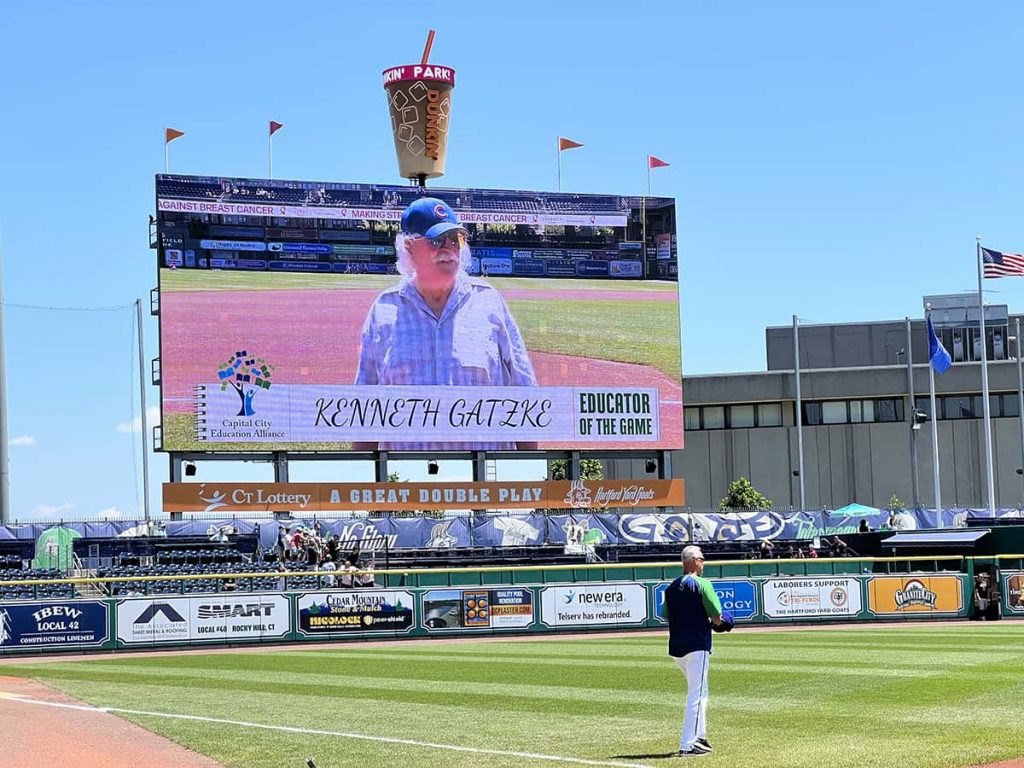 Pettigrew wrote in his nomination, "We have to mention that Professor Gatzke is a long suffering and proud Chicago Cubs fan. Our congratulations on his retirement."
Gatzke served as chair of the Philosophy Department for two decades and was a co-founder of the Honors College and its first director in 1980.  He often taught the Philosophy of Education course required for Education majors, and in that way he educated generations of teachers in Connecticut. 
According to Pettigrew, Gatzke often said that as department chair his "greatest virtue was staying out of people's way." In other words, says Pettigrew, "he encouraged colleagues to pursue their passions and did everything he could to support them." Pettigrew added that as chairperson for two decades, Gatzke accumulated overload credits and would generously share them with colleagues for research projects such as the Research Center for Computing and Society that was housed in the Philosophy Department.
Blending his two passions – baseball and philosophy — the message on the scoreboard read, "Congratulations Professor Gatzke Have a Philosophical Retirement!"