Shawn Gilhuly, '17, was working in higher education in residence life when he lost his job in June 2020 during the COVID-19 pandemic. Colleges were hard hit, and employment opportunities were scarce. So, after a bit of soul-searching, he decided to chase a childhood dream of working as a content creator with a focus on gaming.
"Early YouTube was a huge inspiration for me," says Gilhuly, who as a teen had witnessed the rise of the online, video-sharing platform launched in 2005.
Today, he's posted more than 1,100 videos on YouTube. These and more can be accessed through Shawn.games, his popular website with links to his social media accounts on Twitter, Discord, and TikTok.
Often, Gilhuly will be playing a popular online game — Assassin's Creed, Minecraft, Forspoken, God of War Ragnarök, and Kingdom of Hearts, among others — and typically it will be an interactive process. His audience watches live and on video. Some join the game. Far more sit back and watch the action, enjoying the online banter and learning how to improve their play.
And, yes, for non-gamers out there, this is a job that generates a real (if not always consistent) income. Content creators make a living through ad revenue, creating sponsored content, viewer subscriptions/contributions, and more. Gilhuly earned $14,000 during his most profitable month, to date. He's a firm believer in full disclosure and readily shares the figure during speaking engagements on content creation.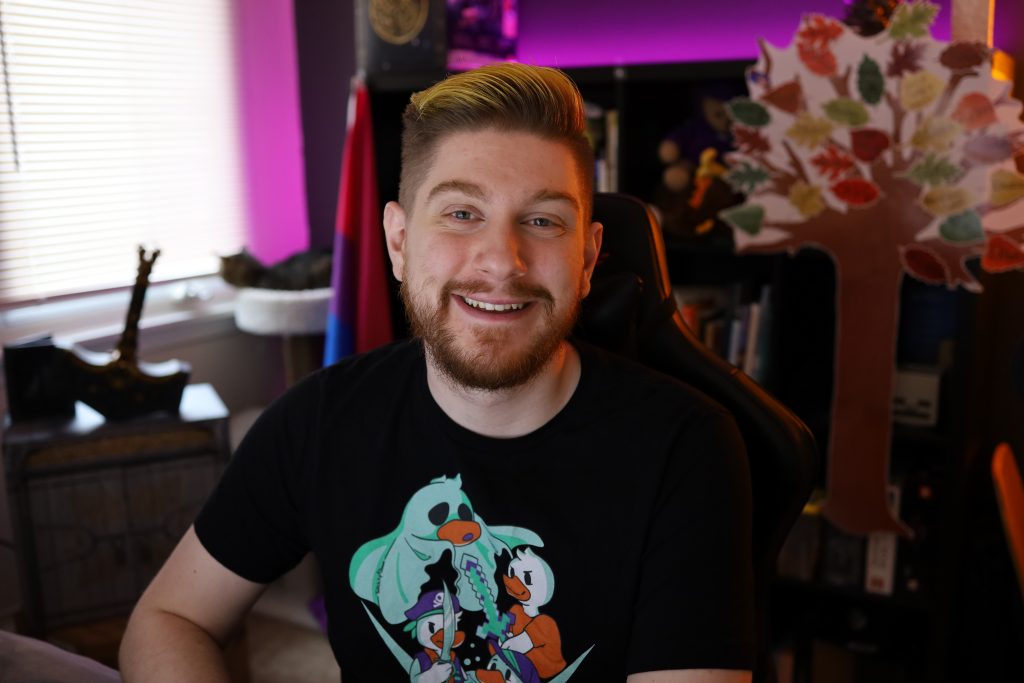 Gilhuly has worked with numerous power players — Studio Ghibli ("the Disney of Japan," he says), Xbox, Netflix, Gunnar Optiks, and DoorDash Gaming, among them — and he's noted for his expertise. In March 2023, he was an invited panelist at PAX East in Boston, a four-day convention focused on gaming and gaming culture.
Ty Schalter, writing in an article for VICE, notes: "His content is full of guides, tips, and tricks for newbies. That educational approach isn't a coincidence: Shawn's got a master's degree in higher-ed administration, on top of a bachelor's in psychology. He's published research on how education improves bisexual acceptance, and he happily educates his audience on both queer issues and getting good at Genshin Impact."
Gilhuly did the aforementioned research at Southern while earning a psychology degree along with a minor in mathematics. He says he uses that knowledge regularly — from creating healthy boundaries with his followers to drawing out shyer players.
"There are a million and one ways that someone might be feeling negative about themselves: personal image, personal identity, the ways others are treating them. Often, people use content to escape that," he says.
Inclusion is important to Gilhuly. The first line of his official bio notes he is queer and has disabilities (fibromyalgia and speech-language).
"By claiming that narrative up front, I am not allowing people to make assumptions or categorize me as something I am not," says Gilhuly, who was nominated for the 2022 LGBTQIA+ Twitch Streamer of the Year Award. He's long partnered with "It Gets Better," an organization committed to empowering lesbian, gay, bisexual, transgender, and queer youth.
Similarly, he uses his platform to support those with disabilities. In 2023, Gilhuly was one of only five talented content creators chosen by Microsoft to kick off its Xbox Next Level (XNL) program. The accelerator was designed to help gaming streamers for underrepresented communities supercharge their careers by providing them with tools and guidance. Gilhuly and the other XNL participants, in turn, serve as ambassadors for underrepresented gaming communities.
In sum, Gilhuly remains an educator. Having suffered from clinical depression and anxiety since he was a teenager, he talks about mental health, sexuality (Gilhuly's Discord community members are 18+), and his speech and language issues.
In a recent livestream sponsored by Xbox, he casually talks about his days as a Southern student and is quick to advise players who want to go to college but don't think they can afford it. (Live at home, he prompts. Consider 4-plus-1 programs to earn undergraduate and master's degrees in five years. Check out community college classes, but first be sure courses will transfer to a four-year college.)
"I've reached more students working in content creation than I ever would have in a traditional higher-ed job," he says, "It's all about having that continuing conversation." ■
Read more in the Spring '23 edition of Southern Alumni Magazine